Father Claude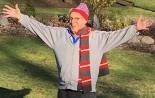 As I was saying.....



I embrace the world from my backyard at the University of Portland, January 1, 2018. I again invite you to "clod-hop" with me on my journeys to Latin America via this blog.

More...





Contact Me




Subscribe to this blog
Categories
Navigation Calendar
Days with posts will be linked
Most Recent Posts

Last Post From Kampala
(Category: Uganda)




A FEW IMAGES AS I LEAVE KAMPALA. The images that dominate the international imagination of Ugandas are the death of Margaret Thatcher and a peaceful transfer of power in Kenya. The Iron Maiden, as the pundits and cartoonists loved to depict her, was larger than life in Africa. The image of a Prime Minister who supported the Apartheid regimes of South Africa and denounced the freedom fighters of that countryfollows her to the grave -in spite of the dramatic turnaround of President de Klerk. The event that riveted Ugandans to their TV sets was theInauguration of President Kenyatta on Tuesday. Events in Kenya, especially a peaceful transfer of power is watched carefully by Ugandans. Uganda is a country where democratic elections and peaceful transfer of power appear as cruel hallucination. Kenyan newscasters favorably compared the significance of this inauguration with that of President Obama. Ugandans watched this event wistfully. Last week, President Museveni announced that he is forming a new brigade of 500 loyal storm troopers in order to "maintain the peace" when elections are held in this country, for elections, 3 years from now. No one doubts that Museveni has no intention of losing his grip on power. As Kenya moves in the direction of Ghana, some fear that Uganda is on the slippery slope to Mugabe's authoritarian government to the south.

TWO POSITIVE EXPERIENCES RELATED TO EDUCATION. I was privileged to attend a convocation of influential and articulate academics at Makerere University, a large public institution in Kampala celebrating the legacy of Chenua Achebe. The symposium was organized and managed by one of Africa's outstanding social scholars Mahmood Mamdani. The students who packed the large auditorium heard personal testimonies about Achebe, and how this literary giant helped to give Ugandans (and all Africans) a confident voice for abetter future. I was also privileged to address a class at one of Uganda's best private universities, Uganda Martyrs University. During exchanges after the presentation, it became obvious that young scholars in this country resent the negative image of their country, "land of Idi Amin" with its continued corrupt culture and poor educational institutions.

I MARVEL AT THIS POTENTIALLY RICH COUNTRY STILL SEARCHING FOR AN IDENTITY. Uganda consists of several kingdoms, big and small, of many languages and distinct ethnicities, of all major Christian denominations, Muslims and Jews, all living and working together. Its roads and infrastructure are a disaster. It's animals, plants, birds and mountains that suggest an earthly paradise. Any discussion of topics such as the proposed Marriage and Divorce Legislation (that attempts to define and legislate marital rape), proposed zero tolerance for drinking (that's right ZERO TOLERANCE -- a speed-trap paradise for local police). human rights for gays, and -- horror of horrors -- same sex marriages, and all these topics produce heated arguments that quickly lead to "conversion disorder", aka hysteria.

I CANNOT END THIS POSTING without some mention of the wide range of Ugandan responses to the election of a non-Italian / non-European pope. Most Ugandans are delighted with the simplification of rituals and a renewed focus on the poor. However, one frequently hears warnings that this Pope goes too far ("My God, he washed the feet of a Muslim girl. Isn't hat's forbidden by Rome?"). One also hears that a papal tradition that is a survivor of French meddling through Avignon, of Martin Luther, and of numerous nefarious heresies, that this struggling and true Church may have finally elected its own heretical Pope, who runs the risk of repeating the errors of Vatican II. Amen to that, baby.




JOSEPH SSEKANDI AND HIS TWO SONS
(Category: Uganda)




Joseph Ssekandi and his two sons joined me for lunch, last week. His daughter, the youngest, stayed home with Mum, in Nkozi.

Joseph was my Executive Assistant when I launched the EAST AFRICA SCHOOL FOR DIPLOMACY (EASDIS) in 2009. Only his two boys, Felix (8) and Brave (5) came with Dad. Mum and youngest daughter stayed at home. I hired Joseph in 2009 to assist me in launching the Masters in Diplomacy. He was fresh out of graduate school from the UK and anxious to work. Along with guiding me through the labyrinthian obstacles of local and national academic administrations (he was a master navigator), he was building his house for wife and kids in Nkozi. I include pictures of the two boys and their dad at lunch, and a picture of Joseph at work in 2009 on the foundations of his house. I will send updated pictures of the house, sons & daughter & mother with the next entry.

After lunch, Felix and Brave had an unexpected encounter at the restaurant. Bursting into the toilet as boys do, they bumped into the Vice President of Uganda, Edward Ssekandi with his many body guards. If that wasn't enough, the Vice President gave each boy a 10,000 shilling note to remember the occasion Dad tells me that they returned to school, bubbling with the story of the amazing encounter with the VP in the restaurant toilet. Little Brave may not yet appreciate the full import of meeting the VP of his country under such informal circumstances.

During Easter vacation, I've been delighted everywhere I go by the many smiling and welcoming families. As I walk through the neighborhoods of Kampala and visit the malls, I see that this is a country of happy families with small children everywhere. And yet, Uganda faces all the traditional challenges of a former protectorate (Uganda was not a colony like Kenya). And so, it is a shock to rediscover the recurring issue of child sacrifice. While Ugandans struggle with extensive and pervasive government corruption (misuse of international grants, especially), with environmental issues (the pollution of Lake Victoria and lack of drinking water), bishops and clergy living openly with wives and families (April 1, the local paper announced that Pope Francis would make his first visit to Uganda - April Fool), lack of infrastructures (roads and bridges), and poor education -- to mention the more prominent challenges -- however, I am especially struck by the growing problem of ritual sacrifice of young boys and girls for success with major constructions and with new enterprises. After appropriate rituals of this gruesome tradition, entrails and genitals are placed in the foundations and offered for success and prosperity. Reportedly (BBC), over 60 cases are reported every year and in spite of a government department to stop the practice and religious efforts on all levels, this gruesome practice appear to be impossible to stop. In yesterday's news, two young girls (under 6 years) were returned to the place where they were kidnapped because they had pierced ears and that is unacceptable for the success of the ceremony. Damaged goods. Can you imagine. The going price for an unblemished child is 500,000 shillings or more. (appros. 200 dollars)

I have tried to place these horrific practices in a larger, comprehensible context -- if possible. Is Uganda so much more barbaric in its treatment of children than other countries? Certainly, the involvement of individual cult leaders in such practices seems to set Uganda apart. But, as I consider the widespread violence against children (from sexual exploitation to child soldiers), rape, especially of women), the homeless, displaced persons, prisoners (tortured and abused in our "civilized" prisons) I wonder if Uganda's problem may not be a sobering and stark reminder of the general inhumanity resulting from misuse of power. Ugandan families love their children and work hard to provide them with a bright future. As I visited a popular mall on Easter Day, I though it was a picnic area for a nursery school. What is it in our culture that shapes decisions that allow young children the be tortured and murdered -- from a government like that of Syria that displaces uncounted numbers of suffering children and their families, that allows the kidnapping of children in Rio and Sao Paulo for the sale of body parts, the continued use of antipersonnel land mines, and the random targeting of families by unmanned drones in the name of national security.

So, a ray of hope as the UN General Assembly approves (almost unanimously, but not quite) the global control of arms conventional arms. Uganda is a small microcosm of humanity struggling to find respect, security and joy in a complicated world.

I am, once again, delighted to be in Kampala, and imagine a better world for Felix and Brave. And Mum and Dad too.

HOLY WEEK HUMOR
(Category: Uganda)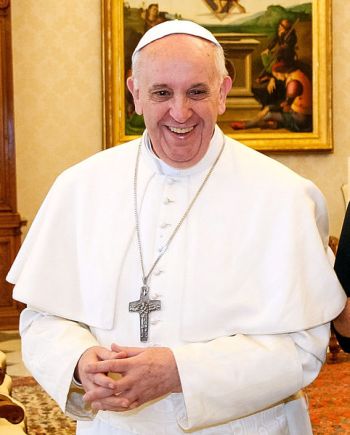 Papa Francisco breaking the

I opened today's Daily Monitor (Kampala daily newspaper) and there, in full color at 4 columns to the one is color photo of Papa Francisco, leading a Holy Thursday Mass procession in a Roman jail, with a smile on his face. Sweet Mary, Joseph and Jesus, what is happening? Is the traditional papacy disintegrating? A celebrant at one of the holiest Masses of the year -- Smiling? Are we witnessing a meltdown of the traditional papacy? I do pray so.

Last night, one of my Holy Cross stand-up comic-colleagues told me this Ugandan joke. I offer it to you so that it may put a smile on your face.

A leader (a Kabaka) from one of Uganda's small, rural tribes in Western Uganda, on the border with Congo, wants to educate one of his adult villagers into the English language. He knows that the village youngsters have learned English, use all kinds of cell phones, speak English effortlessly, etc and he wants adult villagers to enter into the modern world.

Standing there, in the center of the town square, he tells Mr X to repeat after him as he points to different objects. First, the chief point to a dog urinating. He says: "dog urinating". Mr X repeats "dog urinating". Chief points to a bus stopping and says: "bus stopping" Mr. X repeats "bus stopping". Next, he points to a flying stork and says: " flying stork". Mr. X repeats "flying stork". Suddenly, in an obscure corner of the town square he spots a villager having an all-too-intense-sexual-encounter with a woman, and says: "man riding bicycle". The villager pulls out a slender bamboo tube from his back pocket, deftly inserts a small, poisonous dart, and lets fly the dart into that villager's exposed back side. The villager drops dead forthwith.
The chief is shocked, and asks: "Why did you do THAT"?
Mr X responds: " Man riding MY bicycle".

Happy Easter Week.

A Great African Author Dies
(Category: Uganda)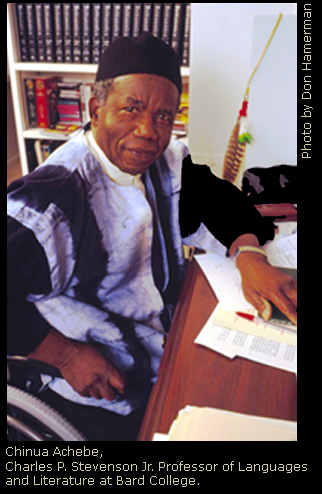 Chinua Achebe

Chinua Achebe was one of Africa's literary giants. His life is being celebrated by many persons, not just Africans. He was born 82 years ago in Nigeria and his first novel, Things Fall Apart, (considered his greatest) was written at age 28. The two most popular Kampala newspapers, The Daily Monitor and The New Vision, briefly noted his death. As if to make up for the lack of attention, one editorial blurted out: "Blessed be the womb of Janet Anaenechi Ibeghunan, Achebe's mother who gave birth to him". Among other favorite novels are "A Man of the People" and "No Longer At Ease". His most recent book is "A Personal History of Biafra". Achebe was never awarded the Nobel Prize for Literature, even though he is considered the father of modern, African literature, the Victor Hugo of Nigeria. The two novels that best introduced me to African tragedy are "Things Fall Apart", and "Cry the Beloved Country" by Alan Paton. As a student in International Relations at the University of Denver, I heard a talk by visiting professor Achebe. He famously contrasted his novels of dark hope with Conrad's "Heart of Darkness", focused on bestiality and triumphant death. C'est la vie

Kampala's press leans toward sensational denunciations of rape, sexual slavery and naive youths tricked into posing for pornographic movies (in this case, by the corrupt Kenyan movie industry). These denunciations are usually accompanied by lurid and sensational photographs and detailed diagrams. In today's paper headline, one reads an apparent biological impossibility: "Raped 12 times at different places (I think they mean "locations", but it's not very clear from the article. Yes, I read it) However, not to worry, since First Lady Janet Museveni is also prominently featured (on the next page) as the leader of a government campaign against imported evils, such as pornography, homosexuality and HIV/AIDS. The lady is not for importing.

I am living in the guest house of the Holy Cross community in Africa. It is beautifully located on one of Kampala's many hills, a short walking distance from the US embassy. That alone should tell you something. It is the rainy season, so that frequent heavy downpours are followed by a deep blue sky and bright sun. I am a bird lover who loves to sit in the tailored yard to hear the cheeping, squealing, burbling, croaking, chirping, squawking and wailing of one of the most diverse bird populations in the world. However, I cannot end this first entry without an observation about mosquitoes and their sneaky, survival habits. Yes, they can find you almost anywhere, anytime, but mostly at sunset, when they enter into a primitive, tribal ritual, a feeding frenzy. However, I have a wonderfully effective netting around my bed. Eat you hearts out, little critters.

And now, MOSQUITOES AND TAI CHI -- with a tip of the hat to cousin Ernie Pomerleau. Did you know that mosquitoes survive the devastating onslaught of water drops (a single water droplet is 1000 times the weight of a mosquito) by "moving with the blow of the water drop instead of resisting it?". The clever and nimble mosquito hooks up to the droplet until it's about to hit the ground, and deftly separate from it. It then merrily resumes its hunt for warm, fresh human blood. Yum.

As for answers to my question about the Spanish quote: Yes, brother Rene, It is a quote from Father Carlos Mujica, an Argentine Priest Worker that I interviewed from my dissertation in 1971. He reportedly uttered these words in the hospital before he died. He was shot by goons of the AAA (Argentine Anticommunist Alliance) in 1974. A controversial Argentine movie, "While Elephant" (featured in Portland's International Film Festival 2013) features a duo of priests struggling to help drug addicts in a Buenos Aires slum. The film is dedicated Father Mujica.

Once more with love from Uganda
(Category: Uganda)




Greetings from Kampala, Uganda.

After an absence of 3 years, I am returning to Kampala and my blog to visit the graduate program of Uganda Martyrs University: MA in Diplomacy and International Relations. My host will be Professor Samuel Baligidde, Director of the MA Program, aka EASDGIS, East Africa School of Government, Diplomacy and International Studies. I will stay at the Holy Cross residence in Kampala, Bishop McCauley House. I can be reached on line at pomer@up.edu, or claude@ceoexpress) -- also, on my cell phone (503-333-2114 ). When you call my cell phone, it will be an international call, and charged accordingly).

I will be sending additional entries to my blog during my visit to Uganda, March 22 - April 12. I look forward to sharing my reflections on both East Africa (with personal reflections on education, Holy Cross and education, conflict resolution and international organization)and and on Chile-Argentina, since I will be giving a seminar on African politics at the Institute for International Studies, IEI, of the University of Chile, August, 2013.

I close with a famous quote from an Argentine priest of the 1970s: Ahora, más que nunca, tenemos que estar junto al pueblo
spoken on May 11, 1974. Can you identify it?

SCHOOL OF DIPLOMACY IN UGANDA
(Category: Uganda)




The School of Diplomacy is rumbling on the horizon like those tremendous thunder storms that hit Kamapla every few days. Winds and claps of thunder, birds scurrying to their nests, and I sit on the balcony, sipping a glass of wine...

I originally came to Uganda for two purposes.The first was to assist my Holy Cross community in East Africa develop a ministry to higher education. Dave Burrell and I have worked on this project. The second was to help Uganda Martyrs University establish a school of diplomacy and international studies for East Africa. When established, this would be the first of its kind in East Africa.

The University of Portland allowed me a one-year leave to accomplish this task. During my interview for the job, I asked UMU President Olweny (called a Vice Chancellor in the British system) to appoint a Ugandan as director, and I would be his assistant and link to US, Europe and Latin America. To skip a few stages, I have now become the Interim Director until May 9 when I return to Portland. This project is not a handout. It is a Ugandan vision for educating its best and brightest. It is glorious and exciting!

Since my return to Uganda Martyrs University in late January to assume my new position, I have hired a very capable and promising assistant, Joseph Ssekandi, a Ugandan who just received a Masters in Environmental Studies from Reading University in England. Working together, our project has gained the interest of the Ministry of Foreign Relations of Uganda and other institutions in the region. The program should be in place by the end of the summer and ready to receive its first applicants for the beginning of the next school year.. We are planning a grand ceremonial opening and blessing for early Fall.

May I recommend some challenging reading? My cousin Patricia Pomerleau -- yes, the very founder and CEO director of CEOEXPRESS (of which this blog is a part). She recommended and I read with delight Tim Weiner's LEGACY OF ASHES, THE HISTORY OF THE CIA, and T.J. English's HAVANA NOCTURNE (how the Mafia tried to take over Cuba before Castro). Great reading, both. Weiner's history of the CIA is an extraordinary tale, based on recently released documents of the CIA that significantly changed my understanding of many events in Latin America and the stunning incompetence and embarrassing inadequacy of this agency since its founding. Also, I'm reading an outstanding biography by Ayaan Hirsi Ali, called INFIDEL. MY LIFE. A remarkably powerful and well-written story of a Somali woman's triumph over incredible odds. Burrell and I participate in a book club of young, Ugandan women writers (hey, we're none of those things, but the group is a delight!) and this is their book of the month. A gem.

And finally, for a delightful and inspiring story of a group of Acholi kids who compete for a major, music festival in Kampala, pick up "War Dance' at your DVD outlet. It was an Academy Award nominee for best documentary in 2007. The photography, music, and story carry you smack into the middle of Uganda.

MAMBO-TANGO
(Category: Uganda)

Return to Kampala

Greetings, everyone. I'm back in Uganda after a month with my reigious community, and with family and friends. I attended the inauguration of President Obama. While I probably saw less than most of you, sitting with a crowd of about 500,000 in my section, and probably 3 or 4 times that number in the Mall was an unforgetable experience -- a 'first' for me. There were moments of absolute silence while we waited for Obama to appear, and then -- a roar like none I've ever heard.

School of Diplomacy Gets Started

Over Christmas, the candidate designated to be director of the proposed School of Diplomacy resigned. I was asked to assume the job until an appropriate candidate might be chosen. So, I am energetically putting the pieces together for this EAST AFRICA SCHOOL OF DIPLOMACY. I have a lovely office, I just hired an administrative assistant, and we're good to go. My next entry will be on the progress and challenges of this exciting project

Mambo-Tango

So, you might have wondered about this reference to the movie "Motorcycle Diaries". That was the name of the boat that the members of the leper colony gave as a birthday gift to the young Che Guevara when he was a medical intern there in the 1950s. Dave Burrell, Fred Jenga and I went on Sunday to a special Mass for all the religious of the Kampala diocese. The music was unusually jolly and participatory. The music was provided by a religious community (Missionary Brothers of the Poor) from Jamaica (!) Words fail me to appropriately describe this ceremony, and my memory may be a bit blotchy. However, the choir, with a battery of drums, flutes, guitars, trumpets, and various strange-sounding percussion pieces sang many songs. One such son was to Mary (Hey, hey, helloooow Queen, Our Mother, Hellowww Queeen, Virgin Queen, Jewish Mother, Yeah, You're our Queen, hummm, hummm, hummm repeated 3 times, each time on a higher pitch- - or something like that. I knew we were in for a surprise when the Rastafarian drummer sauntered up to the altar to light his Kasta Colored Ice Bong. Except that the candles were ... electric! So, he returned to his Rast chants, swinging his Bob Marley dredlocks. Well, Trinidad calypso and reggae may not be dub music, but it swings nicely with an African jungle beat.

After the ceremony, we were invited to sit under the Cardinal's tent and join him for a meal. We were hungry, but some guy gave us a long, religious talk, mostly nonsense for 40 minutes. One of the waiters was sitting nearby with his legs and eyes crossed and I saw him finally take out a small pipe and light it under the table. Well, the food was ok, and there was a lot of laughter...

A SENSE OF PLACE
(Category: Uganda)




UBIQUATE

As I prepare to leave Uganda for a month to visit family and friends for the Christmas holidays, and as I celebrate the feast of Our Lady of Guadalupe (Friday, December 12), I find myself thinking about place, this place, in East Africa, especially as I greet, and am greeted by Ugandan neighbors on the street.

I regularly walk from my residence to the local coffee shop where I can work quietly, use my computer and sip the best double expresso in town. (Starbucks, eat your heart out!) To reach my destination, I pass through the front gate of Lourdel House, the residence of the Missionaries of Africa -- aka The While Fathers -- the French counterpart to Maryknoll. Since it is customary for passers on the street to greet each other, as I leave Lourdel house, I'm sometimes greeted in French, because of my location in front of French "territory" (even though I'm wearing jeans, t-shirt and a cap). As I pass by the Mill Hill place (the British counterpart to Mary- knoll), I'm greeted in English. Other "neighbors" will join me as I walk the road and greet me in English, with "You are very welcome", followed by the inevitable: Who are you, what are you doing here, so glad to welcome you, etc. Ugandans have a wonderful sense of place. Here is their home, family, tribe. White persons (muzungus) are foreigners. So (I think) they want muzungus to feel that they are part of their "village". It happens in so many ways. Relaxed, friendly, chatty, but always welcoming and charming.

I recall my favorite Chilean expression that Bernardita Sanchez (my Chilean family) laughingly but tellingly sometimes said to me: Claude, ubíquate. Locate yourself. Parents say the same thing to children who act inappropriately, or walk the wrong path (so to speak). The French call such a person dépister, or off the path. Celebrating the feast of Guadalupe helps me to relocate myself, as part of the Americas (North and South), and now rooted in Africa (at least, East). I felt until today that I had one foot in each continent. Now, the liturgy of Guadalupe makes me feel that I have booth feet firmly planted in her villages, in East Africa and in the Americas.

I will try to find a local song (it will probably be African rap) that is similar to Las Mañanitas. Ubíquate!


IF THIS IS ADVENT, WE MUST BE IN UGANDA
(Category: Uganda)




THANKSGIVING AT LAKE SAAKA

Dave Burrell and I invited the lay volunteers who work in Jinja to join us at Lake Saaka for Thanksgiving. One of the Kroc peace interns 9from Notre Dame) also joined us. We drove to Fort Portal on the border with the Democratic Republic of Congo (where the Rwenzori Mountains begin -- aka The Mountains of the Moon) as well as the Riff Valley. We then retreated to Lake Saaka and the Holy Cross Novitiate. The Novitiate staff and novices planned a luxurious feast to celebrate Thanksgiving in East Africa: Turkey, chicken, mashed potatoes, yams, veggies, rich deserts, cakes, pancakes, maple syrup (yup, from Vermont!) and rich wines and assorted drinks. Isaiah would have envied us.

On Sunday, we went to Kyarusozi Parish Community for Mass. Although Mass is usually celebrated in the local language, Dave Burrell celebrated in English, and a dynamic translator helped with the homily. After Mass, we went to visit the spectacular building project of Brother Bernard Kim CSC. Bro. Bernie is one of those dynamic and creative builders that one reads about in 17th century Mexico or 19th century Chile. He is training local builders in all the arts necessary for building a large boarding-school complex in one of the most rural (no electricity) and beautiful spots in the foothills of the mountains. Bro Bernie is a mystic, a sufi, a Zen master and master builder, who loves to teach all his skills to the able young workers of the region. He has already built other residences (such as Bishop McCauley House in Kampala) and the large Church and surrounding gardens and gazebos at Kyarusozi. Eat your heart out, Hanging Gardens of Babylon!

I have done much reading during the past weeks, but I must share two of the best books with you, dear readers of blogs. The first is Paul Collier's THE BOTTOM BILLION (Whey the Poorest Countries Are Failing and What Can be Done About It). This is a superb book recommended to me by Bill Dailey. Friends don't allow friends to drive without first readings such useful books. If you read only one thing about the challenges facing East-West-South and North Africa, this is the book.

The other book is A.J. Dionne's SOULD OUT, sent to me by another mystic (everyone should have such a mystic in his or her life!) Bob Antonelli. If you have read some of Dionne's columns in the Washington Post, you know that he is a wonderful writer and serious interpreter of the role of religion (especially Catholicism) in the U.S. If you have limited time, I especially recommend the last chapter, in which he summarizes his approach to understanding the role of liberalism and Catholicism in understanding the future of American politics, and the strength and meaning of those communities in the U.S. To quote Herschel (as Dionne frequently does)"God is either of no importance, or of supreme importance...God is the meaning beyond mystery". Dionne shows why he thinks this belief has usually lifted the best of religious communities beyond ideologies of left and right, conservative and liberal. A good read.

I will spend Christmas vacation and New Year in Portland, Burlington (VT), and Washington, DC. See you in Uganda, next year. Happy Advent!


POST OBAMA ELECTION REFLECTIONS IN UGANDA
(Category: Uganda)




OBAMA INSPIRES YOUNG UGANDANS

Uganda tries to settle down after the election. It's Sunday, and the excitement over Obama's election is still at a fever pitch. Some of it is hilarious.

First, my own impressions. Then, a summary of today's newspapers.
There seem to be two categories of reactions in Kampala to Obama's election. The first, representing the vast majority, believes that Obama is about to walk over water to Uganda (forget that Uganda is landlocked) and heal all diseases, immediately producing an intense activity of development. The other two per cent scoffs at that, and tries to puncture the balloon of expectation with the warning crossing the sea is difficult and will probably take months. So, lower those expectations!

I walked around the neighborhood on Thursday after the election, and most non-English conversations (Luanda, I suppose) were filled with Obama, Obama, Obama. Little kids on the street stopped me, and as usual
trying out the few words they learned at school, such as "how are you?"
followed it with Obama, and a big smile. Cars have Obama flags and stickers. One boda boda man (motor bikes that give rides) stopped and offered me a ride. I thanked him and declined. He insisted: "...from friendship, for Obama". I declined, since I'm not yet ready to die for Obama. The boda bodas drive through the traffic like suicidal maniacs.

A review of today's newspapers, the New Vision (pro-Museveni) and Daily Monitor (opposition, of sorts), are filled with Obama articles. For the most part, the analysis is balanced and quite insightful. Wafula Oguttu explains that governing will be a different challenge from campaigning for an election, and that everybody now "wants a piece of the 'skinny boy'", but they need to try to understand how difficult it is to change policies after 8 years of Bush. He adds that while he agrees that Obama is the most talented and charismatic politician of his generation, he was assisted in his campaign by "Dubya" (as he calls him) and his disastrous foreign and domestic policies, etc.

Another comment from the editorial page of the pro-government papers concludes that "chances are that the US president-elect would not even have been considered as president of an African country". The writer does not specify which "African country", but it's obvious he means Uganda. He says that Africans would put up so many barriers that Obama would never be considered as a candidate in Africa. "How many leaders in Africa are more preoccupied with preserving their own political future than making a lasting difference for their people". Although he tactfully doesn't mention Museveni (it's implied), he does mention Mugabe of Zimbabwe and recent political savagery in Kenya ( aha, a little gratuitous slap at Kenya).

And this: A half-page picture of Deputy Speaker of Parliament, Rebecca Kadega in high heels, dancing with joy after hearing of Obama's election. The caption reads: "Kadega gets jiggy on learning that Obama had won"

I found the level of serious analysis of the challenges facing the president elect to be impressive. There are articles from US and European newspapers, summaries from news services and entire articles reprinted from US, French and British newspapers. My favorite, though, is an article mocking the Kenyans who think they will all be invited to the inauguration ball in Washington D.C. The Ugandan author says that in Kenya they'll be lucky to find a TV set to watch the event. Nasty, nasty...

POST INDEPENDENCE DAY REFLECTIONS
(Category: Uganda)




SOME REFLECTIONS...

The day after Independence Day in Kampala is a letdown. There were few celebrations, no fireworks, no parades. Today's headlines are mostly about corruption scandals, gas prices, AIDS, and the poor outlook for Ugandan soccer.

Inside the independent SATURDAY MONITOR, I came across an article that tries to explain why most Ugandans did not feel like celebrating anything on October 9. The authors are Alfred Wandera and Tabu Butagira. After reading this insightful criticism, I came to appreciate that it is still possible to express strong political opposition:

"The promises by pro-independence fighters of economic prosperity for all through elimination of ignorance and disease has failed, as an estimated 9.3 million Ugandans remain stuck in poverty, making it difficult for parents to feed, clothe and house families"

"Much of the country's basic infrastructure -- road, rail and bridges, including the Owen Falls dam overpass connecting the vital eastern import/export trade route through Kenya -- are in shambles..."

"Peaceful transition of State power has eluded Uganda to this day, and all the eight presidents from Sir Edward Mutesa to Gen.Tito Okello Lutwa, whom Pres. Noweri Museveni toppled in 1986, were kicked out forcibly.
It is a failing blamed on greed for power and declining patriotism marked by tribalism and massive official corruption..."

The authors conclude:

"In the end, it appears, each Ugandan divested from national interests of patriotism, will interpret independence based on personal convenience, if not confusion"

So, that's why October 9 was so subdued, quiet, and confused.






(Category: Uganda)




INDEPENDENCE DAY IN UGANDA

October 9, 1962, Uganda began its life as one of the most promising ex-colonies of the British Empire. It had an educated and motivated middle class (small but influential and well distributed), significant national resources, and an institutional structure that included an interesting mix of western, political traditions and traditional kingships that were organized along tribal lines. Within a few years, this peaceful, promising new nation entered into a cycle of military coups and political violence that damaged or postponed the promising vision of independence. So, 46 years later, we ask ourselves: What are we celebrating, and what does the future hold?

Since our cooks and house workers had the day off on Oct 9, Dave Burrell and I decided to cook a special pancake brunch for the Ugandan community at Bishop McCauley House. The celebration began with Mass, solemnly celebrated by Leonard Olobo,CSC, where we sang and gave thanks for Uganda's Independence and prayed for future blessings. Then, Dave and I ran to the kitchen to prepare special pancakes with Vermont maple syrup, Arabica coffee, fresh and delicious Uganda teas, cereal and fruit. Let me add that we hope to repeat these special meals -- sometime in the near future -- at a Holy Cross residence at Uganda Martyrs University, Nkosi.

Reflecting on Ugandan Independence, I remember that I have celebrated different forms of national independence in at least 7 countries since 1962, in USA and Canada, in Chile, Argentina, Mexico, France and Italy. In all of these countries (but one, Canada), independence was accompanied with short-term and long-term violence. Some were followed by horrors of civil wars, or military coups, or political revolutions to end, or renew the original covenant. So now, in my new country of residence, with Christians and Muslims, Jews and Hindus, I pray for Uganda's future, for the strength and authenticity of its many tribes, for the creativity and renewal of its government, and for the blessings on Holy Cross ministries, especially for the many young Ugandans who are creating new visions and directions for its parishes and schools.


Kampala in September 2008
(Category: Uganda)




GREETINGS FROM UGANDA, THE PEARL OF AFRICA.

It has been a month since my arrival and I am beginning to feel part of this ancient and new world of so many different cultures, languages, religions and traditions. I have signed a one-year contract with Uganda Martyrs University (UMU) to establish a proposed EAST AFRICA SCHOOL OF DIPLOMACY AND INTERNATIONAL RELATIONS.We hope to accept the first students for this Masters Program in September 2009. I answer directly to the Vice Chancellor, Dr. Francis Olweny and I will work with the Interim Director, Dr. Francis Mangeni to establish this new Masters Program. I will not teach during the first year, since both the Interim Director and his Assistant (Your Loyal Servant) will clarify the structures of the program (and its physical location), seek funds and contact potential faculty members. The location of the program is yet to be chosen, but will be either on the main campus, in Nkosi (about 1 1/2 hr from Kampala) or at the Kampala extension campus, downtown. I will give you more on these plans as they develop. For now, I invite you to look at Holy Cross in E. Africa in through the following link:

http://www.holycrosscongregation.org/eastafrica/aboutus

Then, if you wish to identify the three places of operations for Holy Cross, Fort Portal, Jinja (seminary, parish, and where a wonderful lager is made, Nile Beer) and Kampala, look at the map below.


THE CONGREGATION OF HOLY CROSS IN EAST AFRICA.

For now, I live at the organizational headquarters of Holy Cross in East Africa. Fr. James Burasa is the District Superior and works out of Bishop McCauley House, with his staff in Kampala. I live here, too and work closely with Rev. Dave Burrell, CSC, Professor Emeritus in Philosphy from Notre Dame. Together we hope to establish a presence for Holy Cross at this Catholic institution of higher learning.

Uganda Martyrs University (UMU) was founded 17 years ago, under the responsibility of the Catholic Bishops of East Africa. The first Vice Chancellor responsible for the origins and lasting quality and viability of this institution was Rev. Michel Lejeune. He now authorizes and supervises the development of higher education in Uganda for the government. Eventually, Dave Burrell and I hope to establish a residence at UMU to establish a physical presence and visible community of Holy Cross. There would be rooms for other Holy Cross members studying at UMU, as well as a place to welcome as guests and fellow faculty members.

A LAND OF REFUGEES.

Uganda is facing many of the developmental problems that challenge poor countries today. One distinguishing challenge for Uganda has been the many refugees that have entered the country during the last 4 or 5 decades. These refugees were -- and still are -- diplaced by acts of domestic and foreign terrorism. They have arrived from conflicts in the Democratic Republic of Congo, in Sudan, and in Rwanda (before, during and after the genocide of 1994). More recently, a serious and lasting conflict results from the attacks of the Lord's Resistance Army (led by Joseph Kony, who has been indicted by the International Criminal Court for crimes against humanity). Kony's cronies have attacked many villages in the north of Uganda, but are also involved in Sudan, Central Republic of Africa and Dem. Rep. of Congo. So, Ugandans are very familiar with terrorism, and at the same time have been models of generosity and hospitality for victims of terrorism in other countries.

Stay on board, as I gather more information about this marvelous adventure.
EKITIBWA KIBE ERI KATONDA -- which is (approximately)
Glory to God in the Highest!