Father Claude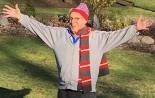 As I was saying.....



I embrace the world from my backyard at the University of Portland, January 1, 2018. I again invite you to "clod-hop" with me on my journeys to Latin America via this blog.

More...





Contact Me




Subscribe to this blog
Categories
Navigation Calendar
Days with posts will be linked
Most Recent Posts

BACK IN PORTLAND
(Category: Movies)




My first sojourn in Uganda comes to an end. I will begin a new phase of working and teaching at Uganda Martyrs University (UMU) in the near future. For now, I send you the most recent developments in my educational project in Africa, as I greet you all from Portland. In a word,
Jambo!

I left Uganda Martyrs University (UMU) for Portland in early May. I will stay at the University of Portland (UP) until the end of June. In July, I return to Montreal after an absence of many years. I will live at McGill University with UP's new summer program. For June, I am a delegate at the Provincial Chapter.

Before leaving Uganda (and UMU) in May, I submitted a new proposal for a Masters degree in International Relations. This new proposal was a response to problems arising from the original proposal for a School of Diplomacy. The new proposal was formulated in collaboration with Michel Lejeune, Deputy Director of the National Council for Higher Education of the government of Uganda. This represents a new framework for a Masters in International Relations at UMU. Students would choose a specialization in one of the following areas:
1. Diplomacy and International Studies, 2. Good Governance (or
Political Institutions), 3. Peace Studies and Conflict Resolution, and 4.
International Trade Policies and Law.
Core courses would be required of all majors, with special emphasis on African appoaches to political institutions and conflict resolution, international organizations and law, human rights and environmental issues, among others.

The international staff of directors for this program includes Michel Lejeune, Max Ngabirano, Tom Muyanja, David Burrell, CSC and Claude Pomerleau, CSC. Institutional interest and support has already been manifested by leading US, Latin American and European educational institutions. The focus and content of this program is unique to East Africa and should attract students from many other countries in Africa, perhaps even from the Europe and the Americas.

Although my original goal of establishing a School of Diplomacy was not achieved, I trust that my original effort has been productive and is now channeled into a more professional, imaginative and appropriate educational project for Africa.

Two final notes... Dave Burrell becomes an essential part of the new project. Although I will participate from UP for the comiong year, Dave and I envisage future support for a residential Holy Cross presence at UMU. The District of East Africa has accepted the challenge of strengthening its ministry of education with a goal of expanding its ministry in this area. Holy Cross in Africa is attracting bright and motivated candidates into its ranks. They look to the Congregation for a new vision and future leadership.

And, I strongly recommend the DVD "War Dance", a documentary set in Northern Uganda. It is an Oscar-nominted film about a real-life story of a group of children from a displaced camp who decide to compete in a prestigious music festival in Kampala. The story of their preparation and triumph is a glorious testimony to the human spirit. Appropriate for young and old alike. You all will love it.