Father Claude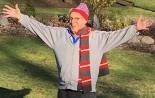 As I was saying.....



I embrace the world from my backyard at the University of Portland, January 1, 2018. I again invite you to "clod-hop" with me on my journeys to Latin America via this blog.

More...





Contact Me




Subscribe to this blog
Categories
Navigation Calendar
Days with posts will be linked
Most Recent Posts

Kampala in September 2008
(Category: Uganda)




GREETINGS FROM UGANDA, THE PEARL OF AFRICA.

It has been a month since my arrival and I am beginning to feel part of this ancient and new world of so many different cultures, languages, religions and traditions. I have signed a one-year contract with Uganda Martyrs University (UMU) to establish a proposed EAST AFRICA SCHOOL OF DIPLOMACY AND INTERNATIONAL RELATIONS.We hope to accept the first students for this Masters Program in September 2009. I answer directly to the Vice Chancellor, Dr. Francis Olweny and I will work with the Interim Director, Dr. Francis Mangeni to establish this new Masters Program. I will not teach during the first year, since both the Interim Director and his Assistant (Your Loyal Servant) will clarify the structures of the program (and its physical location), seek funds and contact potential faculty members. The location of the program is yet to be chosen, but will be either on the main campus, in Nkosi (about 1 1/2 hr from Kampala) or at the Kampala extension campus, downtown. I will give you more on these plans as they develop. For now, I invite you to look at Holy Cross in E. Africa in through the following link:

http://www.holycrosscongregation.org/eastafrica/aboutus

Then, if you wish to identify the three places of operations for Holy Cross, Fort Portal, Jinja (seminary, parish, and where a wonderful lager is made, Nile Beer) and Kampala, look at the map below.


THE CONGREGATION OF HOLY CROSS IN EAST AFRICA.

For now, I live at the organizational headquarters of Holy Cross in East Africa. Fr. James Burasa is the District Superior and works out of Bishop McCauley House, with his staff in Kampala. I live here, too and work closely with Rev. Dave Burrell, CSC, Professor Emeritus in Philosphy from Notre Dame. Together we hope to establish a presence for Holy Cross at this Catholic institution of higher learning.

Uganda Martyrs University (UMU) was founded 17 years ago, under the responsibility of the Catholic Bishops of East Africa. The first Vice Chancellor responsible for the origins and lasting quality and viability of this institution was Rev. Michel Lejeune. He now authorizes and supervises the development of higher education in Uganda for the government. Eventually, Dave Burrell and I hope to establish a residence at UMU to establish a physical presence and visible community of Holy Cross. There would be rooms for other Holy Cross members studying at UMU, as well as a place to welcome as guests and fellow faculty members.

A LAND OF REFUGEES.

Uganda is facing many of the developmental problems that challenge poor countries today. One distinguishing challenge for Uganda has been the many refugees that have entered the country during the last 4 or 5 decades. These refugees were -- and still are -- diplaced by acts of domestic and foreign terrorism. They have arrived from conflicts in the Democratic Republic of Congo, in Sudan, and in Rwanda (before, during and after the genocide of 1994). More recently, a serious and lasting conflict results from the attacks of the Lord's Resistance Army (led by Joseph Kony, who has been indicted by the International Criminal Court for crimes against humanity). Kony's cronies have attacked many villages in the north of Uganda, but are also involved in Sudan, Central Republic of Africa and Dem. Rep. of Congo. So, Ugandans are very familiar with terrorism, and at the same time have been models of generosity and hospitality for victims of terrorism in other countries.

Stay on board, as I gather more information about this marvelous adventure.
EKITIBWA KIBE ERI KATONDA -- which is (approximately)
Glory to God in the Highest!