Father Claude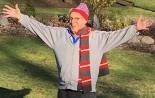 As I was saying.....



I embrace the world from my backyard at the University of Portland, January 1, 2018. I again invite you to "clod-hop" with me on my journeys to Latin America via this blog.

More...





Contact Me




Subscribe to this blog
Categories
Navigation Calendar
Days with posts will be linked
Most Recent Posts

POST OBAMA ELECTION REFLECTIONS IN UGANDA
(Category: Uganda)




OBAMA INSPIRES YOUNG UGANDANS

Uganda tries to settle down after the election. It's Sunday, and the excitement over Obama's election is still at a fever pitch. Some of it is hilarious.

First, my own impressions. Then, a summary of today's newspapers.
There seem to be two categories of reactions in Kampala to Obama's election. The first, representing the vast majority, believes that Obama is about to walk over water to Uganda (forget that Uganda is landlocked) and heal all diseases, immediately producing an intense activity of development. The other two per cent scoffs at that, and tries to puncture the balloon of expectation with the warning crossing the sea is difficult and will probably take months. So, lower those expectations!

I walked around the neighborhood on Thursday after the election, and most non-English conversations (Luanda, I suppose) were filled with Obama, Obama, Obama. Little kids on the street stopped me, and as usual
trying out the few words they learned at school, such as "how are you?"
followed it with Obama, and a big smile. Cars have Obama flags and stickers. One boda boda man (motor bikes that give rides) stopped and offered me a ride. I thanked him and declined. He insisted: "...from friendship, for Obama". I declined, since I'm not yet ready to die for Obama. The boda bodas drive through the traffic like suicidal maniacs.

A review of today's newspapers, the New Vision (pro-Museveni) and Daily Monitor (opposition, of sorts), are filled with Obama articles. For the most part, the analysis is balanced and quite insightful. Wafula Oguttu explains that governing will be a different challenge from campaigning for an election, and that everybody now "wants a piece of the 'skinny boy'", but they need to try to understand how difficult it is to change policies after 8 years of Bush. He adds that while he agrees that Obama is the most talented and charismatic politician of his generation, he was assisted in his campaign by "Dubya" (as he calls him) and his disastrous foreign and domestic policies, etc.

Another comment from the editorial page of the pro-government papers concludes that "chances are that the US president-elect would not even have been considered as president of an African country". The writer does not specify which "African country", but it's obvious he means Uganda. He says that Africans would put up so many barriers that Obama would never be considered as a candidate in Africa. "How many leaders in Africa are more preoccupied with preserving their own political future than making a lasting difference for their people". Although he tactfully doesn't mention Museveni (it's implied), he does mention Mugabe of Zimbabwe and recent political savagery in Kenya ( aha, a little gratuitous slap at Kenya).

And this: A half-page picture of Deputy Speaker of Parliament, Rebecca Kadega in high heels, dancing with joy after hearing of Obama's election. The caption reads: "Kadega gets jiggy on learning that Obama had won"

I found the level of serious analysis of the challenges facing the president elect to be impressive. There are articles from US and European newspapers, summaries from news services and entire articles reprinted from US, French and British newspapers. My favorite, though, is an article mocking the Kenyans who think they will all be invited to the inauguration ball in Washington D.C. The Ugandan author says that in Kenya they'll be lucky to find a TV set to watch the event. Nasty, nasty...