Father Claude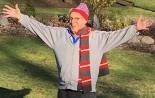 As I was saying.....



I embrace the world from my backyard at the University of Portland, January 1, 2018. I again invite you to "clod-hop" with me on my journeys to Latin America via this blog.

More...





Contact Me




Subscribe to this blog
Categories
Navigation Calendar
Days with posts will be linked
Most Recent Posts

JUST FOR LAUGHS




JUSTE POUR RIRE is how they say it in Montréal. July is the month of festivals in Québec. One of the interesting bilingual festivals was for stand-up comics. Montréal's streets were filled with clowns, comedians and more formal, stand-up comics in theaters all around town. Lewis Black, John Cleese, Bobby Slayton, Jim Gaffigan, and lots of Toronto and Montreal talent like Angelo Tsarouchas Caroline Rhea and Akmal Saleh (Chicago?).

I've collected some jokes in categories. Since Montreal is the most ethnically diverse city that I've seen, ethnic jokes abounded. And A favorite category was ethnic CANADIAN.

ETHNIC UNIVERSAL /

We talk with our eyes because we have bad teeth (Jimeoin, on how irish express themselves)

Happy to see a black President? I was happy to see a black quarterback (Alonzo Bodden).

I'm half Arab and half Swedish. I want to backpack in the name of Allah (Akmal Saleh - and he really is of Swedish/Egyptian ancestry).

I know what they're up to, and Abe Lincoln abolished it in 1862 (John Cleese was talking about celebrities adopting African babies)

I want him to be so black that when I see my president cross the street. I want to lock the (damn)
doors (David Alan Grier was joking about Obama being half white)

Michael Jackson's death was the longest on record. During that period,nothing happened. There was no crime. No famine. No war. It was a perfect world (Lewis Black)

I live in the Mexican part of L.A. It's called L.A.
(Bobby Slayton)

RELIGIOUS (?) JOKES /

Knock, knock (Frank Spadone on the shortest Jehovah's Witness joke)

You actually have a minister of science in Canada who is a creationist. A minister of science who doesn't know what fossils are! (Lewis Black --he also had Jewish jokes!)

"Akmal, if you touch yourself, Jesus will be watching" I used to watch the news. I'd see an earthquake and think, "I should cut it out. My masturbating is distracting Jesus" (Akmal Saleh told us he was originally a Coptic Christian in Egypt)

CANADIAN JOKES (and there were a LOT of these)

"Just watch all those Montrealers cultivating their little flower gardens and vegetable patches like they might last forever. In a few months they'll all be dead -- with 40 below zero and 6 feet of snow."
(Afra Jalabi, talking to my class at McGill)

There are aqueducts in Rome in better shape than Montreal's infrastructure. (Lewis Black)

If you have a terminal illness and only six months to live, move to Ottawa -- it'll be the longest six months of your life (Andgelo Tsarouchas -- he's from Toronto, but Montrealers say the same thing!)

When I was growing up, I thought bronze was the best you could get at the Olympics (Caroline Rhea, on Canada's low self-esteem)

I love Obama because when I go to Europe I don't have to pretend I'm Canadian any more (Tom Rhodes)

I love these Canucks, they're always apologizing for everything. Even when they didn't do it!
(I can't remember who said this)

A FINAL CATCHALL CATEGORY /

I read somewhere that 26 is too old to still be living with your parents. It was on a note, in my room (Graham Chittenden).

When your're a fat Canadian, you only get to be two things: funny and goalie (Can't remember who said that!)

************

Obviously, when you're sitting in a big,dark room and everyone is drinking lots of beer, they seem a lot funnier!