Father Claude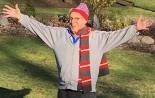 As I was saying.....



I embrace the world from my backyard at the University of Portland, January 1, 2018. I again invite you to "clod-hop" with me on my journeys to Latin America via this blog.

More...





Contact Me




Subscribe to this blog
Categories
Navigation Calendar
Days with posts will be linked
Most Recent Posts

CHILE, THE SOUDI ARABIA OF LITHIUM



Got your attention, I hope. Chile recently attracted international notice for being the latest country-trend in South America to move from the political left to right Sebastian Piñera (with a surprising large majority), will become president in mid March for the next 4 years. It is he second 4-year term. I was fortunate to join Senator Patrick Leahy in a meeting with President Michelle Bachelet in November 2016.

The proposed, new cabinet of President-elect Piñera (whom I have not yet met) is totally weighted to business and conservative party interests. An observer from USA might think this is a response to anticipated politics from the big, Northern Neighbor. Wrong. It is a trend throughout Latin America, and is an anticipated response to the intense increase of investments by China and Russia in all of South America. China can be seen everywhere in Chile.

Bienvenidos Señor Tillerson, who, as I write this, is "touring" South America. I don't expect to see many "Yankee Go Home" signs (although some will be seen), but tongue-and-cheek and sarcastic editorials already fill the pages of the Santiago and Buenos Aires press for the visit of this sad Secretary of State, his first to South America. Tillers is avoiding Chile and that has its reasons, Tillerson follows on a recent, disastrous visit by VP Pence. The Santiago papers were dominated by criticisms of "the most incompetent foreign government representative to visit Chile that we can remember" (La Tercera). He was totally unaware of any diplomatic protocol. Or, as "The Clinic" put it: "He came to deliberately insult and succeeded brilliantly" But then, new insults to Chile by US White House are coming fast and furious. The latest is the new, designated US ambassador to Chile: Andrew Gellert, business partner of Trump family, who knows nothing about Chile and doesn't speak Spanish. His company, The Gellert Global Group based in Atlanta imports processed raisins from Chile. Chilenos remember, and still praise, Harry Barnes, the US ambassador of the 1980s who was instrumental in helping to bring democracy back to Chile.

Chile's press, and table conversation, is filled with scandals that have rocked this country to the core. Of the many — and there are so many — from sex scandals in the Catholic Church and unfortunate statements by Pope Francis during his recent visit, to widespread graft and corruption among most of Chile's First Families. However, the most shocking and enduring scandal that will challenge President-elect Piñera is that of the "Carabiñeros", the National Police. Beginning with the Director General Bruno Villalobos and down to a local captain in Punta Arenas (the tip of Southern Chile) a fraudulent tradition of faking salaries from generals at the top, to most local captains, was accidentally uncovered, last year. Most shocking for Chileans is that this comprehensive fraud scheme had been occurring for years to the tune of hundreds of millions of dollars (billions of pesos). General Villalobos (more "lobos" and less "villa", as Chileans like to say) is still in office, as Director General. Indeed. He says that he wants to see more evidence before he "takes action".

Chile's economic future is far from grim, however, since Chile and China contain 3/4 of the world"s known lithium reserves, copper prices are rising again, and US citizens love Chilean salmon, berries, wines and wood products. Also, Chile is home to the first all-electric car race, Chile's version of Le Mans 24 hour race. Not bad for the future Saudi Arabia of lithium.
SHUCKING CLAMS, PICOROCOS AND OTHER DELIGHTS



I now propose to talk seafood delights from Southern Chile from where I just returned. iChiloé is part of a collection of island, to the south of Chile, just below Puerto Montt.. The master shucker, standing by the open pit is Don Luis. He is the master cook and organizer of a typical "clam bake" of Southern Chile called a "Curanto". I am at table with the family of Pablo Ruiz Tagle and neighbors. The "Curanto" is more than a meal. It is a community event. In this case, the "community" where I lived for a week was from the island of Vogues. This specific island is part pf a group of 15 islands to the south of Chiloé. These islands can only be reached by special boats that ferry people, animals and equipment needed for daily living and farming.

To understand Chiloé, — so wonderfully describe by Charles Darwin in his first visit here in 1833 — one needs to share in the local version of a clam bake called a "Curanto". Let me try. It involves setting fire to burning logs with a large pile of rocks on top of a newly dug hole for several hours. After that time, the rocks are steaming hot. At this point, the remaining wood cinders are quickly removed, the flaming rocks arranged to form a large, flat "table" at the bottom of the pit. In a quick, precise set of coordinated moves, the mollusks, and other foods to be cooked, are piled in successive layers over the stones. These layers are separated by large, green plant leaves. These successive layers consist of various clams, "picorocos", lamb meat, sausages, potatoes and other foods. After the layered foods have been arranged, water is quickly poured on the edges of the hot stones, creating a huge steam-cloud. This steam is immediately covered with several more layers of leaves to capture the steam and hold it inside the layered foods.THE ENTIRE PROCESS TOOK JUST UNDER 4 MINUTES. One hour later, after generous servings of wine and champagne, the food is well cooked and served in enormous quantities.

Although we were only 11 for this "curanto" feast, a huge amount of all kinds of mollusks remained. After the feast, the mollusks are all carefully collected and properly stored, to be eaten during the long, cold, rainy winter to follow in June, July and August.

Of all the delicious seafood, I single out the one, unique mollusk that is found only in this part of southern Chile and Argentina, the weirdly amazing and delicious "Austromegabalanus Psittacus", also known as "picorocos" — and not "picorojo" as I mispronounced it, to the enormous delight of my Chilean family. (ask someone who's been to Chile).

The "picoroco" is a mollusk of the crustacean family that lives in a rock-like shell with its beak sticking out (like a little bishops mitre hat). Once steamed, it can be pulled out of its shell and popped open into an umbrella-like delight of pulpy, sweat, tender meat. Although I am allergic to crustaceans, for some strange reason I am not allergic to the "picoroco" I consumed an insane quantity and survived.

There's so much more to be said about the delights of Chiloe, that — apologies to Charles Darwin — I'll need another posting.

Until then, "buen provecho"
As Chile prepares for visitors, and a new administration...



I prepare for my visit to Chile (January 13 - February 3) as Chile prepares for the visit of Pope Francis, and a for a new administration with President-elect Sebastián Piñera. President Michele Bachelet remains in office until this March. It's too early to assess the Bachelet legacy, especially for this second, 2-year term. She began her second term in 2012 with considerable popular enthusiasm, and is finishing on a more subdued note.

I have been privileged to make frequent visits to Chile and Argentina ( including Cuba and Mexico) thanks to Tony Pomerleau, my uncle who has generously and consistently supported these trips for research and teaching in Latin America (attached photo, with my Sister Marcelle Leahy). Tony celebrated 100 years of gifted life on this planet, last November. For his constant and generous support of public services and institutions that help Vermonters, he has won more accolades and prizes than I can count. For me, Tony has enriched and transformed my life in an infinite number of ways. Thanks, "Mon Oncle".

Once more, I hope to gain new insights into Chile's changing and complex politics and society. I begin my trip with a visit to the south of Chile. For the first week of my visit, I stay in Chiloe, with Pablo Ruiz Tagle and his family. I will send my next blog from that archipelago, a Chilean treasure.

Some of the events that i hope to cover in the next blogs include the visit of Pope Francis (Jan 15 - 18) and the challenge he will offer to a church that greatly needs renewal and a new vision. The new administration of Piñera has promised economic renewal (badly needed) and political reform. Since the military dictatorship lasting from 1973 - 1989, Chileans have chosen governments that mostly rule from, or close to, the center (center-left or center-right, but always generally center-center). Warming relations with Argentina and Peru (not so much Bolivia) are anticipated by most observers. Soccer is one area that the Pope is NOT expected to address. Argentina qualified for the World Cup. Chile did not. . Neither did USA. But Chile! That's an earthquake. ?Qué pasó?

Finally, China has intensified it's presence throughout Latin America, following a big vacuum, created by the bizarre foreign policy of the USA during the past year. Russia is rumored to be preparing to meddle throughout the Americas, in the coming year, in a variety of ways. In that sphere, Venezuela and Cuba offer a variety of possibilities, given the inconsistent and contradictory policies of the new, US regime.
CHRISTMAS CAME EARLY...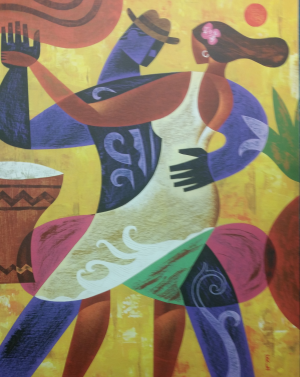 Chilean island of Chiloë, with her husband Carlos.

Having just returned from Chile and Argentina, i share a reflection on the Venezuelan political meltdown. "And just like that, Christmas came early for the strongman in Caracas". That comment was just sent by Paul Gallegos, Venezuelan analyst at Control Risks. It is an interpretation of the threat made by Mr. Trump to intervene militarily in Venezuela. Such an armed intervention, redolent of the Bay of Pigs, threatens to wipe out, through one, loose rattle of an addled brain, the recent rapprochement of the US with Cuba. But wait; there's more.

Back in Chile, commentators expressed surprise at Trump's identification of George Washington with that of a traitor and rebel, Robert E. Lee, who dramatically failed to destroy the country of George Washington and Abraham Lincoln. Now, just imagine that President Roosevelt had said in 1941 that there was no significant moral difference between Prime Minister Winston Churchill and General Hideki Tojo — except, of course that this general tried to destroy the USA. A moral distinction of significance.

Vice President Pence met with President Bachelet of Chile and President Macri of Argentina, as Mr. Trump was giving a vigorous defense of Neo-Nazis and the KKK. What would he VP say, pundits inquired? Mr. Trump never never said that, he claimed. Both Latin American presidents turn away in embarrassment.

Thanks to Patricia Pomerleau (my marvelous cousin who makes this blog possible)and her able assistant, Toby, McGuire, I am changing the focus of this blog from its origins in Africa to the more recent voyages in Latin America. In addition, I offer the theme of music in both the accompanying photos and in the new blog heading: music and dance. The heading is a birthday gift from Antonia Ruiz Tagle, a dear, dear friend who lives near the spectacular, Southern

My good friend Quique de Marco reminded me of a quote by Nietzsche which I paraphrase

LIFE WITHOUT MUSIC ,AND FRIENDS, IS AN ERROR

While in Buenos Aires, I was privileged to attend a concert of the music of Ravel and of de Bussey, played as piano duets by Daniel Barenboim and Martha Argerich. On the following week, in Santiago, I attended a concert of the music of JS Bach and Edward Elgar, conducted and played by Pinchas Zukerman and Amanda Forsyth (a Canadian who is a leading, world cellist), with the National Symphony of Chile. I was proud, in those musical moments, to be associated with some of the best representative artists from the North. Although Barenboim began his musical career in Argentina, I overheard much praise about US artistic prowess.

As I reflect on the recovery of Argentina and Chile from complete democratic meltdown under recent dictatorships, I am sustained by the belief that we too, in USA, will be able to recover from a political and social earthquake that has rattled our democratic system, and that resembles our slow — if uneven and continuing — recovery from 19th Civil War. That conflict has been transmogrified into destructive currents of social, religious, economic and political contents. This Fall, as I teach a class of politics at UP, I look forward to symbolically taking distance from the US with my students, to examine the contemporary shaping of foreign policy in South American nations.
AND THE NEXT PRESIDENT IS...



I begin with "fútbol" news, or the soft power diplomacy of football. The photo is of the entrance to St. George's College. This legendary football school, founded when Notre Dame used to be a football power (in the 1940), is administered by the Congregation of Holy Cross. Manolo Burboa former soccer coach of this college, is another legend from the past, when St George's was the school to beat. Today he directs women's soccer at the Catholic University. He has continued his legendary leadership by placing 5 of his former players from St. George's as leaders in Nike's sports division, Beaverton. And now, Manolo will assist me in making them a UP connection, as well.

In the past, Chilean soccer was seen as inferior to Argentina's. Today, Chile is one of the leaders in world soccer. A lot of credit goes to coaches like Manolo who have prepared several generations of top players. OK, enough about sports; and now, politics.

There are 4 leading candidates for the presidency in Chile. Sebastián Piñera, a conservative nationalist is far ahead in the polls and expected to win in November. Some distance behind are 5 other candidates. Alejandro Guilier represents the party of outgoing Michelle Bachelet or the "Concertación" (a coalition of parties of the left). Carolina Goic representing the Christian Democratic Party (that used to be part of the Concentration coalition). Other candidates include Beatriz Sánchez, Jose Antonio Kast and Marco Enríques-Ominami — minor, but entertaining challengers who are not taken very seriously.

Protests — often violent — of, leftist group, especially of students, have intensified — as the left loses its predominance. In response to this loss of power, protestors burn tires in the streets, pee on Christian Democratic posters, and other —not-so-challenging but odd — street activities. Maybe that's one way of saying "Make Chile yellow again"?

The leftist senator, Alejandro Guilder, Bachelet's successor, might have been a credible candidate, except that the left is too weak to give Piñera a run for his money (and, he is a very very rich man). A pundit at the convention of leftists candidates claims to have overheard President Bachelet saying" Comrades, a party on its knees cannot aspire to lead anything". One additional observation. If you thought the abortion debate in the US was a political sham,
well then, it's even worse in Chile. This is a conservative, Catholic nation that has politicized the abortion debate to a frenetic degree. Pope Francis is scheduled to visit next January. He is expected to move the debate toward more significant issues of poverty, immigration and overall religious renewal. The Chilean Catholic Church is stalled and badly needs a jump start. Many are watching to see if Pope Francis can find the right spiritual jumper-cables.

I will soon return to the summer heat of Portland. Today, Saturday, August 12, it is mid-winter in Chile, and the Andes are brilliant as a heavy snowfall during the night transformed these mountains into a dramatic, towering white wall. Eat your heart out, Trump. This wall was free, and it is great!
WELCOME TO CHILE



This statue by an obscure artist of Chile has become an icon, here in Santiago. As for me, I see it as a secular object of devotion. The statue is located in Santiago's Liberty Park, discreetly — if obscurely — facing the US Embassy. It's also a sort of lover's lane for university students, with lovely shade trees. It was raining when I took the picture. Students, bring your umbrellas.

Vice President Pence is scheduled to visit Santiago on August 16 (my birthday, OMG, please change your travel plans, Mr Pence!). He has been briefed by President Trump about what to say, what to see. Trump after all, knows what he's talking about. His business empire is building a Trump Tower in Rosario, Argentina — Chile's so-near and yet so-far neighbor. He's building this tower with drug money laundered from the Colombian cartels expelled through their peace process.

By way of secular devotion, I bend my knee to the glorious icon of "Liberty Park", Welcome to Chile, Mr. Vice President. Be sure to take pictures, to show to your Boss.

It is raining in Santiago today. Heavy rain to continue for days. In a few days, the rain will clear and the Andes will be gloriously covered with bright, fresh fluffy snow.

This will be in great contrast with the mood of despair that I've encountered among my political friends. Corruption is rampant, and it has crossed over the Andes from Brazil and Argerntina, into Santiago, to an extent not previously known here. Corruption has been uncovered among the top business families of Santiago. These families are considered the representatives of the honest fiscal virtues that have characterized Chile for most of the past century. When Dictator Pinochet robbed millions from the State, Chileans responded by saying: At least the rest of the nation remains honest. No more. And compound this with scandals, huge scandals by the leadership of the Carabiñieros (the national police), and the Catholic Church. Top police have been stealing billions of dollars (yes, not pesos) for years. And the Cardinal of Santiago, reeling from sex scandals among the clergy, went to visit a convicted sex-offender in prison (bringing him candies!) while he refused to meet with the victims of convicted Fr. Karadima. The Cardinal also goes out of his way to disparage the victims of Fr. Karadima. And that is for a later blog. I will return, soon, with more specific political news, about the presidential campaign of Chile. It is heating up, baby, with it's special controversies and scandals. Stay tuned.

It has been a blessing to be far away from the US and all that bla-bla-bla- about bombing N. Korea, and Trump's previous misbehavior in Moscow.
BUENOS AIRES



My first visit to Buenos Aires came in 1970. I was doing research on my dissertation. i returned my times to follow up on that research and visit friends. Two of these friends still play an important role, Quique de Marco Naón, and Mempo Giardinelli. They each introduced me into the social and political world of Argentina, many years ago. They gave me two distinct perspectives of this city of 13 million (2,800,000 within the municipality alone) Besides being the second largest city of South America, it is one of the most livable and delightful tourist cities of the Americas— if you're careful to avoid the many scam artists, always ready to surprise you. Quique is the lawyer, a Peronist and academic administrator who gives me a balanced, consistent and moderate view of the contradictory and rambunctious politics of this unique Latin American nation. Argentina appear to be, at times, an extension of Italy, in language and customs. Quique is the father in the picture taken at El Retablo. (photo) His wife Vanina, daughter Sabrina (pictured in an earlier post of August 7, '15 with Cardinal Bergoglio) and son Claudio (whom I baptized with a familiar name). We were celebrating my departure in Le Retablo, as in my post of July 8,'15.

Memo is the artist, novelist and idealist who represents a powerful presence with publications and political columns in the progressive, leftist press. Memo previously wrote a column in support of the quirky and fractious ex-President Cristina Fernandez de Kirchner. Quique served in the Menem administration of the1990s. Memo introduced me to Quique, back in the 1970s when they had been the closest of friends.

Today, Mempo's Monday columns in the newspaper PAGINA 12 are critical of President Macri's attempts to bring Argentina back to more traditional trade and financial policies. He also harshly takes him to task for what he cites as the violation of human rights, and his dubious background as revealed in the Panama Papers (that famously published where the world's rich hid their money). Quique walks me through this, and suggests that Mempo might be —just might have become — too ideological and extreme — even if he remains a brilliant writer who has won many international prizes.

Last night, I attended a conference at the University of Business and Social Sciences (UCES). The presentation by outstanding academics attempted to situate the October 17 mid-term elections in a useful framework. Dr. Jorge Castro, added humor to the presentations by reminding the audience that the dominant dynamic of the Argentine electorate is "maniaco-depressivo", a form of wild depression. Some readers might have seen the Argentine movie of 2 years ago, "Cuentos Salvajes", Wild Stories (for its US showing).

Some sad news. After 140 years pf publication, The Buenos Aires Herald, the only English daily newspaper of South America, published it's last edition, last week. It's the only newspaper that openly and consistently condemned violations of human rights during the military dictatorship of 1976 to 1983. Robert Cox, the editor during the dictatorship, was repeatedly detained and threatened. He fled the country, and returned as a witness against the jailed military generals.I had hoped to use this news source for my class in the Fall.

And now, I return to Santiago, land of great wine and fish.

GREETINGS FROM SANTIAGO, A CITY STILL RECOVERING FROM A RARE SNOWFALL
(Category: Chile and Argentina)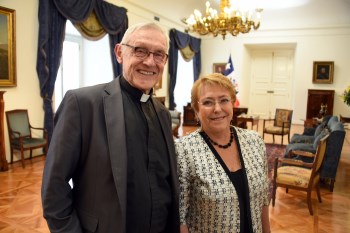 President Michelle Bachelet et Moi

My last posting was in 2015. And yes, I am still alive and traveling.

I returned to Chile in November 2016 to celebrate the 80 anniversary of the establishment of St. George's College in Santiago. My sister Marcelle and her husband Senator Patrick Leahy joined me in that trip. Patrick arranged for a meeting with President Michelle Bachelet. We first met with the US ambassador and her staff. The conversation with President Bachelet lasted WELL over one hour and related to changes in the US government administration and possible effects on US-Chile relations.

Much has changed at St. George's College since I was Rector in the 1980s That was the last decade of General Pinochet' administration. The college was approaching economic collapse, and relations with the public authorities were strained. These relations improved with the end of the military dictatorship.

During that time, Chile became a close collaborator with the US, as the country experienced great stability and dramatic economic growth. This growth for Chile resulted from an enormous export of commodities, from copper and other minerals, wines, fish and various food products. But with the decline of global markets, and especially Chinese markets during the past 7 years, annual economic growth declined in Chile to less than 2%.

A lot has changed during President Bachelet's four years. After a huge popular majority at the beginning of he second term as president, her popularity has dropped dramatically. Widespread corruption, cynicism and controversy has changed the nature of politics — not unlike US politics, especially since November 2016.

Presidential elections are scheduled for this November, and polls favor a former president and Harvard trained business executive and billionaire Sebastián Piñera of the Conservative business alliance, Renovación Nacional. The leading opponents on the left are Alejandro Guiller and the Socialist ex-president Ricardo Lago (I like to call him Dicky Lake). Another young contender (for the Chilean senate os Eduardo Vergara of the Party for Democracy (PPD) who is a graduate of the U of Portland, the Sorbonne and the U. of California.

For the past 25 years Chile has been a sterling example of countries recovering from military dictatorships distinguished by a popular confidence in democratic institutions with steady economic growth.

The perception of Chile's neighbor, Argentina is very different. the NYT of Tuesday, July 25 published a revealing article on the role of women in political leadership in Chile, Brazil and Argentina. The article focused on President Bachelet as the only remaining female president in Latin America, and the challenges she faced as an executive in a deeply ingrained patriarchal society, with many still unwilling to legitimized roles for women outside of family and the home, and with a dominant Catholic culture that rejects the emerging role of women as leaders in politics, business and especially in the Catholic church.

My next post will be from Buenos Aires, where I will visit for the next 5 days.
SPITTING ON A DEAD DICTATOR
(Category: Chile and Argentina)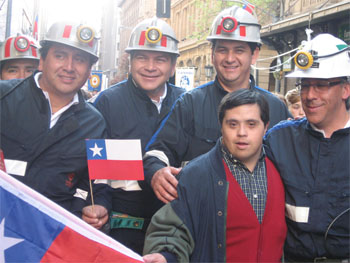 Juan-Pablo with miners (marching in support of the famous 33)

On September 10, 1006, Francisco Quadrado Prats, General Prats' grandson, cooly walked into the grand hall of the Military College in Santiago, Chile where General Augusto Pinochet was lying in state, in full general's uniform. He bent down and spit on Pinochet's face, and just as cooly, he then walked out of the building where he was pummeled and kicked by mourners. He had to be rescued by military police. His grandfather, General Carlos Prats was Chief of Staff when Allende was elected President of Chile. Prats fled to Buenos Aires after the coup, where was murdered in 1974 by DINA, under the direction of General Manuel Contreras. A metaphor of Chile today.

On August 8, I was surprised by big bold headlines in the morning paper, GENRAL MANUEL CONTRERAS DIES. He was serving a 500 year term for the murder of thousands of Chileans while head of Pinochet's secret torture squads. He was reported to have personally murdered some prisoners in the basement of his home. Few Chileans mourned his death. In fact, thousands eagerly followed his prolonged agony in a military hospital by joining in a popular twitter account praying to Our Lady of Mercy (Chile's patron saint and national holiday) to prolong his life. Why? So that he might suffer longer, in a common prison. Also, a petition was circulated to have him stripped of his rank as general. Metaphors of Chile today.

On August 5, 2010, 33 miners were buried 2,300 ft, underground in Copiapó, Chile. Finally, 69 days later they were all safely rescued through a dramatic effort to bring them to the surface. I joined Chileans as they celebrated the 5th anniversary of that rescue. The attached picture shows Juan-Pablo Sanchez, a dear family friend, in an earlier, public parade of thanksgiving in downtown Santiago. Surely, you didn't expect me to post a picture of Prats spitting on Pinochet's body, did you? The movie of that rescue, "Los 33" is showing in Santiago and will soon be at your neighborhood theaters. Another metaphor of Chile today.

Two weeks ago, as I walked into the main courtyard of the Business and Commerce building of the University of Chile, where I was giving lectures, I was startled to hear a former Christian Democratic senator praising the nationalization of Chile's copper during Allende's presidency. About 150 students stood passively listening. When he finished, a young lady raised her hand and sarcastically asked if he was accompanied by one of the young boys he was accused of molesting. He was quickly ushered out of the courtyard to jeering students. Another metaphor?

Today, Chile's economy is suffering from an abrupt and unexpected downturn. President Michelle Bachelet, the daughter of another, famous general murdered under the dictator Pinochet, is struggling to manage a fractious cabinet. Her popularity has plummeted, after only one year into her 4-year, second term. She was elected last year with an unprecedented program of reform in education, health and administration, promising a new Constitution. It is doubtful if she can deliver on most of these promised policy reforms.

And finally —really finally — when Chileans have nothing else to discuss, they recall their victory over Argentina in the Copa América, on July 4 of this year. Yes, July 4th. And what do they all talk about? A notorious incident in the semi-finals when Chilean defender, Gonzalo Jara "fingered" the butt of a Uruguay defender, Edison Cavanini. Jara then faked an injury (to his finger?) and the ref, who failed to see the "infraction", gave Cavani a yellow card. OK, so Jara was finally given a 2-game penalty. Yup, it's on google, ginger-incident and all.

Millions of Chileans are now finding consolation in this moment of humor, in this "catrasca" — Chilean for "one crappy event after another". Too bad " Le Theatre du Grand-Gignole" closed in Paris in 1962. This would have made a great puppet show.
TOURING OLD SANTIAGO
(Category: Chile and Argentina)



There's a charming section of old, downtown Santiago, called Barrio Yungay. It is as fascinating as any section of Santiago. While the rich suburbs register robberies and carjackings, this downtown barrio has for the most part been overlooked by traditional troublemakers. It is as safe and homey and secure as any place, with local citizens gathering to rest and socialize, with palm trees, flowers, coffee and pastry shops on many corners.

Barrio Yungay is about the size of central Burlington VT (or old Montreal,downtown Boston). Many of the 19th century houses have been saved and repainted into colorful and blended patterns, and most public places restored.

Yungay is almost a self-contained community, hospitals, restaurants, museums (one of them, with old cars), market, schools, churches galore, library, hospital, theaters and 5 subway stations. But my favorite place to visit, smack-dab in the center of the barrio, is the FRENCH BARBERSHOP AND RESTAURANT, aka, Peluqería Francesa, on Boulevard Lavaud,

This so-called "barber shop" has one of the most charming gourmet French restaurants in Santiago, and an old-styled, French barbershop. Behind me, in the glass case, is a collection of "instruments" used by barbers in the 19th century. I always plan on going there for a haircut (needed or not; you can see how much I enjoy it), after my ritual lunch of Congrio chawder, that iconic Chilean dish that Pablo Neruda describes as the earthly blending of divine juices and aromas.

This barrio was begun in the late 19th century during a period of famous artists and writers that moved here from France. The city fathers sent a crew of Chilean vintners and experts to France for the purpose of transforming Chile into a wine country. One of these young French experts was Émile Lavoud. Soon, prosperous French and Chilean business people settled here and insisted on having their hair and beards done in the French style of the day. What better than to have a delicious meal at the same time. The tradition remains, and the barrio prospers.

Another memorable monument within the barrio is the south Train Station (Estación Alameda). It was designed and built in the 1880s by a French company specializing in steel buildings. It is a tall, elegant monument that suggests an Eiffel design, with drama, power and security. Today, redesigned, it is filled with markets and stores of all kinds, and a movie theatre.

Worth a trip to Chile in itself, I recommend taking the metro or a taxi (cheap and efficient) to the downtown market ,or for the French Barbershop. There, you order a 'caldo de congrio', while practicing your French with the waiter. Their Spanish and English works well, too. Finnish, not so good.
CHILE ON THE HORIZON
(Category: Chile and Argentina)



Now that I'm in Chile, I expected to read all about about the positive excitement of the Chilean press over the visit of the friendly Argentine Pope Let's just say, it wasn't necessarily so. There were a few positive and friendly observations, of course, about his visit to Chile's poorest neighbors. Most of the comments — even the kind ones — included some deflecting humor and even sarcasm about this mildly confused religious leader, who also happens to be Head of State, but has not quite adjusted to this unique combination of contradictory roles.

I added a recent photo of Cardinal Bergoglio, lest you've forgotten what he looks like. The recently blessed the school of Sabrina, the daughter of my good friend, Claudio de Marco, whom I baptized in 1970. Sabrina might have suspected that the friendly cardinal would soon be called to Rome.

For now, Cuba-US relations have taken over the news (along with the beginnings of a deal with Iran), Papa Francisco has disappeared from the news. Let me return to Chile's perception of this recent papal visit to its near neighbors.

What seemed to be most upsetting to the Chilean press, with more muted comments by government officials, was his positive response to a demand by President Evo Morales that it be given back it's access to the sea by Chile. This is a long-lasting and angry polemic between Chile and Bolivia over territory taken by Chile during the War of the Pacific.

I jotted a few comments from an editorial of last Saturday by one of Chile's best-known historians. The article by Alfredo Jocelyn Holt was printed in "La Tercera", Santiago's conservative newspaper The "Le Figaro" of Chile. He begins his comments with a stark "Bergoglio", the family name of Pope Francis: "Bergoglio [he writes] may be a Head of State, but clearly history is far too important to be trifled with, for it follows a specific, rigid discipline that excludes the possibility of consecrating it through a simplistic sermon"

[The above is Chilean jargon for: Better to leave history to the big boys, Bergoglio, and stick to your Church affairs]

Our historian, in Donald Trump-style, continues with a question, again with dripping sarcasm — "Should we now expect Mexico to claim back Texas..or why doesn't Bergoglio (there it is, again) ask Italy to reestablish the Vatican's access to the sea?" Aye—aye—aye.

A more careful and diplomatic formulation came from one of the Senators of the Christian Democratic Party ( a graduate of St. George's College, by the way) who simply chided the Holy Father for perhaps forgetting that comments made from a compassionate religious perspective may be distorted by his role as Head of State, Implication: When he reads my comments, he'll come to his senses. We all have our moments.

I close with a historical observation. Chile and Argentina came close to war over three, little islands in the 1960s. War was fortunately avoided through the mediation of the Holy See. Otherwise who knows but that Patagonia might just belong today exclusively to Chile — and not shared with Argentina.. So, Bergoglio, the world anxiously awaits your visit to Cuba. Followed by a visit to Cuba's northern neighbor and former enemy.
VIVA CHILE (and Cuba)
(Category: Cuba)



Preparing for Chile. My last blog was in October 2014 on food and Buenos Aires. Apologies for the long absence. I will soon return to Santiago, Chile for seminars and lectures. I hope to shed some light,on Chilean politics and society, and even start a controversy or two. Or three.

The photo of a senior citizen in Santiago de Cuba was taken by my sister, Marcelle Leahy. It provides a bridge to Santiago de Chile. Marcelle was visiting Cuba recently with her husband, Senator Patrick Leahy. She travelled to Cuba numerous other times with Patrick (more photos to follow), who is also a fine photographer, husband, and decent senator. During those travels to Cuba, Patrick has been intensely involved with US policy changes toward Cuba, encouraged by none other than Pope Francis and pursued by President Obama. Significant results are seen from the opening of diplomatic relations between the two countries, beginning a new posture toward the Americas. I was privileged to visit Cuba on exciting educational tour organized by Patricia Pomerleau, another outstanding photographer. Runs in the family…

But I digress. It is Marcelle's personal, human touch that has given a unique depth and special meaning to Senator Leahy's significant influence on these significant policy initiatives. Specialist now believe that the relationships between within the Americas will be significantly affected as a result of normalized relations between Cuba and the US. I am anxious to see how Chileans interpret this new US opening towards Cuba, and share this with you.

Chile provides a unique framework from which to understand the significance of US/Cuban relations. US involvement in Chile's 1973 military coup complicated all of US relations with Latin America. Chile is still struggling with the consequence of the "War of the Pacific", 1879-1883. During this major, military operation involving Bolivia and Peru, Chile annexed a significant part of territory that previously belonged to Peru and Bolivia. It will be interesting to see if this complicated and emotional territorial issue is mentioned during the visit of Pope Francis to that region.

Both Cuba and Chile are facing powerful domestic issues. These issues have significance for future cooperation and integration of the region. Many analysts predict that changing relations between USA and Cuba will bring benefits to all of Latin America. Although Chile is seen as one of the closest allies of the US, Cuban-US relations have traditionally sent destructive tremors throughout the rest of Latin America. Now, Chine has drawn its own conclusions as a result of these tremors.

I look forward to joining my Chilean colleagues in their celebration of their championship in the Copa América (for men), and to remind them that the US women's team also wond the World Cup.
A GOOD STEAK, BOTTLE OF WINE, FRIENDS: EL ESTABLO
(Category: Chile and Argentina)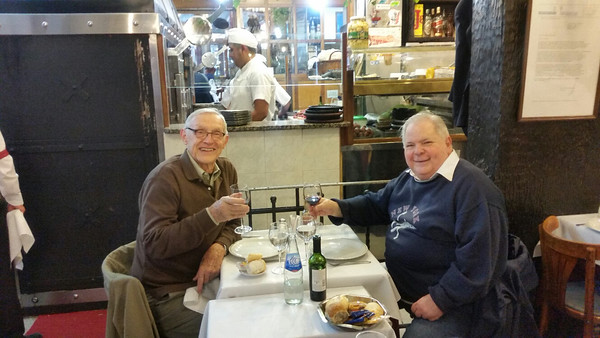 Claudio and Quique

I made a commitment to my foodie readers. In the last posting, I promised to talk about food, relating to my visits to Santiago and Buenos Aires. In the photo, I am with my friend Quique de Marco-Naon, We were at "El Establo" (The Stable), an iconic Argentine steak house. We were waiting for our orders. The chef, is behind us. Part of the joy of eating at a Buenos Aires restaurant, is the quality of the waiters and watching the chef cook your meal. Our chef gave us the impression that we were his only customer. Many waiters in Buenos Aires – the better ones – take pride in memorizing everyone's order, checking twice to make sure that they have the right order, for the right person.

Buenos Aires and Santiago have different approaches to dining out. On the one hand, "Santiaguiños" (Chileans who live in Santiago) take great pride in their way of serving fish. Although one can expect delicious "cazuelas" of all kinds (with meat), it is the Conger chowders, the fresh-caught fish, and all kinds of sea urchins and other creatures that characterize good eating in Santiago. On the one hand, Chileans are often reserved and even mystical about their fish platters. A good chowder becomes a mystical experience, lifting one to a culinary, out-of-body experience – according to Pablo Neruda, Chile's national poet.

On the other hand, the best way to describe an Argentine steak is earthy and juicy, where smell and the sizzle in the background reminds one of the gauchos herding cattle for the slaughter. Ok, I exaggerate, but never, never pass up an invitation for a steak in Buenos Aires.

A Tip of the Hat to Uganda and friends in East Africa. This blog originated, after all, from my academic experiences in Uganda. Although I haven't returned recently, I have not lost touch, nor forgotten my promise to return for the dedication of the Graduate School of Diplomacy and International Relations. Although Ebola is dominating news from West Africa, a recent death of a citizen in Kampala from Marburg Hemorrhagic Fever (a rare virus, related to Ebola) will undoubtedly add to fear and confusion. While this has shifted my focus to East Africa, the topic that has also interested me in recent years is the remarkable recovery of Rwanda from the 1994 slaughter of Hutus and Tutsis, and the role of President Paul Kagame in the development of that country.

Until recently, I considered Kagame to be a model leader. It's more complicated than that. My understanding of the role and personality of Kagame was shaped by the unconditional support for him by former President Bill Clinton and Prime Minister Tony Blaire, as well as the many books and articles praising the role of Kagame. Stephen Kinzer – a respectable author who wrote a favorable account of Kagame in A Thousand Hills – was also influential. Until recently, Rwanda was considered a model country for social and economic development in Africa. Kagame's version of events leading out of genocide are now seriously doubted by many. This revision is a result, among other things, of Mahmood Mamdani's new book, When Victims Become Killers (2014), and a BBC documentary on Kagame "Rwanda's Untold Story (2014) Mamdani is a very respected Uganda scholars He teaches at Makerere University, and holds a chair at Colombia University. The BBC documentary is serious and scholarly, with interviews and new research and facts. I suppose this isn't the first instance of victims becoming killers, but it is an especially dramatic one. In the case of Kagame, anyone who questions his version of "The Rwandan Holocaust" is silenced or eliminated. This is one more example of a political leader using victimization and a self-serving version of a "holocaust" to justify political repression and military occupation. Plus ça change…

Back to Chile, with the longest coastline in the world. A recent report by the World Wildlife Fund warns that Latin America is especially vulnerable to losing much of its wildlife because of environmental destruction Hard to say, according to some, whether Chile is most careless about its environment, most vicious with its indigenous Mapuches, or most obstinate in its relations with Bolivia and Peru. Maybe all three.

President Bachelet, who was recently elected for a second term, faces protests and challenges on all levels. Bolivian and Peruvian governments are still resentful of the loss of territory to Chile during the War of the Pacific in the late 19th century. The debate has shifted from the national stage to the Hague, and to international law. Meanwhile, students are protesting and marching in the streets to emphasize the poor quality of public education and the inaccessibility of higher education. President Bachelet is introducing legislation to make higher education free for everyone, as it is in Argentina. Unfortunately, Chile's public schools are known to be awesomely mediocre with poor teachers. A slowdown in economic growth and higher unemployment has also stirred the emotional pot. Finally, the debate over violations of human rights during the Pinochet dictatorship (1973 – 1989) continues to dominate public discourse. In spite of these problems, Chile continues to be a model of development for Latin America – at least for some of us.
Farewell to Chile
(Category: Chile and Argentina)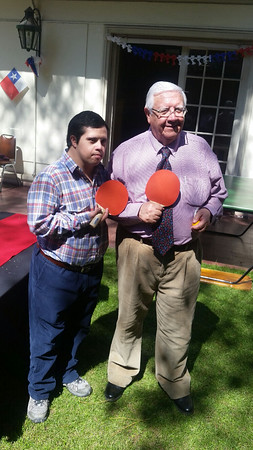 #OlympicVictory----Juan-Pablo and Walter


Leaving Santiago –

For the last couple of days, I must have established a hugs-and-kisses record for Chile, maybe even for the Americas. The family that I will especially miss (among many) is the Sanchez family. The picture enclosed is of a proud son, Juan-Pablo, who just finished beating and exhausting his dad (Walter) They posed, at my urging, for an Olympic victory picture.

Fiestas Patrias

That famous game of table tennis, mentioned above, took place at the Institute of International Studies (University of Chile). Walter, in defeat, remains the Dean of the School of International Relations. The game was played during a typical Chilean fiesta held .during the celebration of this country's "Chilenidad", or Chilean identity /Independence celebration. Today, September 18, the city is dancing the "Cueca", the national dance, and eating typical foods, with a glass of wine or two.

Chile, the Switzerland of Latin America?

Listening to some of my friends who belong to R-wing parties(The RN – Renovacion Nacional Party and the UDI - Union of Democratic Independence) one gets the impression that the country is broken, bankrupt and moving to give Argentina a run for its corrupt money. Well, not quite. Chile has experienced a dip in the rate of economic growth, and a rise in unemployment. President Michelle Bachelet has probably promised greater educational reforms than she can deliver. Students are asking for free, comprehensive education for all (as in Argentina, by the way). The education issue is THE hot topic of discussion. Still, Bachelet danced the Cueca on TV, last night. My fellow religious confreres pooh-poohed her dancing abilities, but said that she knows how to run a government – and attract foreign investment to Chile. That has gained Chile the title of a Latin American Switzerland.

Bombing and earthquakes and Guantanamo

A recent bombing in a metro station (known as Escuela Militar) has caused some nervousness. President Bachelet has asked for help with national security from the US government. The US government has asked Chile to accept some Guantanamo prisoners. The US has said yes to helping Chile. Chile has no yet responded to the Guantanamo request. Tit for tat will probably win out. Some of my Chilean friends who say that Chile should accept these Guantanamo residents point out that Chile was adamant in opposition to the military invasion of Iraq. However, they say, if Chile can be of help in closing that prison of shame, it should do it.

Scandals galore

Among Latin American countries, Chile was particularly hit with clerical, sexual scandals. Prominent hierarchy and clergy were involved. As a result, the Chilean Episcopal Conference which used to be an ethical/political leader for Latin America , is now eclipsed with scandals. The former Cardinal-Archbishop of Santiago who was chosen to be one of the special advisors to Pope Francis is an embarrassment for Chilean Catholics. Make no mistake about it. Francis knows what he's got, and it's not a log, since he studied in Chile, and admired Chile's past role of defense of human rights during the Pinochet dictatorship, So, he probably felt obliged to pick someone from Chile. There's a Chilean saying: Algo es algo, dijo el Diablo recibiendo el Obispo (Better than nothing, said the Devil, welcoming the bishop)

Hey, sorry to end on such a negative note…

Next posting: food culture in Buenos Aires and Santiago. Yum.
MEA CUBA, MEA CUBA, MEA MAXIMA CUBA (and Chile & Argentina)
(Category: Chile and Argentina)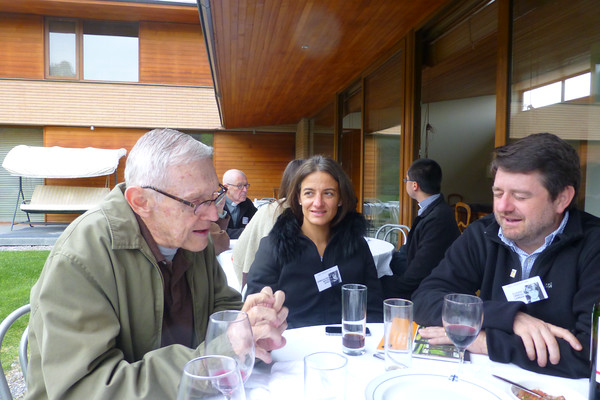 Claude, Carmen Gloria Montes and Claudio Orrego


A final reference to Cuba, on this posting, but the rest is about Chile and Argentina, and this posting is from Santiago Chile. My 55 postcards sent from Havana on February 13, arrived – 5 months later, if at all. Perhaps mail officials are on meth. As for Chile, I arrived in Santiago in mid-August to give lectures and conduct seminars recent political development and conflict resolution in East Africa – the part of Africa known as the Great Lakes Region (Sudan, Kenya, Uganda, Rwanda, Burundi, Tanzania and Kivu Province of Congo. However, public attention these days centers far more on domestic issues and memories of the military dictatorship. Chile's 9/11.

Old friends from a past life at St. George's College. This photo was taken a few days ago at a celebration of the Best Georgians, the top graduates of the past 50 years, One graduate is selected each year, representing the best values of a Holy Cross education .With me is Claudio Orrego, Intendente of the City of Santiago (general coordinator and director of Satniago's 23 municipalities). Claudio was Christian Democratic candidate for President, last year. His mother was my secretary when I was Rector of the college. Between us, Carmen Gloria Montes, who works as an educator for the city's medical establishment. Her father preceded me as Rector of St. George's

I just returned from Buenos Aires, where I visited a friend, Quique de Marco. He helped me when I was writing my dissertation in the Buenos Aires in the 1970's. I recommend a new movie from Argentina, Relatos Salvajes, (Wild Stories) by the Argentinian director, Damian Szifrón. He is a young director who makes cynical, funny and dark movies. This one is as good as it gets. Wild Stories consists of 5 short episodes of different national characters and archetypes from contemporary Buenos Aires and rural, mountainous Argentina. It's a wild introduction to a culture that knows how to celebrated life, and knows what degrades it as well.

Some Chileans celebrate their national holidays with bombs (in metros and train stations). After the last bomb in one of Santiago's major metro stations, 40 anarchist groups called to claim its authorship. Chileans grew accustomed to arbitrary bombs in the past (during the military dictatorship), but this is a new breed of anarchist, more mindless and cynical than in the past.

However, I think I am more likely to die from Chilean drivers – the insane ones – than from crude bombs planted by kinder-garden dropouts..

I recently visited Santiago's MUSEUM OF MEMORY. A small croud, mostly groups of school kids. It was a walk through personal memories for me, since I lived in Santiago when many of the documented atrocities took place. Passionate indignation doesn't That is also true of the violence that I witnessed in Argentina and Chile in the 1970s and 1980s. The extreme military murderers of Chile and Argentina were responding (in God's name) to the extreme civilian murderers of the left in the same countries. Voltaire said that people are never more cruel than when they act in the name of religion. That observation seems as true as it was in Voltaire's day.

Four days after arriving in Santiago, I was jolted by an earthquake. It was a 6.4 (Richter scale) earthquake. It's not my first, but each one seems like the first time. My Holy Cross colleagues urged me to stand in a doorway. The house bounced about and swayed for 2 minutes. It seemed much longer, more like 5 minutes. For some reason, which no one can easily explain, the California quake (at the ssame time) which was much milder (6.0) did much more damage. Other than a few broken dishes and cracked windows, the Chilean quake did little damage. And Santiago has the tallest buildings in Latin America, 300 meters high (63 stories). The owner has rented part of Holy Cross property, next to St. George's College. One of Santiago's largest malls is planned for the near future.

More news to follow, about my trip to Latin America, recent developments, student protests, conflicts with Peru and Bolivia, and news about St. George's College and general education in Chile. Ciao for now.
CUBAN CADENCES
(Category: Cuba)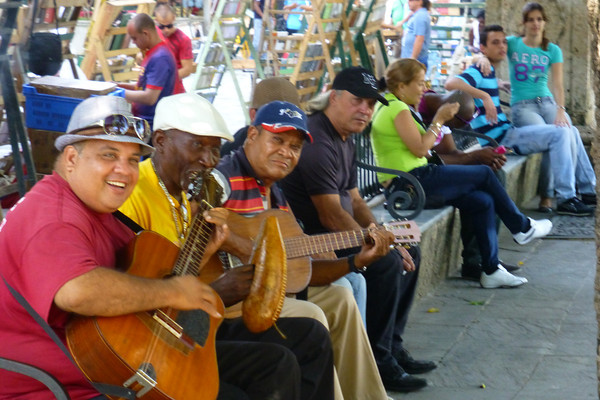 Claude's Photo in Plaza De Armas, Havana. One of the musicians is holding a hollow gourd called a "guiro"

Nietzsche says in "Twilight of the Gods": "Without music, life would be a mistake". Without music, would Cuba be a mistake? Cuba would certainly not be as accessible or as exciting. Or as human. Afro-Cuban rhythms surrounded us everywhere we went, day and night, in restaurants, museums and parks. So, here's another quote that come to mind: "Ah, music… it's a magic far beyond what we do here" (Dumbledore, in Harry Potter and the Philosopher's Stone)

Maniceros (peanut vendors) and musicians. Why are those musicians in the accompanying photo smiling?. They were in the Plaza de Arma in Old City, Havana. One of the musicians is holding a hollow gourd called a "guiro". They saw me taking the photo and smiled. A normal reaction, for most Cubans. When I commented to a woman selling postcards that nothing is free in this world, she responded with a big smile: "Ah yes" she said "smiles are free".

The "guiro" is a hollow, elongated calabash that is scraped with a stick to the special rhythms of the "Cumbia" or the "Son" -- thos musical songs and dances that we heard during our visits to Havana, Cienfuegos and Trinidad. Creative musicians like Moises Simón revived these rhythms in the 1920s. The musicians in the photo were playing a popular song from that period called "El Manicero", The Peanut Vender. Plenty of venders were on hand to take advantage of the music, selling peanuts. Lots of great photos of this beautiful Plaza are available on line.

Everyone in our group came to Cuba with a special interest, from agriculture to construction, from economics to politics, from music to art. So hang on, little tomatoes, while I explain my own interest in Afro-Cuban music. Earlier travels in Mexico, Chile, Argentina and Brazil showed me that music is very important in shaping the national characters of these countries. As we all discovered, that's especially true of Cuba

You might remember the squeaky sound often heard in Brazilian sambas – it's the "cuica", from a hollow gourd called a 'laughing gourd'. A similar native instrument is also characteristic of Afro-Cuban music. It, too, is made from a hollowed-out gourd called a "guiro". The scraping sound made by rubbing a sticke on the ragged edges of the guiro accentuates the rhythms of the bongos, maracas, or voices. Most of the professional groups that we heard, such as the "Cuarteto Isla" or the Salsa Group of the Café Taberna also used "claves", bongos or cow bells, along with guiros, to mark the changing rhythms. The claves are 2 short, hollow pieces of ebony or granadilla wood that are hit together to accentuate the rhythm (along with guiros). – you Beatles fans will recognize the sound of claves from their song, "And I love her".

We had barely arrived in Havana when Patricia insisted that we go to Cafê Taberna. For Salsa dancing, She added: "You won't remember the food, but you'll remember the gorgeous, ultra-sexy dancers". True, indeed; wow. But the food was pretty nifty, too! Café Taberna is famous as the successor to the Buena Vista Social Club, and the place where Benny Moré sang until the 1960s. He was one of Cuba's most famous singers.

If you want to relive that sexy musical experience, you can look it up on Youtube ( under Café Taberna, Benny Moré). There, you can watch some great Salsa dancing, with all those typical Cuban combos. Members of our group were invited to dance with these musicians, and they did so, like pros. Salsa is a modern variant of the original Afro-Cuban "Son", also made popular by the Buena Vista Social Club. It is said that when Tito Puente was asked what he thought of Salsa, he responded: "Hey, I'm a musician, not a cook"

A musical tour of Cuba must include the National Ballet. The performance we attended, "The Magic of Ballet" at the Gran Teatro de la Havana was world class. Alicia Alonso, General Director, is in her 90s and is considered one of the best ballet directors in the world. Of all the ballet numbers performed on this occasion, one was especially by us, and by the audience. It was "Fiesta criollo", of Louis Moreau Gottschalk, a famous mulatto-American composer and pianist of the 19th century. This ballet was first performed under his direction in Havanna in 1860. The choreography was spectacular.

THE EAGLE AND THE HUMMINGBIRD.
(Category: Cuba)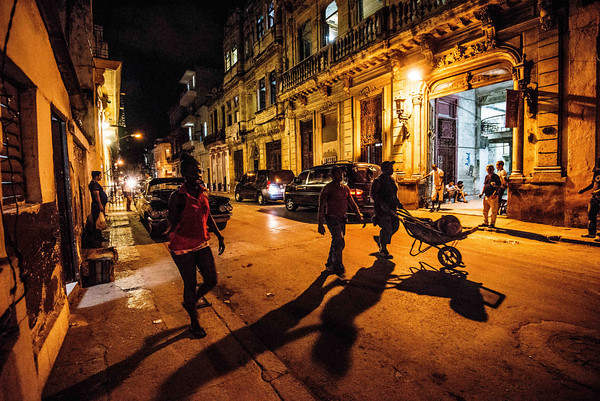 Outside 'La Guarida' a Cuban entrepreneur's success story restaurant where one meal costs 200% the monthly salary of those who live there in the shadows.(Photo: Patricia Pomerleau)

Since my return from Cuba, I have tried to synthesize the many presentations of experts, along with late night discussions, sipping rum and listening to Afro-Cuban rhythms . We all generally agreed that the US policy toward Cuba needs to change, and that the existing pattern of the top-down, command economy is a clumsy, even hopeless, framework for necessary and rapid transformation of Cuba's economy (and politics)

So, what about the eagle and the hummingbird, above? John Caulfield, Chief of Mission for the US Interests Section in Havana suggested a useful metaphor for understanding Cuba-US relations, that of a divorce. My cousin Patricia provided me with a wonderful synthesis of his talk: "We (USA) were married to Cuba and our breakup (after the '59 Revolution) was like a bad divorce". The younger generation of Cubans thinks differently and wants things to move faster. However, "they live in the house of their grandparents (the old timers); they don't like it…but they choose not to make noise"

I propose another metaphor. In Montréal, and at home, I grew up with the fables of La Fontaine (Aesop recycled). I es-pecially loved Le renard et la cigogne (fox and the stork). So, I now propose a variation on this fable -- as it might apply to Cuba: El zunzunsito y el ágila. I discovered that hummingbirds love Cuba and that there are 16 different species of zunzunsitos, or in the original Cuban, the "colibrís", "god bird"). These little creatures buzzed around our heads at every walk. Small and fast, it is the only bird that can fly backwards. They live on sugar that they suck from flowers through their long, slender beaks. Deprived of sugar, their metabolic rate slows down to 1/15th of normal. They appear to be in a state of torpor. But, they can quickly recover.

The eagle, with its huge beak and long talons, is seen as the symbol of US power in Cuba. Cubans sometimes see themselves as self confident, beautiful and creative individuals, but caught in the eagle's talons. However, the eagle is a predator and a scavenger. C'mon, now, they don't feast on hummingbirds. They often settle for carion.

OK, so much for that bird metaphor. Most observers that I consulted assured me that it's time for Cuba to revive. Or, as one Cuban scholar says: There's no more free lunch". So, Cuba needs to increase it's economic metabolic rate. It must also stimulate its civic culture. Cubans take to entrepreneurship like hummingbirds to flowers. Oops, there goes that metaphor again.

Are the million or so of new, private entrepreneurs the cutting edge of such a regenerative process? One of the most exciting, new online publications that I found is "Espacio Laical" of the Catholic archdiocese of Havana. It provides a safe space for young Cuban intellectuals to search for and discuss viable, economic alternatives to the existing system. I discovered that these young artists and intellectuals and are passionate about their nation's future. They want support as they search for a viable alternative for integrating their country into the global economy. In so doing, they do not want to destroy the gains made by the Revolution – that of a healthy, educated, and self-confident nation with a unique identity and spirit.

Cuba is a sinking ship. We must do something to save it. That is a variation on a speech made several years ago by Raul Castro to the governing body of the Communist leadership. My recent conversations with Cubans of different backgrounds strongly suggest that the search for a new, viable path has begun in earnest. Are the leaders listening?

MYSTERIOUS RELIGIOUS RITUALS OF CUBA
(Category: Cuba)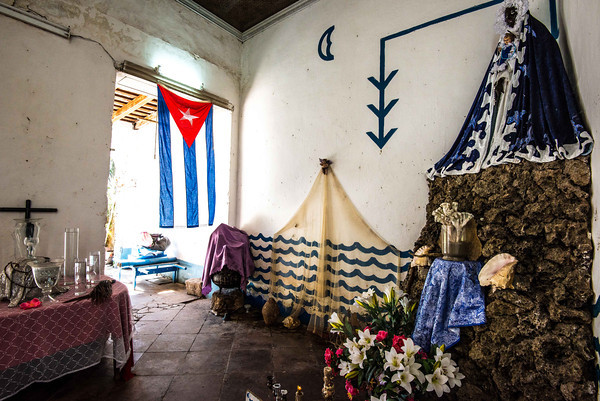 Santeria Shrine Trinidad (photo by Patricia Pomerleau 2014)

Cuba's religious syncretism is more subtle and mysterious than anything I've seen in my 40 years of travels in other parts of Latin America. The contrast Mexican religious practice is profound and (for me) surprising. I'll return to this.

On the 4th day of our Cuba visit, I joined Cardinal Ortega for Sunday Mass at Havana's Cathedral. Because the 18th century Cathedral of the Immaculate Conception (aka St. Christopher) was under extensive repairs during our visit, services were held in the back courtyard, with its elegant baroque Spanish architecture, shade trees and flowers providing welcomed relief from the Sunday sun. Some 150 persons attended on this Sunday, many of them tourists. The majority of the aging Cubans would have been someone's grandparents. Most Cubans as they filed out lined up to greet the Cardinal – the Catholic version of a babalao

I certainly don't mean to be disrespectful, but Cuba's many babalaos (santería shamans) were more available and welcoming -- certainly to this visiting tourist – than the Catholic clergy. I ducked into several Santería house shrines while in Havana and Trinidad. (The photo is taken at a shrine in Trinidad)

While Cuba is considered to be the most secular country of the Caribbean, religion is pervasive and subtle (at least, to this superficial observer). There are at least 3 major Afro-Cuban religious traditions, santería, palo monte and abakuá. Our expert Cuban guide, Alexis, added to this complex mixture by suggesting that there are other rites, including one for the blacks who came directly from Spain during the colonial period, known as negro curros. OK, now I'm confused as well.

There is a very important shrine of popular Catholicism, Our Lady of Charity, patroness of Cuba, aka, Neuestra Señora de Caridad de Cobre, It is located in the foothills of the Sierra Maestra mountains, beyond Trinidad. Exact reproductions are found in many Cuban churches. Yikes! The original shrine is located precariously between the those mountains that originally and temporarily sheltered the rag-tag band of Castro's revolutionaries, and Guantánamo Naval Base, sheltering close by, a band of unwelcomed, permanent, reactionaries.

A short visit to Cuba doesn't allow sufficient time to experience the many religious masks of modern Cuba, from Catholic, Jewish, Protestant to Afro-Cuban rituals. But, my brief contact with the Cuban traditions and extensive research on Mexico's religious history suggests an interesting contrast. c Mexico's shrine to Nuestra Señora de Guadalupe consists of a profound and lasting fusion of native Aztec religious traditions with Spanish Catholicism. In spite of the significant role of Cuba's Senora de Caridad de Cobre, African religious traditions were never fused into an original synthesis with Spanish Catholicism. African rituals maintained their uniquely independent and powerful presence, hidden under, and feeding on, Catholic rituals and saints.

Religious experts have noted that you don't have to disavow Catholicism to practice Afro-Cuban religious rituals, but you won't find many Catholic priests speaking favorably of santería rituals. Holy water fonts and signs of the cross are as common in santeria houses as in Catholic churches.

Our guide Alexis told us a delightful story of John-Paul's visit to Cuba in 1998. As Castro and John Paul were driving in an open car along the Malecón, Havana's waterfront, the Pope's feathery hat flew into the ocean. Castro stopped the caravan, leaping over the wall, he walked onto the stormy waves, retrieving the Pope's hat. The next day, Granma, the Cuban daily paper reported in bold print, "OUR COMMANDER IS IMMORTAL. VENCEREMOS. The Vatican newspaper reported: WITH GOD'S HELP, POPE PERFORMS MIRACLE, ALLOWING CASTRO TO WALK ON WATER. An anti-Castro Miami newspaper reported: CASTRO'S DAYS ARE NUMBERED. PROOF THAT THE DICTATOR CAN'T SWIM.
SANTISSIMA TRINIDAD: A BLESSED GIFT
(Category: Cuba)




We arrived in Trinidad on the 6th day of the Cuba visit. This UNESCO world heritage site was established n 1514 and is one of the most remarkable places we visited in Cuba. It was once the center of sugar trade, it now grows and exports tobacco.

My cousin Patricia invited me to meet (and bless) a family that she has befriended from past visits. This extraordinary family lives in a humble house, close to the main square. We entered their house through a small, souvenir shop at the entrance. The entire, extended family lives in the rear. In this inviting house, they protect, nourish and love a young, disabled daughter, Jany (known as "Princessa"). She is the glue and center of the family.

The family welcomed us with great joy and open arms. Patricia had asked me to bless the daughter and the house. After coffee and conversation, we exchanged gifts. Among the many gifts exchanged were blessings. I blessed the daughter and the family, and at their request, the house. The mother then put her hands on my head and blessed me. As we left, the father invited us to return, to stay at their house, next time. "It won't be as fancy as your hotel, but it will be the best that Cuba has to offer. You will be en su casa", they insisted.

As an additional surprise at this colonial city, we experienced an outstanding, professional salsa band at one of the private restaurants (known as paladars) on the main square. Quarteto Isla is a professional recording band that travels the country and Europe. With a mixture of boleros, cha, cha, chas guarachas, and afro Cuban rhythms, they entertained the patrons for the entire evening. I will offer more details on the charms and professionalism of Cuban musical culture in a later posting. Trinidad seduced us with its people, culture and colonial architecture. A welcoming, blessed treasure of Cuba.
NEW BLOG FROM EL FRANCO-YUMA--Cuba Bound
(Category: Cuba)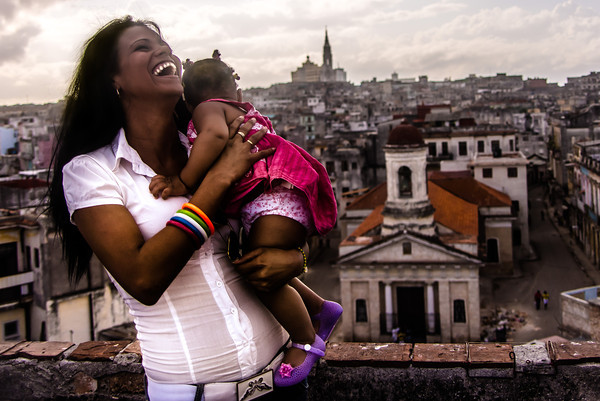 The Spirt of the Cuban People--Centro Habana (Patricia Pomerleau 2013)

I open my next blog with the title of "Franco-Yuma". Let me explain. I have joined a group that will travel to Cuba in a few days, organized by my cousin Patricia Pomerleau and consisting of 15 others. We travel under the administration of "Marazul" travel agency, led led by Batia Plotch. There will be more specifics in future blogs. Since Cubans prefer the more gentle and civil term of "yuma" to "gringo, I use it as the title of this new phase of my blog. To distinguish my own background as Franco-American, I invented the heading "franco-yuma". So, lectores, adelante y arriba.

Newcomers will notice that my blog is under the heading of Ceoexpress and the guidance of Patricia, its creative and energetic founder and director. She is my muse. She guides my "pen" and illuminates the blog with her fantastic photos. Her previous travels to Cuba will become obvious from the depth and precision of her photography and suggestions.

As a specialist in the politics of Mexico and the Southern Cone, I must confess that my knowledge of Cuba was previously limited to general introductions and superficial generalizations. I expect to become a more serious observer of Cuba after this trip. Of course, I studied the big events from the Spanish-American War to Castro, from the Cuban missile crisis to the collapse of the Soviet Union, and tried to keep up with the significance of the appointment of Raul Castro as President of Cuba in 2008, I watched, amazed, as two popes, John Paul II and Benedict XVI visited the island. I can only imagine what a fture visit by Pope Francisco will be like. I read Frei Betto's talks with Fidel on revolution and religion. Cuba is still a huge mystery to me.

However, I am now discovering some exciting scholarship on the recent transformations in Cuban society, on the great expectations for the future and on the renewed expectations for improvements in relations between Cuba and the USA. In addition, there's increased interest in the role of religion for Cuba's future, from Roman Catholicism and Protestantism, to popular, Afro-religious expressions like Yoruba, or Santería.

My own experience and interests will lead me to pay special attention to religion and music. Patricia's suggested itinerary dramatically opens up for me the rich world of human geography. While I won't claim that geography is destiny, I can appreciate that it is fundamental to understanding Cuba. Ted Henken, blogger and scholar (Sociologist at City University of NY) begins his insightful and recent study, Cuba: A Global Studies Handbook, by reminding us that Cuba has been considered the geographical hub o all the Americas since Cortés. It is nestled in the center of Haiti, Mexico's Yucatan peninsula, Jamaica and Key West Florida. So, call it a hub, a portal, a stepping stone…your call.


From that geographical perspective, I will also be looking at the resulting transcultural Cuban musical "stew", as a result of the prodigious cultural production (to use the expression of Henken) that has emanated from Cuba. Cuba's mixture of West African, Spanish, Chinese sources, and its transforming impact on jazz, blues, salsa, tango, high-life (from Ghana, including Afro beat), bachata, merende, cumbia and nuevo flamenco, all of this is mind-blowing and unparalleled.


So, Cuba, here we come.

POLITICS OF AFRICA , SEEN FROM CHILE AUGUST 2013
(Category: International Politics)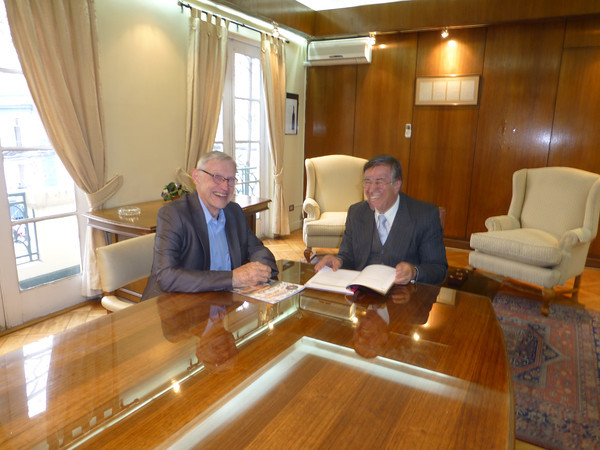 Director José Morandé, of the Instituto de Estudios Internacionales, My boss,for whom I worked for the pst 6 years. We were discussing the focus of my seminar on Politics in East Africa.


IEI / U. of Chile

I have been in Santiago Chile for 3 weeks, teaching a seminar on Politics in Africa at the University of Chile, Institute for International Studies. Students here are anxious to learn about Africa, and have been very responsive. Heavy readings, intense discussions. They have little background on African history, so they have much to learn. The biggest challenge for them seems to be the importance of Africa for international relations in the 21st Century.

They are surprised (and I hope, challenged) to discover the useful contrasts between the two continuents, Laatin America and Africa. There are many points of similarities and differences. Similarities includes the struggle to overcome a colonial mentality, two of the largest and riches continents in the world, intensely religious traditions of both continents, military coups and fragility of democratic institutions.

Differences include the diversity of languages,, intensity of regional conflicts, massive involvement and intervention by all the great powers, and the growing intervention of the US and Europe in the name of war on terrorism. It is not difficult for Chileans to understand that Africans (especially Ugandans, Kenyans, Tanzanians,Nigerians and Sudanes need to discover how to manipulate these great powers to their developmental advantages.

Perhaps one of the most challenging contrasts for me, between Uganda (as representative of Africa) and Chile (as an intensely nationalistic people) is the reole of religion in national politics. Both of these religious cultures have contributed enormously to linking past, popular traditions to the organizaed r churches and their institutions. Africa's rich religious past is only starting to emerge and the syncretism of religious customs (with Catholic rituals) is profound and mysterious. Chilean have long adapted their Marian religious and popular spirituality to traditional Christian rituals.

Finally, I can only remind interested readers that travel to Africa and Latin America involves an exhausting variety of experiences. However, there is not substitute to insertion in local customs, bet it the best Kenyan beer or the richest Chilean wines. Food along, in both places makes any visit worthwhile.

Ciao,

Claude
Last Post From Kampala
(Category: Uganda)



A FEW IMAGES AS I LEAVE KAMPALA. The images that dominate the international imagination of Ugandas are the death of Margaret Thatcher and a peaceful transfer of power in Kenya. The Iron Maiden, as the pundits and cartoonists loved to depict her, was larger than life in Africa. The image of a Prime Minister who supported the Apartheid regimes of South Africa and denounced the freedom fighters of that countryfollows her to the grave -in spite of the dramatic turnaround of President de Klerk. The event that riveted Ugandans to their TV sets was theInauguration of President Kenyatta on Tuesday. Events in Kenya, especially a peaceful transfer of power is watched carefully by Ugandans. Uganda is a country where democratic elections and peaceful transfer of power appear as cruel hallucination. Kenyan newscasters favorably compared the significance of this inauguration with that of President Obama. Ugandans watched this event wistfully. Last week, President Museveni announced that he is forming a new brigade of 500 loyal storm troopers in order to "maintain the peace" when elections are held in this country, for elections, 3 years from now. No one doubts that Museveni has no intention of losing his grip on power. As Kenya moves in the direction of Ghana, some fear that Uganda is on the slippery slope to Mugabe's authoritarian government to the south.

TWO POSITIVE EXPERIENCES RELATED TO EDUCATION. I was privileged to attend a convocation of influential and articulate academics at Makerere University, a large public institution in Kampala celebrating the legacy of Chenua Achebe. The symposium was organized and managed by one of Africa's outstanding social scholars Mahmood Mamdani. The students who packed the large auditorium heard personal testimonies about Achebe, and how this literary giant helped to give Ugandans (and all Africans) a confident voice for abetter future. I was also privileged to address a class at one of Uganda's best private universities, Uganda Martyrs University. During exchanges after the presentation, it became obvious that young scholars in this country resent the negative image of their country, "land of Idi Amin" with its continued corrupt culture and poor educational institutions.

I MARVEL AT THIS POTENTIALLY RICH COUNTRY STILL SEARCHING FOR AN IDENTITY. Uganda consists of several kingdoms, big and small, of many languages and distinct ethnicities, of all major Christian denominations, Muslims and Jews, all living and working together. Its roads and infrastructure are a disaster. It's animals, plants, birds and mountains that suggest an earthly paradise. Any discussion of topics such as the proposed Marriage and Divorce Legislation (that attempts to define and legislate marital rape), proposed zero tolerance for drinking (that's right ZERO TOLERANCE -- a speed-trap paradise for local police). human rights for gays, and -- horror of horrors -- same sex marriages, and all these topics produce heated arguments that quickly lead to "conversion disorder", aka hysteria.

I CANNOT END THIS POSTING without some mention of the wide range of Ugandan responses to the election of a non-Italian / non-European pope. Most Ugandans are delighted with the simplification of rituals and a renewed focus on the poor. However, one frequently hears warnings that this Pope goes too far ("My God, he washed the feet of a Muslim girl. Isn't hat's forbidden by Rome?"). One also hears that a papal tradition that is a survivor of French meddling through Avignon, of Martin Luther, and of numerous nefarious heresies, that this struggling and true Church may have finally elected its own heretical Pope, who runs the risk of repeating the errors of Vatican II. Amen to that, baby.



SPAWNS FROM HELL -- ET LE 2ième DIMANCHE DE PAQUES
(Category: My Everyday Life in Uganda)



Today, the 2nd Sunday in Easter, I chose to join the French Mass at the Missionaries of Africa (French missionaries, founded in 19th century, aka White Fathers). The congregation was mostly composed of French speaking Congolese who live and work in Kampala. The head ministers of the Mass were Father Martin, from Bangui, Central African Rep (CAR), and anther Fr. Martin (a White Father, French Canadian,and the only other "muzungu", white guy, like me. To me, they had me read the intentions --That's like having Mexicans play Mariachi music at a gringo Mass.. I was honored, especially given the context of the Mass -- African rituals and thumping, driving Congolese rhythms.



Next, I offer some framework for what I'm about to describe. First the religious politics, and then, something about the music Fr. Martin, our Central African spoke the homily and Fr. Martin, White Father and Canuck, has served as a missionary in Congo and India. He now works in Jinja, Uganda. Fr. Martin, CAR is visiting Uganda to beg the Catholics of Uganda to put pressure on Museveni (dictator for life of glorious Ugandan democracy) to keep Ugandan soldiers in CAR (yes, that's right, Ugandan SOLDIERS). Last month, rebels overthrew the dictator of CAR in the capital, Bangui. This violent coup has effectively destroyed the last bit of order and hope in that large, land-locked country between the the Ubangi and Chari river basins. However, Fr. Martin's people are being terrorized by another spawn from hell, Joseph Kony and his vicious killers, rapists and boy soldiers. They are supplied by Khartoum (Sudan's government). After Fr. Martin spoke, all was silent. Not a sound, as the Congolese remained paralyzed in their pews since the Congolese come from Goma, capital of Eastern Congo, where rebels are at the door of this one-million- plus city, ready to enter and pillage, rape and burn everything in their path. Ah, yes, The UN just created a contingent of armed peacekeepers. You needn't be a Ph.D in African politics to wonder: What the hell is this all about? Can I tell you that yes, I smell sulfur. President Chavez, where are you, now that we need you?



I turn to a more cheery topic: music. The choir at our Mass, of young men and women and a drum section that would blow the the Oregon Symphony off the stage, lifted us out of our seats and through another divine portal. The congregants were mostly large families with lots of teenagers. Every part of Mass was sung (eat your heart out Maureen Briare) except for the homily and intentions (yours truly). Some of the hymns were in Kirundi language (from Burundi -- a former Belgium colony that borders on the city of Goma, and others were in French. There were high pitched, female thrills at the moments of joy (whenever there was a song of praise or after spoken intentions) These shrill cries shatter the soul and leave it in pieces on the floor. The broken pieces are quickly picked back up by the choir and congregation, swaying and clapping hands. That music I speak of is a combination of modernized plain chant (with harmony), followed by dramatic 3 part hymns, very much in the style of French baroque ( from the time of Marc-Antoine Charpentier, a prolific French composer who lived during the time of Louis XIV, late 17th century). For me, this Congolese-Burundi music is much more sophisticated and spiritually uplifting than our own Holy Cross music in Uganda, dominated by the hymnals of the Mill Hill Fathers and their 19th century English Protestant hymns. During the week, at our own community Masses, I imagine myself marching across the River Kwai, fearfully looking down at the Japanese soldiers below -- and hoping that we get to the consecration before reaching the end of the bridge. I returned home exhausted, flopped on my bed. with the brilliant and flashing images of the recent liturgy. Those divine sounds, those heavenly images and encounters were abruptly interrupted by the annoying bzzzzzz of a mosquito. I grabbed my Chinese-made electric mosquito-exterminator, swung it wildly and heard the tell-tale "POP" of one more blessed blood-sucker gone to Mosquito Heaven. I rest my body, and soul.
JOSEPH SSEKANDI AND HIS TWO SONS
(Category: Uganda)



Joseph Ssekandi and his two sons joined me for lunch, last week. His daughter, the youngest, stayed home with Mum, in Nkozi.

Joseph was my Executive Assistant when I launched the EAST AFRICA SCHOOL FOR DIPLOMACY (EASDIS) in 2009. Only his two boys, Felix (8) and Brave (5) came with Dad. Mum and youngest daughter stayed at home. I hired Joseph in 2009 to assist me in launching the Masters in Diplomacy. He was fresh out of graduate school from the UK and anxious to work. Along with guiding me through the labyrinthian obstacles of local and national academic administrations (he was a master navigator), he was building his house for wife and kids in Nkozi. I include pictures of the two boys and their dad at lunch, and a picture of Joseph at work in 2009 on the foundations of his house. I will send updated pictures of the house, sons & daughter & mother with the next entry.

After lunch, Felix and Brave had an unexpected encounter at the restaurant. Bursting into the toilet as boys do, they bumped into the Vice President of Uganda, Edward Ssekandi with his many body guards. If that wasn't enough, the Vice President gave each boy a 10,000 shilling note to remember the occasion Dad tells me that they returned to school, bubbling with the story of the amazing encounter with the VP in the restaurant toilet. Little Brave may not yet appreciate the full import of meeting the VP of his country under such informal circumstances.

During Easter vacation, I've been delighted everywhere I go by the many smiling and welcoming families. As I walk through the neighborhoods of Kampala and visit the malls, I see that this is a country of happy families with small children everywhere. And yet, Uganda faces all the traditional challenges of a former protectorate (Uganda was not a colony like Kenya). And so, it is a shock to rediscover the recurring issue of child sacrifice. While Ugandans struggle with extensive and pervasive government corruption (misuse of international grants, especially), with environmental issues (the pollution of Lake Victoria and lack of drinking water), bishops and clergy living openly with wives and families (April 1, the local paper announced that Pope Francis would make his first visit to Uganda - April Fool), lack of infrastructures (roads and bridges), and poor education -- to mention the more prominent challenges -- however, I am especially struck by the growing problem of ritual sacrifice of young boys and girls for success with major constructions and with new enterprises. After appropriate rituals of this gruesome tradition, entrails and genitals are placed in the foundations and offered for success and prosperity. Reportedly (BBC), over 60 cases are reported every year and in spite of a government department to stop the practice and religious efforts on all levels, this gruesome practice appear to be impossible to stop. In yesterday's news, two young girls (under 6 years) were returned to the place where they were kidnapped because they had pierced ears and that is unacceptable for the success of the ceremony. Damaged goods. Can you imagine. The going price for an unblemished child is 500,000 shillings or more. (appros. 200 dollars)

I have tried to place these horrific practices in a larger, comprehensible context -- if possible. Is Uganda so much more barbaric in its treatment of children than other countries? Certainly, the involvement of individual cult leaders in such practices seems to set Uganda apart. But, as I consider the widespread violence against children (from sexual exploitation to child soldiers), rape, especially of women), the homeless, displaced persons, prisoners (tortured and abused in our "civilized" prisons) I wonder if Uganda's problem may not be a sobering and stark reminder of the general inhumanity resulting from misuse of power. Ugandan families love their children and work hard to provide them with a bright future. As I visited a popular mall on Easter Day, I though it was a picnic area for a nursery school. What is it in our culture that shapes decisions that allow young children the be tortured and murdered -- from a government like that of Syria that displaces uncounted numbers of suffering children and their families, that allows the kidnapping of children in Rio and Sao Paulo for the sale of body parts, the continued use of antipersonnel land mines, and the random targeting of families by unmanned drones in the name of national security.

So, a ray of hope as the UN General Assembly approves (almost unanimously, but not quite) the global control of arms conventional arms. Uganda is a small microcosm of humanity struggling to find respect, security and joy in a complicated world.

I am, once again, delighted to be in Kampala, and imagine a better world for Felix and Brave. And Mum and Dad too.
HOLY WEEK HUMOR
(Category: Uganda)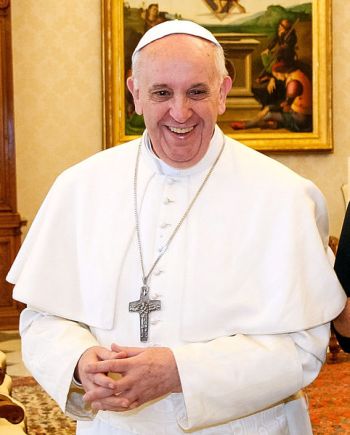 Papa Francisco breaking the

I opened today's Daily Monitor (Kampala daily newspaper) and there, in full color at 4 columns to the one is color photo of Papa Francisco, leading a Holy Thursday Mass procession in a Roman jail, with a smile on his face. Sweet Mary, Joseph and Jesus, what is happening? Is the traditional papacy disintegrating? A celebrant at one of the holiest Masses of the year -- Smiling? Are we witnessing a meltdown of the traditional papacy? I do pray so.

Last night, one of my Holy Cross stand-up comic-colleagues told me this Ugandan joke. I offer it to you so that it may put a smile on your face.

A leader (a Kabaka) from one of Uganda's small, rural tribes in Western Uganda, on the border with Congo, wants to educate one of his adult villagers into the English language. He knows that the village youngsters have learned English, use all kinds of cell phones, speak English effortlessly, etc and he wants adult villagers to enter into the modern world.

Standing there, in the center of the town square, he tells Mr X to repeat after him as he points to different objects. First, the chief point to a dog urinating. He says: "dog urinating". Mr X repeats "dog urinating". Chief points to a bus stopping and says: "bus stopping" Mr. X repeats "bus stopping". Next, he points to a flying stork and says: " flying stork". Mr. X repeats "flying stork". Suddenly, in an obscure corner of the town square he spots a villager having an all-too-intense-sexual-encounter with a woman, and says: "man riding bicycle". The villager pulls out a slender bamboo tube from his back pocket, deftly inserts a small, poisonous dart, and lets fly the dart into that villager's exposed back side. The villager drops dead forthwith.
The chief is shocked, and asks: "Why did you do THAT"?
Mr X responds: " Man riding MY bicycle".

Happy Easter Week.
A Great African Author Dies
(Category: Uganda)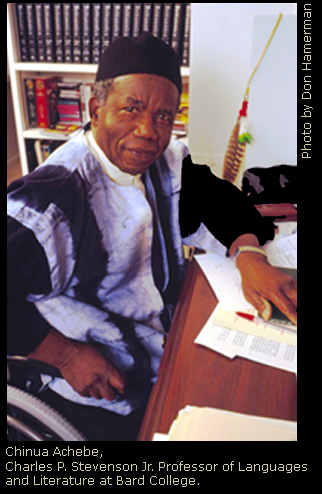 Chinua Achebe

Chinua Achebe was one of Africa's literary giants. His life is being celebrated by many persons, not just Africans. He was born 82 years ago in Nigeria and his first novel, Things Fall Apart, (considered his greatest) was written at age 28. The two most popular Kampala newspapers, The Daily Monitor and The New Vision, briefly noted his death. As if to make up for the lack of attention, one editorial blurted out: "Blessed be the womb of Janet Anaenechi Ibeghunan, Achebe's mother who gave birth to him". Among other favorite novels are "A Man of the People" and "No Longer At Ease". His most recent book is "A Personal History of Biafra". Achebe was never awarded the Nobel Prize for Literature, even though he is considered the father of modern, African literature, the Victor Hugo of Nigeria. The two novels that best introduced me to African tragedy are "Things Fall Apart", and "Cry the Beloved Country" by Alan Paton. As a student in International Relations at the University of Denver, I heard a talk by visiting professor Achebe. He famously contrasted his novels of dark hope with Conrad's "Heart of Darkness", focused on bestiality and triumphant death. C'est la vie

Kampala's press leans toward sensational denunciations of rape, sexual slavery and naive youths tricked into posing for pornographic movies (in this case, by the corrupt Kenyan movie industry). These denunciations are usually accompanied by lurid and sensational photographs and detailed diagrams. In today's paper headline, one reads an apparent biological impossibility: "Raped 12 times at different places (I think they mean "locations", but it's not very clear from the article. Yes, I read it) However, not to worry, since First Lady Janet Museveni is also prominently featured (on the next page) as the leader of a government campaign against imported evils, such as pornography, homosexuality and HIV/AIDS. The lady is not for importing.

I am living in the guest house of the Holy Cross community in Africa. It is beautifully located on one of Kampala's many hills, a short walking distance from the US embassy. That alone should tell you something. It is the rainy season, so that frequent heavy downpours are followed by a deep blue sky and bright sun. I am a bird lover who loves to sit in the tailored yard to hear the cheeping, squealing, burbling, croaking, chirping, squawking and wailing of one of the most diverse bird populations in the world. However, I cannot end this first entry without an observation about mosquitoes and their sneaky, survival habits. Yes, they can find you almost anywhere, anytime, but mostly at sunset, when they enter into a primitive, tribal ritual, a feeding frenzy. However, I have a wonderfully effective netting around my bed. Eat you hearts out, little critters.

And now, MOSQUITOES AND TAI CHI -- with a tip of the hat to cousin Ernie Pomerleau. Did you know that mosquitoes survive the devastating onslaught of water drops (a single water droplet is 1000 times the weight of a mosquito) by "moving with the blow of the water drop instead of resisting it?". The clever and nimble mosquito hooks up to the droplet until it's about to hit the ground, and deftly separate from it. It then merrily resumes its hunt for warm, fresh human blood. Yum.

As for answers to my question about the Spanish quote: Yes, brother Rene, It is a quote from Father Carlos Mujica, an Argentine Priest Worker that I interviewed from my dissertation in 1971. He reportedly uttered these words in the hospital before he died. He was shot by goons of the AAA (Argentine Anticommunist Alliance) in 1974. A controversial Argentine movie, "While Elephant" (featured in Portland's International Film Festival 2013) features a duo of priests struggling to help drug addicts in a Buenos Aires slum. The film is dedicated Father Mujica.
Once more with love from Uganda
(Category: Uganda)



Greetings from Kampala, Uganda.

After an absence of 3 years, I am returning to Kampala and my blog to visit the graduate program of Uganda Martyrs University: MA in Diplomacy and International Relations. My host will be Professor Samuel Baligidde, Director of the MA Program, aka EASDGIS, East Africa School of Government, Diplomacy and International Studies. I will stay at the Holy Cross residence in Kampala, Bishop McCauley House. I can be reached on line at pomer@up.edu, or claude@ceoexpress) -- also, on my cell phone (503-333-2114 ). When you call my cell phone, it will be an international call, and charged accordingly).

I will be sending additional entries to my blog during my visit to Uganda, March 22 - April 12. I look forward to sharing my reflections on both East Africa (with personal reflections on education, Holy Cross and education, conflict resolution and international organization)and and on Chile-Argentina, since I will be giving a seminar on African politics at the Institute for International Studies, IEI, of the University of Chile, August, 2013.

I close with a famous quote from an Argentine priest of the 1970s: Ahora, más que nunca, tenemos que estar junto al pueblo
spoken on May 11, 1974. Can you identify it?
A TALE OF TWO CITIES: MONTREAL AND KAMPALA
(Category: International Politics)



I returned to Portland from Kampala in May (2009) after a year in Uganda. In May, I then taught a course for 6 weeks at McGill University in Montréal.

I admit to being a lover of cities They are fascinating places where communities gather. The best ones never sleep and reveal their secrets only through long, patient walks from center to remotest neighborhoods. Montreal is built on an island and most stores have huge underground malls connecting to the metro. Kampala is built on 7 hills connected by ribbons of asphalt and bumpy dirt roads. Santiago (Chile) begins from the bed of a wide river and climbs thousand of feet into the foothills of some of the highest mountains in the world. Paris is the stunning jewel of world history, with glorious avenues, hidden sewers and tunnels, and a sculptured steel tower visible around the world. These cities filled with many inter-dependent human communities. And this characterizes Kampala on the banks of Lake Victoria, and Montreal on the banks of the St. Lawrence River and the largest inland port in the Americas. This is not a systematic comparison with academic analysis. It is rather a tale from my journal entries of last year about Kampala that I discovered for the first time and Montréal that I only re-discovered.

Kampala is the largest city of Uganda (pop. 32 million) and has a diverse population of approximately 2,500,000. Although a majority of its citizens are from the Buganda tribe and speak Luganda as their first language, one hears many different African and European languages on the streets of Kampala. Even though Luganda dominates in Kampala, it is -- like the French culture in Quebec -- a minority ethnic group within a larger country. Uganda has at least 40 language and ethnic groups. English and Swahili are the two official, national languages. In Canada, it is English and French. Most Kampalans speak both official languages and a variety of other languages from other regions of Uganda or neighboring countries. For example, Kampalans who come from villages along he border with Congo or Rwanda, often speak French and one, or several regional Congolese languages.

Prosperous Kampalans (and foreigners) usually live on the mountain tops, and the poor in the valleys. I lived on Nsambia hill, but as I waited for a ride n early morning, I was greeted in tongues that I knew (and many that I didn't) by students going to class, by security guards going to work. by maids going to work in religious houses or international agencies. And sometimes by drunks returning from bars. Kampala's hills are doted with mosques, temples and churches, Nsambia hill is no exception with its embassies, churches and schools.

Montréal is the capital of the Province of Québec, and with a population of 3.5 million, one of the largest cities of Canada (pop. 32.5 million). A majority of Montréal's citizens(70%) speak French as their first language. English is the second language and is required to get a job at any public establishment. Although French and English dominate, there is a substantial presence of Italians, Poles, Chinese, Mexicans, Haitians and Portuguese who speak their languages, as well other nationalities from francophone Africa, and from Latin America, Middle East and South Asia.

Schools, churches, community centers and restaurants cater to most of these ethnic groups. On any given day, you can walk down a major city street and hear a dozen languages spoken (counting at least 3 different versions of French -- that of Québec, Africa and Haiti.

Life in both these cities is culturally rich and socially attractive. I have tried to explain to myself why these two cities are such attractive and delightful places. Many Kampalans and Montrealers are deeply attached to their nationalities and to the place where they live and work. Some Kamaplans told me that their city is too big and no place to raise a family, but they always promised to send their kids to the best schools in Kampala

Some Montrealers told me that some rich and influential persons moved out of the city after the Referendum of 1995, when Québec almost voted in favor of separation. After the referendum failed to pass, English Canadians (in Québec and in the other provinces) re-learned to live with their feisty Frenchies.

It seems to me that leaders and most citizens of these two cities have achieved a ritual balance of communities and individuals that is symbolized in Québec through Cirque du Soleil, and in Uganda through Ndere. For Montréal, the larger ethnic French tradition lives in harmony with the many other ethnic traditions. And the totality of these ethnic nationalities thrive within an Anglo-Saxon vision of the common good, respecting the human rights of all individual citizens. For Kampala, the powerful Kingdom of Buganda has recognized the many religious communities that arrived at the end of the 19th century. And the totality of these different regional kingdoms and European language traditions thrive under a former colonial framework that was adjusted to include the entire commonweal by establishing a common civic culture of respect for the human rights of all citizens. It is useful to examine the history of Ugandan nationalism within the role of British and French colonial traditions to see how Kampala has become such a welcoming and rich collection of ethnic communities. Likewise for Montréal, it is useful to see how the leaders of this French colony chose to transfer their allegiance from the French monarchy (after the Revolution) to the British crown. Since the 1960s, a renewal of French ethnic nationalism has been achieved without excluding the many other ethnic nationalities. Montréal's unique urban framework for its diverse ethnic nationalities is a result of it's delicate -- one might even say precarious -- balance of civic values that encompass human rights for all citizens with the deeply rooted collective culture of a French-speaking nationality.

We live in a world of cities in which life-as-usual is in large part unsustainable. Politically, competition for resources often leads to violence and injustice. Geographically, the growing concentration of human communities too often leaves a path of environmental degradation that is costly -- perhaps even impossible --to repair, . Life in Montréal and Kampala may be fragile -- even unsustainable -- but it has an extraordinary charm and seduction.
JUST FOR LAUGHS



JUSTE POUR RIRE is how they say it in Montréal. July is the month of festivals in Québec. One of the interesting bilingual festivals was for stand-up comics. Montréal's streets were filled with clowns, comedians and more formal, stand-up comics in theaters all around town. Lewis Black, John Cleese, Bobby Slayton, Jim Gaffigan, and lots of Toronto and Montreal talent like Angelo Tsarouchas Caroline Rhea and Akmal Saleh (Chicago?).

I've collected some jokes in categories. Since Montreal is the most ethnically diverse city that I've seen, ethnic jokes abounded. And A favorite category was ethnic CANADIAN.

ETHNIC UNIVERSAL /

We talk with our eyes because we have bad teeth (Jimeoin, on how irish express themselves)

Happy to see a black President? I was happy to see a black quarterback (Alonzo Bodden).

I'm half Arab and half Swedish. I want to backpack in the name of Allah (Akmal Saleh - and he really is of Swedish/Egyptian ancestry).

I know what they're up to, and Abe Lincoln abolished it in 1862 (John Cleese was talking about celebrities adopting African babies)

I want him to be so black that when I see my president cross the street. I want to lock the (damn)
doors (David Alan Grier was joking about Obama being half white)

Michael Jackson's death was the longest on record. During that period,nothing happened. There was no crime. No famine. No war. It was a perfect world (Lewis Black)

I live in the Mexican part of L.A. It's called L.A.
(Bobby Slayton)

RELIGIOUS (?) JOKES /

Knock, knock (Frank Spadone on the shortest Jehovah's Witness joke)

You actually have a minister of science in Canada who is a creationist. A minister of science who doesn't know what fossils are! (Lewis Black --he also had Jewish jokes!)

"Akmal, if you touch yourself, Jesus will be watching" I used to watch the news. I'd see an earthquake and think, "I should cut it out. My masturbating is distracting Jesus" (Akmal Saleh told us he was originally a Coptic Christian in Egypt)

CANADIAN JOKES (and there were a LOT of these)

"Just watch all those Montrealers cultivating their little flower gardens and vegetable patches like they might last forever. In a few months they'll all be dead -- with 40 below zero and 6 feet of snow."
(Afra Jalabi, talking to my class at McGill)

There are aqueducts in Rome in better shape than Montreal's infrastructure. (Lewis Black)

If you have a terminal illness and only six months to live, move to Ottawa -- it'll be the longest six months of your life (Andgelo Tsarouchas -- he's from Toronto, but Montrealers say the same thing!)

When I was growing up, I thought bronze was the best you could get at the Olympics (Caroline Rhea, on Canada's low self-esteem)

I love Obama because when I go to Europe I don't have to pretend I'm Canadian any more (Tom Rhodes)

I love these Canucks, they're always apologizing for everything. Even when they didn't do it!
(I can't remember who said this)

A FINAL CATCHALL CATEGORY /

I read somewhere that 26 is too old to still be living with your parents. It was on a note, in my room (Graham Chittenden).

When your're a fat Canadian, you only get to be two things: funny and goalie (Can't remember who said that!)

************

Obviously, when you're sitting in a big,dark room and everyone is drinking lots of beer, they seem a lot funnier!
AND FROM PORTLAND TO MONTREAL
(Category: International Politics)



THE CHANGING BEAT OF MONTREAL FESTIVALS

I begin with some news from Uganda Martyrs University, Nkozi.

The wheels of academia turn slowly, especially at Uganda Martyrs University (UMU). The proposal to modify the East Africa School of Diplomacy and International Studies (EASDIS) has been recognized, and proposed changes are forthcoming. I have asked to be officially appointed as Visiting Professor in International Relations at UMU. When that is formalized, perhaps within the year, I will ask UP to allow me to alternate semesters, teaching at EASDIS and at UP. I have also been asked to continue offering introductory lectures on African politics at the University of Chile (where I am already a visiting professor). Fr. David Burrell will continue teaching at Uganda Martyrs, and I hope to soon join him in his effort to establish a Holy Cross presence at UMU.

As I write this blog, I am introducing US students to French Québec and to the history and politics of Canada. We live as a group in McConnell Hall at McGill University, in the center of English-speaking Montréal. However, most of the workers, cooks, maintenance staff, plumbers, guards, etc are French speaking. Some are "whites" (or, "pure laine" as they call themselves) but others are from various French-speaking regions of the world.

Montréal is a wild and crazy place during the summer. The International Jazz Festival ended a few days ago, to be followed by "Les Francofollies", a 10-day celebration of music, street-theatre, plays, formal concerts and hundreds of crazy-culture events. It is the largest francophone music festival on the planet (according to The Gazette of Montréal). There are over 140 events with participants from France, New Orleans, Ivory Coast, Algeria, Brazil, and Cuba to mention only a few of their places of origin.

French may be the predominant language of Montréal, but the city is infused with the cultures of global migrations. Walk down St. Denis, St. Catherine, or Duluth streets and you will hear Spanish, Portuguese, Italian, Arabic, Hebrew, Chinese, Lebanese, Serbo-Croation, Polish and Greek mostly associated with the numerous restaurants and bars catering to their culinary and musical interests. In town for the music fesitval is Tiken Jah Fakoly, an African-reggae star from Ivory Coast who has a big francophone following Montréal (an among my students too). Paul Cargnello, an angloMontrealer has a strong following of francophones. When asked why he does albums in French, he answers "Why not? ...We're artists, and it's such a privilege to be able to write and express ourselves in different languages and references from other places...My generation does whatever it takes to communicate"

Montréal is also the city of fine organs. Every week, there are several organ concerts in one of the city's large churches. I went to St. Joseph's Oratory last Sunday for the organ concert, but it was preempted by a Mexican Mariachi Mass. Several thousand Mexicans attended. For a few hours, the Oratory became the Guadalupe Basilica of Tepeyac.

Finally, I present you with the speakers for my class: Jafra, a Muslim journalist from Montreal. She is also a leader of the peace movement in Canada. Sylvie, from Madagascar will talk about her work with immigrants who are school dropouts. And my cousin, Ernie Pomerleau, will explain how he negotiates business in the byzantine corridors of political Montréal.

Et alors, c'est tout. Et pourtant, je me souviens!


BACK IN PORTLAND
(Category: Movies)



My first sojourn in Uganda comes to an end. I will begin a new phase of working and teaching at Uganda Martyrs University (UMU) in the near future. For now, I send you the most recent developments in my educational project in Africa, as I greet you all from Portland. In a word,
Jambo!

I left Uganda Martyrs University (UMU) for Portland in early May. I will stay at the University of Portland (UP) until the end of June. In July, I return to Montreal after an absence of many years. I will live at McGill University with UP's new summer program. For June, I am a delegate at the Provincial Chapter.

Before leaving Uganda (and UMU) in May, I submitted a new proposal for a Masters degree in International Relations. This new proposal was a response to problems arising from the original proposal for a School of Diplomacy. The new proposal was formulated in collaboration with Michel Lejeune, Deputy Director of the National Council for Higher Education of the government of Uganda. This represents a new framework for a Masters in International Relations at UMU. Students would choose a specialization in one of the following areas:
1. Diplomacy and International Studies, 2. Good Governance (or
Political Institutions), 3. Peace Studies and Conflict Resolution, and 4.
International Trade Policies and Law.
Core courses would be required of all majors, with special emphasis on African appoaches to political institutions and conflict resolution, international organizations and law, human rights and environmental issues, among others.

The international staff of directors for this program includes Michel Lejeune, Max Ngabirano, Tom Muyanja, David Burrell, CSC and Claude Pomerleau, CSC. Institutional interest and support has already been manifested by leading US, Latin American and European educational institutions. The focus and content of this program is unique to East Africa and should attract students from many other countries in Africa, perhaps even from the Europe and the Americas.

Although my original goal of establishing a School of Diplomacy was not achieved, I trust that my original effort has been productive and is now channeled into a more professional, imaginative and appropriate educational project for Africa.

Two final notes... Dave Burrell becomes an essential part of the new project. Although I will participate from UP for the comiong year, Dave and I envisage future support for a residential Holy Cross presence at UMU. The District of East Africa has accepted the challenge of strengthening its ministry of education with a goal of expanding its ministry in this area. Holy Cross in Africa is attracting bright and motivated candidates into its ranks. They look to the Congregation for a new vision and future leadership.

And, I strongly recommend the DVD "War Dance", a documentary set in Northern Uganda. It is an Oscar-nominted film about a real-life story of a group of children from a displaced camp who decide to compete in a prestigious music festival in Kampala. The story of their preparation and triumph is a glorious testimony to the human spirit. Appropriate for young and old alike. You all will love it.


Update-Uganda



GLAD TO BE BACK WITH YOU...

It has been some weeks since I've posted something new Uganda. The internet has been especially erratic, and the final arrangement for the courses of the School of Diplomacy has been intense. The former has improved, the latter has been completed.

I have hired seven new faculty members to teach courses in international law and governance, global trade, and diplomacy for the region and for Africa, and (to be sure) courses that connect Ugandans with other parts of the world. I was pleased to discover a substantial pool of ex-diplomats with a wide range of experience in Muslim-Arab countries, such as Sudan, Somalia, Libya and Algeria. Also, a focus on Latin American politics is designed to provide a unique emphasis for this new program. Latin America is about as familiar to Africans as craters on the far side of the moon (I was tempted to say the far side of Mars, but it has no "far side" as such). I have also invited Michel Lejeune to teach international law (and he has graciously accepted). Michel is the father and first president (aka Vice Chancellor) of Uganda Martyrs University. He left this post 5 years ago, and is presently the Deputy Executive Director of Uganda's National Council for Higher Education. Michel and Tom McDermott, CSC (now working in Bangladesh were my first contacts and heros who inspired my decision to come to Uganda.

Corruption and incompetence exist on all levels of public life in Uganda. However, it is less devastating and destructive than in the USA. Here's an interesting item from last week's newspaper, about our neighbor Somalia. An Islamic court in the south of that country found Ibrahim Hussein Duale guilty of murder of an official of the World Food Program. The official was also from Somalia, but from another tribe. Sharia law accepted his guilty confession and gave the family of the murdered official a choice of punishments. Either death; or pay the murdered victims family a fine of 100 female camels. The family quite wisely chose the 100 camels, since they considered that murder would satisfy neither Allah, family,n or justice, but the other penalty would satis.

As I witness the basic dynamics of human relationships among this complex social group of Christians, Muslims and indigenous religions, I see as much human wisdom as anything imported from France or England. Today at the French Mass of the White Fathers, the congregation of Congolese, Burundians, Rwandans, Ugandans, Belgians, French and Americans (and a Franco/American) sang the Creed, I believe in the God of Song, clapping, swaying and laughing. Allah was fully present in this Eucharist.

Today, we celebrate the fifth ordination anniversary of Leonard Olobo, CSC. Join me in prayers for his ministry, and for the future ministry of Holy Cross in East Africa!
SCHOOL OF DIPLOMACY IN UGANDA
(Category: Uganda)



The School of Diplomacy is rumbling on the horizon like those tremendous thunder storms that hit Kamapla every few days. Winds and claps of thunder, birds scurrying to their nests, and I sit on the balcony, sipping a glass of wine...

I originally came to Uganda for two purposes.The first was to assist my Holy Cross community in East Africa develop a ministry to higher education. Dave Burrell and I have worked on this project. The second was to help Uganda Martyrs University establish a school of diplomacy and international studies for East Africa. When established, this would be the first of its kind in East Africa.

The University of Portland allowed me a one-year leave to accomplish this task. During my interview for the job, I asked UMU President Olweny (called a Vice Chancellor in the British system) to appoint a Ugandan as director, and I would be his assistant and link to US, Europe and Latin America. To skip a few stages, I have now become the Interim Director until May 9 when I return to Portland. This project is not a handout. It is a Ugandan vision for educating its best and brightest. It is glorious and exciting!

Since my return to Uganda Martyrs University in late January to assume my new position, I have hired a very capable and promising assistant, Joseph Ssekandi, a Ugandan who just received a Masters in Environmental Studies from Reading University in England. Working together, our project has gained the interest of the Ministry of Foreign Relations of Uganda and other institutions in the region. The program should be in place by the end of the summer and ready to receive its first applicants for the beginning of the next school year.. We are planning a grand ceremonial opening and blessing for early Fall.

May I recommend some challenging reading? My cousin Patricia Pomerleau -- yes, the very founder and CEO director of CEOEXPRESS (of which this blog is a part). She recommended and I read with delight Tim Weiner's LEGACY OF ASHES, THE HISTORY OF THE CIA, and T.J. English's HAVANA NOCTURNE (how the Mafia tried to take over Cuba before Castro). Great reading, both. Weiner's history of the CIA is an extraordinary tale, based on recently released documents of the CIA that significantly changed my understanding of many events in Latin America and the stunning incompetence and embarrassing inadequacy of this agency since its founding. Also, I'm reading an outstanding biography by Ayaan Hirsi Ali, called INFIDEL. MY LIFE. A remarkably powerful and well-written story of a Somali woman's triumph over incredible odds. Burrell and I participate in a book club of young, Ugandan women writers (hey, we're none of those things, but the group is a delight!) and this is their book of the month. A gem.

And finally, for a delightful and inspiring story of a group of Acholi kids who compete for a major, music festival in Kampala, pick up "War Dance' at your DVD outlet. It was an Academy Award nominee for best documentary in 2007. The photography, music, and story carry you smack into the middle of Uganda.
MAMBO-TANGO
(Category: Uganda)
Return to Kampala

Greetings, everyone. I'm back in Uganda after a month with my reigious community, and with family and friends. I attended the inauguration of President Obama. While I probably saw less than most of you, sitting with a crowd of about 500,000 in my section, and probably 3 or 4 times that number in the Mall was an unforgetable experience -- a 'first' for me. There were moments of absolute silence while we waited for Obama to appear, and then -- a roar like none I've ever heard.

School of Diplomacy Gets Started

Over Christmas, the candidate designated to be director of the proposed School of Diplomacy resigned. I was asked to assume the job until an appropriate candidate might be chosen. So, I am energetically putting the pieces together for this EAST AFRICA SCHOOL OF DIPLOMACY. I have a lovely office, I just hired an administrative assistant, and we're good to go. My next entry will be on the progress and challenges of this exciting project

Mambo-Tango

So, you might have wondered about this reference to the movie "Motorcycle Diaries". That was the name of the boat that the members of the leper colony gave as a birthday gift to the young Che Guevara when he was a medical intern there in the 1950s. Dave Burrell, Fred Jenga and I went on Sunday to a special Mass for all the religious of the Kampala diocese. The music was unusually jolly and participatory. The music was provided by a religious community (Missionary Brothers of the Poor) from Jamaica (!) Words fail me to appropriately describe this ceremony, and my memory may be a bit blotchy. However, the choir, with a battery of drums, flutes, guitars, trumpets, and various strange-sounding percussion pieces sang many songs. One such son was to Mary (Hey, hey, helloooow Queen, Our Mother, Hellowww Queeen, Virgin Queen, Jewish Mother, Yeah, You're our Queen, hummm, hummm, hummm repeated 3 times, each time on a higher pitch- - or something like that. I knew we were in for a surprise when the Rastafarian drummer sauntered up to the altar to light his Kasta Colored Ice Bong. Except that the candles were ... electric! So, he returned to his Rast chants, swinging his Bob Marley dredlocks. Well, Trinidad calypso and reggae may not be dub music, but it swings nicely with an African jungle beat.

After the ceremony, we were invited to sit under the Cardinal's tent and join him for a meal. We were hungry, but some guy gave us a long, religious talk, mostly nonsense for 40 minutes. One of the waiters was sitting nearby with his legs and eyes crossed and I saw him finally take out a small pipe and light it under the table. Well, the food was ok, and there was a lot of laughter...
A SENSE OF PLACE
(Category: Uganda)



UBIQUATE

As I prepare to leave Uganda for a month to visit family and friends for the Christmas holidays, and as I celebrate the feast of Our Lady of Guadalupe (Friday, December 12), I find myself thinking about place, this place, in East Africa, especially as I greet, and am greeted by Ugandan neighbors on the street.

I regularly walk from my residence to the local coffee shop where I can work quietly, use my computer and sip the best double expresso in town. (Starbucks, eat your heart out!) To reach my destination, I pass through the front gate of Lourdel House, the residence of the Missionaries of Africa -- aka The While Fathers -- the French counterpart to Maryknoll. Since it is customary for passers on the street to greet each other, as I leave Lourdel house, I'm sometimes greeted in French, because of my location in front of French "territory" (even though I'm wearing jeans, t-shirt and a cap). As I pass by the Mill Hill place (the British counterpart to Mary- knoll), I'm greeted in English. Other "neighbors" will join me as I walk the road and greet me in English, with "You are very welcome", followed by the inevitable: Who are you, what are you doing here, so glad to welcome you, etc. Ugandans have a wonderful sense of place. Here is their home, family, tribe. White persons (muzungus) are foreigners. So (I think) they want muzungus to feel that they are part of their "village". It happens in so many ways. Relaxed, friendly, chatty, but always welcoming and charming.

I recall my favorite Chilean expression that Bernardita Sanchez (my Chilean family) laughingly but tellingly sometimes said to me: Claude, ubíquate. Locate yourself. Parents say the same thing to children who act inappropriately, or walk the wrong path (so to speak). The French call such a person dépister, or off the path. Celebrating the feast of Guadalupe helps me to relocate myself, as part of the Americas (North and South), and now rooted in Africa (at least, East). I felt until today that I had one foot in each continent. Now, the liturgy of Guadalupe makes me feel that I have booth feet firmly planted in her villages, in East Africa and in the Americas.

I will try to find a local song (it will probably be African rap) that is similar to Las Mañanitas. Ubíquate!

IF THIS IS ADVENT, WE MUST BE IN UGANDA
(Category: Uganda)



THANKSGIVING AT LAKE SAAKA

Dave Burrell and I invited the lay volunteers who work in Jinja to join us at Lake Saaka for Thanksgiving. One of the Kroc peace interns 9from Notre Dame) also joined us. We drove to Fort Portal on the border with the Democratic Republic of Congo (where the Rwenzori Mountains begin -- aka The Mountains of the Moon) as well as the Riff Valley. We then retreated to Lake Saaka and the Holy Cross Novitiate. The Novitiate staff and novices planned a luxurious feast to celebrate Thanksgiving in East Africa: Turkey, chicken, mashed potatoes, yams, veggies, rich deserts, cakes, pancakes, maple syrup (yup, from Vermont!) and rich wines and assorted drinks. Isaiah would have envied us.

On Sunday, we went to Kyarusozi Parish Community for Mass. Although Mass is usually celebrated in the local language, Dave Burrell celebrated in English, and a dynamic translator helped with the homily. After Mass, we went to visit the spectacular building project of Brother Bernard Kim CSC. Bro. Bernie is one of those dynamic and creative builders that one reads about in 17th century Mexico or 19th century Chile. He is training local builders in all the arts necessary for building a large boarding-school complex in one of the most rural (no electricity) and beautiful spots in the foothills of the mountains. Bro Bernie is a mystic, a sufi, a Zen master and master builder, who loves to teach all his skills to the able young workers of the region. He has already built other residences (such as Bishop McCauley House in Kampala) and the large Church and surrounding gardens and gazebos at Kyarusozi. Eat your heart out, Hanging Gardens of Babylon!

I have done much reading during the past weeks, but I must share two of the best books with you, dear readers of blogs. The first is Paul Collier's THE BOTTOM BILLION (Whey the Poorest Countries Are Failing and What Can be Done About It). This is a superb book recommended to me by Bill Dailey. Friends don't allow friends to drive without first readings such useful books. If you read only one thing about the challenges facing East-West-South and North Africa, this is the book.

The other book is A.J. Dionne's SOULD OUT, sent to me by another mystic (everyone should have such a mystic in his or her life!) Bob Antonelli. If you have read some of Dionne's columns in the Washington Post, you know that he is a wonderful writer and serious interpreter of the role of religion (especially Catholicism) in the U.S. If you have limited time, I especially recommend the last chapter, in which he summarizes his approach to understanding the role of liberalism and Catholicism in understanding the future of American politics, and the strength and meaning of those communities in the U.S. To quote Herschel (as Dionne frequently does)"God is either of no importance, or of supreme importance...God is the meaning beyond mystery". Dionne shows why he thinks this belief has usually lifted the best of religious communities beyond ideologies of left and right, conservative and liberal. A good read.

I will spend Christmas vacation and New Year in Portland, Burlington (VT), and Washington, DC. See you in Uganda, next year. Happy Advent!

POST OBAMA ELECTION REFLECTIONS IN UGANDA
(Category: Uganda)



OBAMA INSPIRES YOUNG UGANDANS

Uganda tries to settle down after the election. It's Sunday, and the excitement over Obama's election is still at a fever pitch. Some of it is hilarious.

First, my own impressions. Then, a summary of today's newspapers.
There seem to be two categories of reactions in Kampala to Obama's election. The first, representing the vast majority, believes that Obama is about to walk over water to Uganda (forget that Uganda is landlocked) and heal all diseases, immediately producing an intense activity of development. The other two per cent scoffs at that, and tries to puncture the balloon of expectation with the warning crossing the sea is difficult and will probably take months. So, lower those expectations!

I walked around the neighborhood on Thursday after the election, and most non-English conversations (Luanda, I suppose) were filled with Obama, Obama, Obama. Little kids on the street stopped me, and as usual
trying out the few words they learned at school, such as "how are you?"
followed it with Obama, and a big smile. Cars have Obama flags and stickers. One boda boda man (motor bikes that give rides) stopped and offered me a ride. I thanked him and declined. He insisted: "...from friendship, for Obama". I declined, since I'm not yet ready to die for Obama. The boda bodas drive through the traffic like suicidal maniacs.

A review of today's newspapers, the New Vision (pro-Museveni) and Daily Monitor (opposition, of sorts), are filled with Obama articles. For the most part, the analysis is balanced and quite insightful. Wafula Oguttu explains that governing will be a different challenge from campaigning for an election, and that everybody now "wants a piece of the 'skinny boy'", but they need to try to understand how difficult it is to change policies after 8 years of Bush. He adds that while he agrees that Obama is the most talented and charismatic politician of his generation, he was assisted in his campaign by "Dubya" (as he calls him) and his disastrous foreign and domestic policies, etc.

Another comment from the editorial page of the pro-government papers concludes that "chances are that the US president-elect would not even have been considered as president of an African country". The writer does not specify which "African country", but it's obvious he means Uganda. He says that Africans would put up so many barriers that Obama would never be considered as a candidate in Africa. "How many leaders in Africa are more preoccupied with preserving their own political future than making a lasting difference for their people". Although he tactfully doesn't mention Museveni (it's implied), he does mention Mugabe of Zimbabwe and recent political savagery in Kenya ( aha, a little gratuitous slap at Kenya).

And this: A half-page picture of Deputy Speaker of Parliament, Rebecca Kadega in high heels, dancing with joy after hearing of Obama's election. The caption reads: "Kadega gets jiggy on learning that Obama had won"

I found the level of serious analysis of the challenges facing the president elect to be impressive. There are articles from US and European newspapers, summaries from news services and entire articles reprinted from US, French and British newspapers. My favorite, though, is an article mocking the Kenyans who think they will all be invited to the inauguration ball in Washington D.C. The Ugandan author says that in Kenya they'll be lucky to find a TV set to watch the event. Nasty, nasty...
POST INDEPENDENCE DAY REFLECTIONS
(Category: Uganda)



SOME REFLECTIONS...

The day after Independence Day in Kampala is a letdown. There were few celebrations, no fireworks, no parades. Today's headlines are mostly about corruption scandals, gas prices, AIDS, and the poor outlook for Ugandan soccer.

Inside the independent SATURDAY MONITOR, I came across an article that tries to explain why most Ugandans did not feel like celebrating anything on October 9. The authors are Alfred Wandera and Tabu Butagira. After reading this insightful criticism, I came to appreciate that it is still possible to express strong political opposition:

"The promises by pro-independence fighters of economic prosperity for all through elimination of ignorance and disease has failed, as an estimated 9.3 million Ugandans remain stuck in poverty, making it difficult for parents to feed, clothe and house families"

"Much of the country's basic infrastructure -- road, rail and bridges, including the Owen Falls dam overpass connecting the vital eastern import/export trade route through Kenya -- are in shambles..."

"Peaceful transition of State power has eluded Uganda to this day, and all the eight presidents from Sir Edward Mutesa to Gen.Tito Okello Lutwa, whom Pres. Noweri Museveni toppled in 1986, were kicked out forcibly.
It is a failing blamed on greed for power and declining patriotism marked by tribalism and massive official corruption..."

The authors conclude:

"In the end, it appears, each Ugandan divested from national interests of patriotism, will interpret independence based on personal convenience, if not confusion"

So, that's why October 9 was so subdued, quiet, and confused.





(Category: Uganda)



INDEPENDENCE DAY IN UGANDA

October 9, 1962, Uganda began its life as one of the most promising ex-colonies of the British Empire. It had an educated and motivated middle class (small but influential and well distributed), significant national resources, and an institutional structure that included an interesting mix of western, political traditions and traditional kingships that were organized along tribal lines. Within a few years, this peaceful, promising new nation entered into a cycle of military coups and political violence that damaged or postponed the promising vision of independence. So, 46 years later, we ask ourselves: What are we celebrating, and what does the future hold?

Since our cooks and house workers had the day off on Oct 9, Dave Burrell and I decided to cook a special pancake brunch for the Ugandan community at Bishop McCauley House. The celebration began with Mass, solemnly celebrated by Leonard Olobo,CSC, where we sang and gave thanks for Uganda's Independence and prayed for future blessings. Then, Dave and I ran to the kitchen to prepare special pancakes with Vermont maple syrup, Arabica coffee, fresh and delicious Uganda teas, cereal and fruit. Let me add that we hope to repeat these special meals -- sometime in the near future -- at a Holy Cross residence at Uganda Martyrs University, Nkosi.

Reflecting on Ugandan Independence, I remember that I have celebrated different forms of national independence in at least 7 countries since 1962, in USA and Canada, in Chile, Argentina, Mexico, France and Italy. In all of these countries (but one, Canada), independence was accompanied with short-term and long-term violence. Some were followed by horrors of civil wars, or military coups, or political revolutions to end, or renew the original covenant. So now, in my new country of residence, with Christians and Muslims, Jews and Hindus, I pray for Uganda's future, for the strength and authenticity of its many tribes, for the creativity and renewal of its government, and for the blessings on Holy Cross ministries, especially for the many young Ugandans who are creating new visions and directions for its parishes and schools.

A Muslim Angel



YES, THERE ARE ANGELS IN UGANDA

The Liturgical Calender

In the last week of September, we of the Roman Catholic literugical calender, celebrated 3 feast days that were especially significant (at least for me, and it seems, for the Church in Uganda: Archangels Michael, Gabriel and Raphael (Mickey, Gaby and Rafy, for their friends) on Sept 29, St Therese de Lisieux (or little Tess, for her friends), Oct 1, followed by the feast of all those luminous and sacramental reminders that someone,
somewhere, always cares that you exists and shows that love in unexpected ways.

Muslim angels?

Dave Burrell and I were driving to Makerere University for Sunday Mass. Dave was asked to preside and give the homily. We were about 20 minutes away from Makerere, in deep conversation, and mistakenly drove into the wrong lane at an intersection. A chubby policeman began screaming at us, asking what we thought we were doing, "breaking the law like that". He motioned for us to drive to the side of road. We did that. He came stomping over like someone who had just bagged two musungus (whites) in his net and was about to skin us alive. I looked at my watch and thought that at best, we would arrive to late for the Mass. Dave -- who stepped out of the car to speak with the policeman -- would at best have to explain as humbly as possible that there was some confusion at the intersection and that we had no intention of breaking the law, especially on Sunday morning...

Now, a car pulled up in front of us with the entire family inside. They were looking at us (I am still in the car, Dave walking toward the cop), and the driver -- obviously father of the family and with full Muslim regalia since it was still Ramadan -- walked majestically over to Dave and to the policeman and began to talk with our chubby cop. After a quick conversation that I did not understand (was the cop a Muslim too?), Dave returned to the car smiling: "He told me it was ok, and that we could continue our journey". The Muslim father returned to his car, smiling, and drove away. He had apparently noticed us and our dilemma -- priests,on Sunday, etc -- and decided to do his good deed for these two musungu Catholics. We arrived at Mass with plenty of time. Next day, during the celebration of the feasts of the archangels Micky, Gaby and Rafy, we realized that it was the Muslim Rafael, the archangel that protects voyagers on their journey, or his Muslim counterpart, that was sent to help these latter-day voyagers, like Rafael was sent to protect Tobiah, some years ago (Check out Tobit, chs 5 - 12 if you have any doubts)

Muslims and Christians

I've discovered that Muslims in Uganda have much better relations with Christians than Christians (Anglicans, Catholics and Evangelicals) have among themselves. Anglicans arrived with their colonial, British authority with priority of place and power. Catholics had to struggle to find their place. Today, Muslims, represent a small minority in a very Christian country. Uganda is intensely religious, representing most of the world's great religious tradition, with a powerful undercurrent of indigenous religious traditions. Although a minority, Muslims are very visible with their distinct clothing and their concentrated presence in special occupations ( such as drivers of trucks, taxis, boda-bodas--motor bikes, selling goods at intersections), and also because of the strategically located mosques on the tops of several hills. All year, but especially during Ramadan, Muslim cantors call us all to prayer, day and night.

The Little Flower, the Angel from Lisieux

On Wednesday, Holy Cross joined a large community of Ugandan nuns in Fort Portal to celebrate 50 years of Holy Cross presence in East Africa. This celebration (the first of several) was sponsored and directed by the Sisters of BanyaTheresa, centered in Fort Portal. They were founded in the early 1940s but were given their modern identity and self-confidence by the first bishop of Fort Portal, Vincent McCauley, CSC. He must have been an amazing person and charismatic bishop since the nuns practically canonized him the spot. They put on a full day of litrugy, skits, meals, dances, songs and overall celebration that was simply spectacular. They obviously consider him to be Guardian Angel of their community. And, judging from the maturity, intelligence and sophistication of this community of mostly young nuns, women have found a place in the Ugandan church -- and it is not in timid subordination to a hierarchical and masculine organization. This church finds its strength and maturity in the most unexpected and delightful places.

Fort Portal, Mountains of the Moon and the Great Rift Valley

After the celebrations of the Banyatereza nuns, David Burrell and I drove to our Novitiate, nearby on Lake Saaka, a volcanic lake situated near the mountains, between Lake Albert (to the north) and Lake George (to the South -- and Lake Edward, more to the South) -- strategic names, lest you might forget that the Brits were the first colonizers here for their greater honor and glory, Amen.

At the Novitiate we found bright, young motivated novices from Ghana, Uganda and Kenya. We had a delightful time, sitting on the veranda with other Holy Cross priests and brothers, watching the sun set, and later (much later) rise on one of the most beautiful volcanic lakes I have ever seen'

Immediately beyond the lake are the foothills of the Rwenzori mountains, the famous "mountains of the moon", rising to over 17,000 feet, and introducing (farther to the North) the RiftValley that extends all the way through Sudan and finally ends in Turkey! Here too, in this humble region of the border with the Dem. Republic of Congo, vast reserves of oil have been found by an Italian consortium!



This is for the birds!
(Category: My Everyday Life in Uganda)





SOME PERSONAL OBSERVATIONS

I just returned from a wonderful, restaurant experience. The French Bistro is walking-distance from where I live (Nsambya district and hill of Kampala). Last Sunday, Brother Alan and I went for Sunday afternoon lunch at the French Bistro. The food was a good as anything you might find in Portland, a five-star meal, with steak and short ribs nicely cooked to order. The building itself was very Ugandan, thatched roof an d simple furniture. It looked like something you might find described in The Power and the Glory (a Graham Green novel set in Veracruz during the civil war and religious persecution) -- and after our meal, when I stood, I thought of the "whiskey priest" from that same novel...

FOR THE BIRDS

Earlier, when I visited Kenya, I thought I had found bird-heaven. But Uganda is even more extraordinary than that. Since my arrival, I have been totally distracted by birds of all kinds, with songs I never heard before, small birds and many, many large birds.

If you want more precise information, you might look up the following:

http://www.enteruganda.com/travel/birds.php.

So, allow me to summarize information I have received since my arrival. Uganda is about the size of the UK and has more birds species per square kilometer than any other African country It has a NATIONAL LIST of 1,008 species. There are about 550 species in the Kampala region alone.
Uganda is a unique bird paradise because of the great diversity of geography, from forests, savannas, wetlands, semi-desert regions, rainforests, vulcanos, lakes, rivers (the Nile, in particular). Kampala is about a mile high, but there are mountains as high as Mt Hood!

MARABOU STORKS & CROWNED CRANES.

The beautiful crowned crane is the national bird. But, here in Kampala, it is the shrieking "marabou stork" that is the City Bird. Unlike the elegant crane, the Marabou stork is a huge, ugly, pathetic-looking critter, a scavenger with reddish head, long legs and necks and the mature bird has a wing-span of about 10 feet. When a group of these birds fly overhead, it darkens the sky and conversations are suspended... Frodo comes to mind.
Now, these storks don't rule the roost, by any measure. There are great white hawks that fly overhead in groups of 10 to 20, in random, swooping formations. During this rainy season, especially, you can see shoebills, brown-chested plovers, African green broad bills, African jacanas, booted eagles, hawks, shrikes, finches, thrushes, warblers and starlings of all kinds.

However, the most amazing birds of all (for the musician in me) are the song birds. But, that's for another entry, and for another time, with another tune.

Kampala in September 2008
(Category: Uganda)



GREETINGS FROM UGANDA, THE PEARL OF AFRICA.

It has been a month since my arrival and I am beginning to feel part of this ancient and new world of so many different cultures, languages, religions and traditions. I have signed a one-year contract with Uganda Martyrs University (UMU) to establish a proposed EAST AFRICA SCHOOL OF DIPLOMACY AND INTERNATIONAL RELATIONS.We hope to accept the first students for this Masters Program in September 2009. I answer directly to the Vice Chancellor, Dr. Francis Olweny and I will work with the Interim Director, Dr. Francis Mangeni to establish this new Masters Program. I will not teach during the first year, since both the Interim Director and his Assistant (Your Loyal Servant) will clarify the structures of the program (and its physical location), seek funds and contact potential faculty members. The location of the program is yet to be chosen, but will be either on the main campus, in Nkosi (about 1 1/2 hr from Kampala) or at the Kampala extension campus, downtown. I will give you more on these plans as they develop. For now, I invite you to look at Holy Cross in E. Africa in through the following link:

http://www.holycrosscongregation.org/eastafrica/aboutus

Then, if you wish to identify the three places of operations for Holy Cross, Fort Portal, Jinja (seminary, parish, and where a wonderful lager is made, Nile Beer) and Kampala, look at the map below.


THE CONGREGATION OF HOLY CROSS IN EAST AFRICA.

For now, I live at the organizational headquarters of Holy Cross in East Africa. Fr. James Burasa is the District Superior and works out of Bishop McCauley House, with his staff in Kampala. I live here, too and work closely with Rev. Dave Burrell, CSC, Professor Emeritus in Philosphy from Notre Dame. Together we hope to establish a presence for Holy Cross at this Catholic institution of higher learning.

Uganda Martyrs University (UMU) was founded 17 years ago, under the responsibility of the Catholic Bishops of East Africa. The first Vice Chancellor responsible for the origins and lasting quality and viability of this institution was Rev. Michel Lejeune. He now authorizes and supervises the development of higher education in Uganda for the government. Eventually, Dave Burrell and I hope to establish a residence at UMU to establish a physical presence and visible community of Holy Cross. There would be rooms for other Holy Cross members studying at UMU, as well as a place to welcome as guests and fellow faculty members.

A LAND OF REFUGEES.

Uganda is facing many of the developmental problems that challenge poor countries today. One distinguishing challenge for Uganda has been the many refugees that have entered the country during the last 4 or 5 decades. These refugees were -- and still are -- diplaced by acts of domestic and foreign terrorism. They have arrived from conflicts in the Democratic Republic of Congo, in Sudan, and in Rwanda (before, during and after the genocide of 1994). More recently, a serious and lasting conflict results from the attacks of the Lord's Resistance Army (led by Joseph Kony, who has been indicted by the International Criminal Court for crimes against humanity). Kony's cronies have attacked many villages in the north of Uganda, but are also involved in Sudan, Central Republic of Africa and Dem. Rep. of Congo. So, Ugandans are very familiar with terrorism, and at the same time have been models of generosity and hospitality for victims of terrorism in other countries.

Stay on board, as I gather more information about this marvelous adventure.
EKITIBWA KIBE ERI KATONDA -- which is (approximately)
Glory to God in the Highest!