Father Claude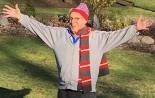 As I was saying.....



I embrace the world from my backyard at the University of Portland, January 1, 2018. I again invite you to "clod-hop" with me on my journeys to Latin America via this blog.

More...





Contact Me




Subscribe to this blog
Categories
Navigation Calendar
Days with posts will be linked
Most Recent Posts

As Chile prepares for visitors, and a new administration...



I prepare for my visit to Chile (January 13 - February 3) as Chile prepares for the visit of Pope Francis, and a for a new administration with President-elect Sebastián Piñera. President Michele Bachelet remains in office until this March. It's too early to assess the Bachelet legacy, especially for this second, 2-year term. She began her second term in 2012 with considerable popular enthusiasm, and is finishing on a more subdued note.

I have been privileged to make frequent visits to Chile and Argentina ( including Cuba and Mexico) thanks to Tony Pomerleau, my uncle who has generously and consistently supported these trips for research and teaching in Latin America (attached photo, with my Sister Marcelle Leahy). Tony celebrated 100 years of gifted life on this planet, last November. For his constant and generous support of public services and institutions that help Vermonters, he has won more accolades and prizes than I can count. For me, Tony has enriched and transformed my life in an infinite number of ways. Thanks, "Mon Oncle".

Once more, I hope to gain new insights into Chile's changing and complex politics and society. I begin my trip with a visit to the south of Chile. For the first week of my visit, I stay in Chiloe, with Pablo Ruiz Tagle and his family. I will send my next blog from that archipelago, a Chilean treasure.

Some of the events that i hope to cover in the next blogs include the visit of Pope Francis (Jan 15 - 18) and the challenge he will offer to a church that greatly needs renewal and a new vision. The new administration of Piñera has promised economic renewal (badly needed) and political reform. Since the military dictatorship lasting from 1973 - 1989, Chileans have chosen governments that mostly rule from, or close to, the center (center-left or center-right, but always generally center-center). Warming relations with Argentina and Peru (not so much Bolivia) are anticipated by most observers. Soccer is one area that the Pope is NOT expected to address. Argentina qualified for the World Cup. Chile did not. . Neither did USA. But Chile! That's an earthquake. ?Qué pasó?

Finally, China has intensified it's presence throughout Latin America, following a big vacuum, created by the bizarre foreign policy of the USA during the past year. Russia is rumored to be preparing to meddle throughout the Americas, in the coming year, in a variety of ways. In that sphere, Venezuela and Cuba offer a variety of possibilities, given the inconsistent and contradictory policies of the new, US regime.