Father Claude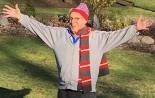 As I was saying.....



I embrace the world from my backyard at the University of Portland, January 1, 2018. I again invite you to "clod-hop" with me on my journeys to Latin America via this blog.

More...





Contact Me




Subscribe to this blog
Categories
Navigation Calendar
Days with posts will be linked
Most Recent Posts

BUENOS AIRES



My first visit to Buenos Aires came in 1970. I was doing research on my dissertation. i returned my times to follow up on that research and visit friends. Two of these friends still play an important role, Quique de Marco Naón, and Mempo Giardinelli. They each introduced me into the social and political world of Argentina, many years ago. They gave me two distinct perspectives of this city of 13 million (2,800,000 within the municipality alone) Besides being the second largest city of South America, it is one of the most livable and delightful tourist cities of the Americas— if you're careful to avoid the many scam artists, always ready to surprise you. Quique is the lawyer, a Peronist and academic administrator who gives me a balanced, consistent and moderate view of the contradictory and rambunctious politics of this unique Latin American nation. Argentina appear to be, at times, an extension of Italy, in language and customs. Quique is the father in the picture taken at El Retablo. (photo) His wife Vanina, daughter Sabrina (pictured in an earlier post of August 7, '15 with Cardinal Bergoglio) and son Claudio (whom I baptized with a familiar name). We were celebrating my departure in Le Retablo, as in my post of July 8,'15.

Memo is the artist, novelist and idealist who represents a powerful presence with publications and political columns in the progressive, leftist press. Memo previously wrote a column in support of the quirky and fractious ex-President Cristina Fernandez de Kirchner. Quique served in the Menem administration of the1990s. Memo introduced me to Quique, back in the 1970s when they had been the closest of friends.

Today, Mempo's Monday columns in the newspaper PAGINA 12 are critical of President Macri's attempts to bring Argentina back to more traditional trade and financial policies. He also harshly takes him to task for what he cites as the violation of human rights, and his dubious background as revealed in the Panama Papers (that famously published where the world's rich hid their money). Quique walks me through this, and suggests that Mempo might be —just might have become — too ideological and extreme — even if he remains a brilliant writer who has won many international prizes.

Last night, I attended a conference at the University of Business and Social Sciences (UCES). The presentation by outstanding academics attempted to situate the October 17 mid-term elections in a useful framework. Dr. Jorge Castro, added humor to the presentations by reminding the audience that the dominant dynamic of the Argentine electorate is "maniaco-depressivo", a form of wild depression. Some readers might have seen the Argentine movie of 2 years ago, "Cuentos Salvajes", Wild Stories (for its US showing).

Some sad news. After 140 years pf publication, The Buenos Aires Herald, the only English daily newspaper of South America, published it's last edition, last week. It's the only newspaper that openly and consistently condemned violations of human rights during the military dictatorship of 1976 to 1983. Robert Cox, the editor during the dictatorship, was repeatedly detained and threatened. He fled the country, and returned as a witness against the jailed military generals.I had hoped to use this news source for my class in the Fall.

And now, I return to Santiago, land of great wine and fish.