Father Claude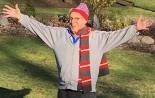 As I was saying.....



I embrace the world from my backyard at the University of Portland, January 1, 2018. I again invite you to "clod-hop" with me on my journeys to Latin America via this blog.

More...





Contact Me




Subscribe to this blog
Categories
Navigation Calendar
Days with posts will be linked
Most Recent Posts

TOURING OLD SANTIAGO
(Category: Chile and Argentina)



There's a charming section of old, downtown Santiago, called Barrio Yungay. It is as fascinating as any section of Santiago. While the rich suburbs register robberies and carjackings, this downtown barrio has for the most part been overlooked by traditional troublemakers. It is as safe and homey and secure as any place, with local citizens gathering to rest and socialize, with palm trees, flowers, coffee and pastry shops on many corners.

Barrio Yungay is about the size of central Burlington VT (or old Montreal,downtown Boston). Many of the 19th century houses have been saved and repainted into colorful and blended patterns, and most public places restored.

Yungay is almost a self-contained community, hospitals, restaurants, museums (one of them, with old cars), market, schools, churches galore, library, hospital, theaters and 5 subway stations. But my favorite place to visit, smack-dab in the center of the barrio, is the FRENCH BARBERSHOP AND RESTAURANT, aka, Peluqería Francesa, on Boulevard Lavaud,

This so-called "barber shop" has one of the most charming gourmet French restaurants in Santiago, and an old-styled, French barbershop. Behind me, in the glass case, is a collection of "instruments" used by barbers in the 19th century. I always plan on going there for a haircut (needed or not; you can see how much I enjoy it), after my ritual lunch of Congrio chawder, that iconic Chilean dish that Pablo Neruda describes as the earthly blending of divine juices and aromas.

This barrio was begun in the late 19th century during a period of famous artists and writers that moved here from France. The city fathers sent a crew of Chilean vintners and experts to France for the purpose of transforming Chile into a wine country. One of these young French experts was Émile Lavoud. Soon, prosperous French and Chilean business people settled here and insisted on having their hair and beards done in the French style of the day. What better than to have a delicious meal at the same time. The tradition remains, and the barrio prospers.

Another memorable monument within the barrio is the south Train Station (Estación Alameda). It was designed and built in the 1880s by a French company specializing in steel buildings. It is a tall, elegant monument that suggests an Eiffel design, with drama, power and security. Today, redesigned, it is filled with markets and stores of all kinds, and a movie theatre.

Worth a trip to Chile in itself, I recommend taking the metro or a taxi (cheap and efficient) to the downtown market ,or for the French Barbershop. There, you order a 'caldo de congrio', while practicing your French with the waiter. Their Spanish and English works well, too. Finnish, not so good.