Father Claude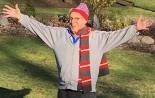 As I was saying.....



I embrace the world from my backyard at the University of Portland, January 1, 2018. I again invite you to "clod-hop" with me on my journeys to Latin America via this blog.

More...





Contact Me




Subscribe to this blog
Categories
Navigation Calendar
Days with posts will be linked
Most Recent Posts

CUBAN CADENCES
(Category: Cuba)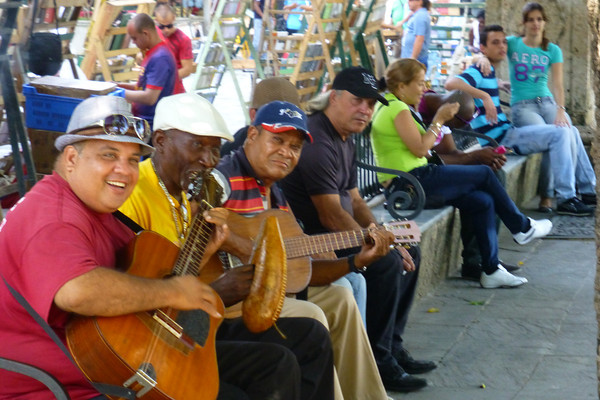 Claude's Photo in Plaza De Armas, Havana. One of the musicians is holding a hollow gourd called a "guiro"

Nietzsche says in "Twilight of the Gods": "Without music, life would be a mistake". Without music, would Cuba be a mistake? Cuba would certainly not be as accessible or as exciting. Or as human. Afro-Cuban rhythms surrounded us everywhere we went, day and night, in restaurants, museums and parks. So, here's another quote that come to mind: "Ah, music… it's a magic far beyond what we do here" (Dumbledore, in Harry Potter and the Philosopher's Stone)

Maniceros (peanut vendors) and musicians. Why are those musicians in the accompanying photo smiling?. They were in the Plaza de Arma in Old City, Havana. One of the musicians is holding a hollow gourd called a "guiro". They saw me taking the photo and smiled. A normal reaction, for most Cubans. When I commented to a woman selling postcards that nothing is free in this world, she responded with a big smile: "Ah yes" she said "smiles are free".

The "guiro" is a hollow, elongated calabash that is scraped with a stick to the special rhythms of the "Cumbia" or the "Son" -- thos musical songs and dances that we heard during our visits to Havana, Cienfuegos and Trinidad. Creative musicians like Moises Simón revived these rhythms in the 1920s. The musicians in the photo were playing a popular song from that period called "El Manicero", The Peanut Vender. Plenty of venders were on hand to take advantage of the music, selling peanuts. Lots of great photos of this beautiful Plaza are available on line.

Everyone in our group came to Cuba with a special interest, from agriculture to construction, from economics to politics, from music to art. So hang on, little tomatoes, while I explain my own interest in Afro-Cuban music. Earlier travels in Mexico, Chile, Argentina and Brazil showed me that music is very important in shaping the national characters of these countries. As we all discovered, that's especially true of Cuba

You might remember the squeaky sound often heard in Brazilian sambas – it's the "cuica", from a hollow gourd called a 'laughing gourd'. A similar native instrument is also characteristic of Afro-Cuban music. It, too, is made from a hollowed-out gourd called a "guiro". The scraping sound made by rubbing a sticke on the ragged edges of the guiro accentuates the rhythms of the bongos, maracas, or voices. Most of the professional groups that we heard, such as the "Cuarteto Isla" or the Salsa Group of the Café Taberna also used "claves", bongos or cow bells, along with guiros, to mark the changing rhythms. The claves are 2 short, hollow pieces of ebony or granadilla wood that are hit together to accentuate the rhythm (along with guiros). – you Beatles fans will recognize the sound of claves from their song, "And I love her".

We had barely arrived in Havana when Patricia insisted that we go to Cafê Taberna. For Salsa dancing, She added: "You won't remember the food, but you'll remember the gorgeous, ultra-sexy dancers". True, indeed; wow. But the food was pretty nifty, too! Café Taberna is famous as the successor to the Buena Vista Social Club, and the place where Benny Moré sang until the 1960s. He was one of Cuba's most famous singers.

If you want to relive that sexy musical experience, you can look it up on Youtube ( under Café Taberna, Benny Moré). There, you can watch some great Salsa dancing, with all those typical Cuban combos. Members of our group were invited to dance with these musicians, and they did so, like pros. Salsa is a modern variant of the original Afro-Cuban "Son", also made popular by the Buena Vista Social Club. It is said that when Tito Puente was asked what he thought of Salsa, he responded: "Hey, I'm a musician, not a cook"

A musical tour of Cuba must include the National Ballet. The performance we attended, "The Magic of Ballet" at the Gran Teatro de la Havana was world class. Alicia Alonso, General Director, is in her 90s and is considered one of the best ballet directors in the world. Of all the ballet numbers performed on this occasion, one was especially by us, and by the audience. It was "Fiesta criollo", of Louis Moreau Gottschalk, a famous mulatto-American composer and pianist of the 19th century. This ballet was first performed under his direction in Havanna in 1860. The choreography was spectacular.