Father Claude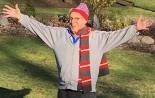 As I was saying.....



I embrace the world from my backyard at the University of Portland, January 1, 2018. I again invite you to "clod-hop" with me on my journeys to Latin America via this blog.

More...





Contact Me




Subscribe to this blog
Categories
Navigation Calendar
Days with posts will be linked
Most Recent Posts

Once more with love from Uganda
(Category: Uganda)




Greetings from Kampala, Uganda.

After an absence of 3 years, I am returning to Kampala and my blog to visit the graduate program of Uganda Martyrs University: MA in Diplomacy and International Relations. My host will be Professor Samuel Baligidde, Director of the MA Program, aka EASDGIS, East Africa School of Government, Diplomacy and International Studies. I will stay at the Holy Cross residence in Kampala, Bishop McCauley House. I can be reached on line at pomer@up.edu, or claude@ceoexpress) -- also, on my cell phone (503-333-2114 ). When you call my cell phone, it will be an international call, and charged accordingly).

I will be sending additional entries to my blog during my visit to Uganda, March 22 - April 12. I look forward to sharing my reflections on both East Africa (with personal reflections on education, Holy Cross and education, conflict resolution and international organization)and and on Chile-Argentina, since I will be giving a seminar on African politics at the Institute for International Studies, IEI, of the University of Chile, August, 2013.

I close with a famous quote from an Argentine priest of the 1970s: Ahora, más que nunca, tenemos que estar junto al pueblo
spoken on May 11, 1974. Can you identify it?