Father Claude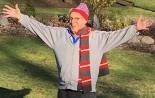 As I was saying.....



I embrace the world from my backyard at the University of Portland, January 1, 2018. I again invite you to "clod-hop" with me on my journeys to Latin America via this blog.

More...





Contact Me




Subscribe to this blog
Categories
Navigation Calendar
Days with posts will be linked
Most Recent Posts

SANTISSIMA TRINIDAD: A BLESSED GIFT
(Category: Cuba)





We arrived in Trinidad on the 6th day of the Cuba visit. This UNESCO world heritage site was established n 1514 and is one of the most remarkable places we visited in Cuba. It was once the center of sugar trade, it now grows and exports tobacco.

My cousin Patricia invited me to meet (and bless) a family that she has befriended from past visits. This extraordinary family lives in a humble house, close to the main square. We entered their house through a small, souvenir shop at the entrance. The entire, extended family lives in the rear. In this inviting house, they protect, nourish and love a young, disabled daughter, Jany (known as "Princessa"). She is the glue and center of the family.

The family welcomed us with great joy and open arms. Patricia had asked me to bless the daughter and the house. After coffee and conversation, we exchanged gifts. Among the many gifts exchanged were blessings. I blessed the daughter and the family, and at their request, the house. The mother then put her hands on my head and blessed me. As we left, the father invited us to return, to stay at their house, next time. "It won't be as fancy as your hotel, but it will be the best that Cuba has to offer. You will be en su casa", they insisted.

As an additional surprise at this colonial city, we experienced an outstanding, professional salsa band at one of the private restaurants (known as paladars) on the main square. Quarteto Isla is a professional recording band that travels the country and Europe. With a mixture of boleros, cha, cha, chas guarachas, and afro Cuban rhythms, they entertained the patrons for the entire evening. I will offer more details on the charms and professionalism of Cuban musical culture in a later posting. Trinidad seduced us with its people, culture and colonial architecture. A welcoming, blessed treasure of Cuba.