Father Claude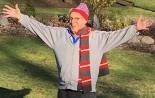 As I was saying.....



I embrace the world from my backyard at the University of Portland, January 1, 2018. I again invite you to "clod-hop" with me on my journeys to Latin America via this blog.

More...





Contact Me




Subscribe to this blog
Categories
Navigation Calendar
Days with posts will be linked
Most Recent Posts

GREETINGS FROM SANTIAGO, A CITY STILL RECOVERING FROM A RARE SNOWFALL
(Category: Chile and Argentina)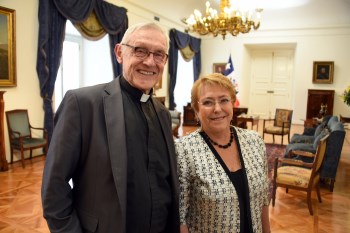 President Michelle Bachelet et Moi

My last posting was in 2015. And yes, I am still alive and traveling.

I returned to Chile in November 2016 to celebrate the 80 anniversary of the establishment of St. George's College in Santiago. My sister Marcelle and her husband Senator Patrick Leahy joined me in that trip. Patrick arranged for a meeting with President Michelle Bachelet. We first met with the US ambassador and her staff. The conversation with President Bachelet lasted WELL over one hour and related to changes in the US government administration and possible effects on US-Chile relations.

Much has changed at St. George's College since I was Rector in the 1980s That was the last decade of General Pinochet' administration. The college was approaching economic collapse, and relations with the public authorities were strained. These relations improved with the end of the military dictatorship.

During that time, Chile became a close collaborator with the US, as the country experienced great stability and dramatic economic growth. This growth for Chile resulted from an enormous export of commodities, from copper and other minerals, wines, fish and various food products. But with the decline of global markets, and especially Chinese markets during the past 7 years, annual economic growth declined in Chile to less than 2%.

A lot has changed during President Bachelet's four years. After a huge popular majority at the beginning of he second term as president, her popularity has dropped dramatically. Widespread corruption, cynicism and controversy has changed the nature of politics — not unlike US politics, especially since November 2016.

Presidential elections are scheduled for this November, and polls favor a former president and Harvard trained business executive and billionaire Sebastián Piñera of the Conservative business alliance, Renovación Nacional. The leading opponents on the left are Alejandro Guiller and the Socialist ex-president Ricardo Lago (I like to call him Dicky Lake). Another young contender (for the Chilean senate os Eduardo Vergara of the Party for Democracy (PPD) who is a graduate of the U of Portland, the Sorbonne and the U. of California.

For the past 25 years Chile has been a sterling example of countries recovering from military dictatorships distinguished by a popular confidence in democratic institutions with steady economic growth.

The perception of Chile's neighbor, Argentina is very different. the NYT of Tuesday, July 25 published a revealing article on the role of women in political leadership in Chile, Brazil and Argentina. The article focused on President Bachelet as the only remaining female president in Latin America, and the challenges she faced as an executive in a deeply ingrained patriarchal society, with many still unwilling to legitimized roles for women outside of family and the home, and with a dominant Catholic culture that rejects the emerging role of women as leaders in politics, business and especially in the Catholic church.

My next post will be from Buenos Aires, where I will visit for the next 5 days.

SPITTING ON A DEAD DICTATOR
(Category: Chile and Argentina)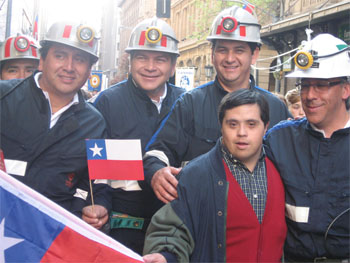 Juan-Pablo with miners (marching in support of the famous 33)

On September 10, 1006, Francisco Quadrado Prats, General Prats' grandson, cooly walked into the grand hall of the Military College in Santiago, Chile where General Augusto Pinochet was lying in state, in full general's uniform. He bent down and spit on Pinochet's face, and just as cooly, he then walked out of the building where he was pummeled and kicked by mourners. He had to be rescued by military police. His grandfather, General Carlos Prats was Chief of Staff when Allende was elected President of Chile. Prats fled to Buenos Aires after the coup, where was murdered in 1974 by DINA, under the direction of General Manuel Contreras. A metaphor of Chile today.

On August 8, I was surprised by big bold headlines in the morning paper, GENRAL MANUEL CONTRERAS DIES. He was serving a 500 year term for the murder of thousands of Chileans while head of Pinochet's secret torture squads. He was reported to have personally murdered some prisoners in the basement of his home. Few Chileans mourned his death. In fact, thousands eagerly followed his prolonged agony in a military hospital by joining in a popular twitter account praying to Our Lady of Mercy (Chile's patron saint and national holiday) to prolong his life. Why? So that he might suffer longer, in a common prison. Also, a petition was circulated to have him stripped of his rank as general. Metaphors of Chile today.

On August 5, 2010, 33 miners were buried 2,300 ft, underground in Copiapó, Chile. Finally, 69 days later they were all safely rescued through a dramatic effort to bring them to the surface. I joined Chileans as they celebrated the 5th anniversary of that rescue. The attached picture shows Juan-Pablo Sanchez, a dear family friend, in an earlier, public parade of thanksgiving in downtown Santiago. Surely, you didn't expect me to post a picture of Prats spitting on Pinochet's body, did you? The movie of that rescue, "Los 33" is showing in Santiago and will soon be at your neighborhood theaters. Another metaphor of Chile today.

Two weeks ago, as I walked into the main courtyard of the Business and Commerce building of the University of Chile, where I was giving lectures, I was startled to hear a former Christian Democratic senator praising the nationalization of Chile's copper during Allende's presidency. About 150 students stood passively listening. When he finished, a young lady raised her hand and sarcastically asked if he was accompanied by one of the young boys he was accused of molesting. He was quickly ushered out of the courtyard to jeering students. Another metaphor?

Today, Chile's economy is suffering from an abrupt and unexpected downturn. President Michelle Bachelet, the daughter of another, famous general murdered under the dictator Pinochet, is struggling to manage a fractious cabinet. Her popularity has plummeted, after only one year into her 4-year, second term. She was elected last year with an unprecedented program of reform in education, health and administration, promising a new Constitution. It is doubtful if she can deliver on most of these promised policy reforms.

And finally —really finally — when Chileans have nothing else to discuss, they recall their victory over Argentina in the Copa América, on July 4 of this year. Yes, July 4th. And what do they all talk about? A notorious incident in the semi-finals when Chilean defender, Gonzalo Jara "fingered" the butt of a Uruguay defender, Edison Cavanini. Jara then faked an injury (to his finger?) and the ref, who failed to see the "infraction", gave Cavani a yellow card. OK, so Jara was finally given a 2-game penalty. Yup, it's on google, ginger-incident and all.

Millions of Chileans are now finding consolation in this moment of humor, in this "catrasca" — Chilean for "one crappy event after another". Too bad " Le Theatre du Grand-Gignole" closed in Paris in 1962. This would have made a great puppet show.

TOURING OLD SANTIAGO
(Category: Chile and Argentina)




There's a charming section of old, downtown Santiago, called Barrio Yungay. It is as fascinating as any section of Santiago. While the rich suburbs register robberies and carjackings, this downtown barrio has for the most part been overlooked by traditional troublemakers. It is as safe and homey and secure as any place, with local citizens gathering to rest and socialize, with palm trees, flowers, coffee and pastry shops on many corners.

Barrio Yungay is about the size of central Burlington VT (or old Montreal,downtown Boston). Many of the 19th century houses have been saved and repainted into colorful and blended patterns, and most public places restored.

Yungay is almost a self-contained community, hospitals, restaurants, museums (one of them, with old cars), market, schools, churches galore, library, hospital, theaters and 5 subway stations. But my favorite place to visit, smack-dab in the center of the barrio, is the FRENCH BARBERSHOP AND RESTAURANT, aka, Peluqería Francesa, on Boulevard Lavaud,

This so-called "barber shop" has one of the most charming gourmet French restaurants in Santiago, and an old-styled, French barbershop. Behind me, in the glass case, is a collection of "instruments" used by barbers in the 19th century. I always plan on going there for a haircut (needed or not; you can see how much I enjoy it), after my ritual lunch of Congrio chawder, that iconic Chilean dish that Pablo Neruda describes as the earthly blending of divine juices and aromas.

This barrio was begun in the late 19th century during a period of famous artists and writers that moved here from France. The city fathers sent a crew of Chilean vintners and experts to France for the purpose of transforming Chile into a wine country. One of these young French experts was Émile Lavoud. Soon, prosperous French and Chilean business people settled here and insisted on having their hair and beards done in the French style of the day. What better than to have a delicious meal at the same time. The tradition remains, and the barrio prospers.

Another memorable monument within the barrio is the south Train Station (Estación Alameda). It was designed and built in the 1880s by a French company specializing in steel buildings. It is a tall, elegant monument that suggests an Eiffel design, with drama, power and security. Today, redesigned, it is filled with markets and stores of all kinds, and a movie theatre.

Worth a trip to Chile in itself, I recommend taking the metro or a taxi (cheap and efficient) to the downtown market ,or for the French Barbershop. There, you order a 'caldo de congrio', while practicing your French with the waiter. Their Spanish and English works well, too. Finnish, not so good.

CHILE ON THE HORIZON
(Category: Chile and Argentina)




Now that I'm in Chile, I expected to read all about about the positive excitement of the Chilean press over the visit of the friendly Argentine Pope Let's just say, it wasn't necessarily so. There were a few positive and friendly observations, of course, about his visit to Chile's poorest neighbors. Most of the comments — even the kind ones — included some deflecting humor and even sarcasm about this mildly confused religious leader, who also happens to be Head of State, but has not quite adjusted to this unique combination of contradictory roles.

I added a recent photo of Cardinal Bergoglio, lest you've forgotten what he looks like. The recently blessed the school of Sabrina, the daughter of my good friend, Claudio de Marco, whom I baptized in 1970. Sabrina might have suspected that the friendly cardinal would soon be called to Rome.

For now, Cuba-US relations have taken over the news (along with the beginnings of a deal with Iran), Papa Francisco has disappeared from the news. Let me return to Chile's perception of this recent papal visit to its near neighbors.

What seemed to be most upsetting to the Chilean press, with more muted comments by government officials, was his positive response to a demand by President Evo Morales that it be given back it's access to the sea by Chile. This is a long-lasting and angry polemic between Chile and Bolivia over territory taken by Chile during the War of the Pacific.

I jotted a few comments from an editorial of last Saturday by one of Chile's best-known historians. The article by Alfredo Jocelyn Holt was printed in "La Tercera", Santiago's conservative newspaper The "Le Figaro" of Chile. He begins his comments with a stark "Bergoglio", the family name of Pope Francis: "Bergoglio [he writes] may be a Head of State, but clearly history is far too important to be trifled with, for it follows a specific, rigid discipline that excludes the possibility of consecrating it through a simplistic sermon"

[The above is Chilean jargon for: Better to leave history to the big boys, Bergoglio, and stick to your Church affairs]

Our historian, in Donald Trump-style, continues with a question, again with dripping sarcasm — "Should we now expect Mexico to claim back Texas..or why doesn't Bergoglio (there it is, again) ask Italy to reestablish the Vatican's access to the sea?" Aye—aye—aye.

A more careful and diplomatic formulation came from one of the Senators of the Christian Democratic Party ( a graduate of St. George's College, by the way) who simply chided the Holy Father for perhaps forgetting that comments made from a compassionate religious perspective may be distorted by his role as Head of State, Implication: When he reads my comments, he'll come to his senses. We all have our moments.

I close with a historical observation. Chile and Argentina came close to war over three, little islands in the 1960s. War was fortunately avoided through the mediation of the Holy See. Otherwise who knows but that Patagonia might just belong today exclusively to Chile — and not shared with Argentina.. So, Bergoglio, the world anxiously awaits your visit to Cuba. Followed by a visit to Cuba's northern neighbor and former enemy.

A GOOD STEAK, BOTTLE OF WINE, FRIENDS: EL ESTABLO
(Category: Chile and Argentina)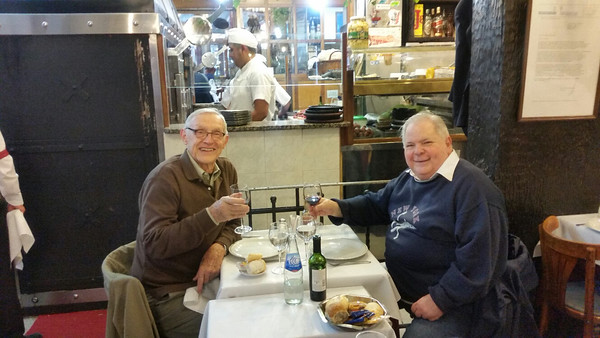 Claudio and Quique

I made a commitment to my foodie readers. In the last posting, I promised to talk about food, relating to my visits to Santiago and Buenos Aires. In the photo, I am with my friend Quique de Marco-Naon, We were at "El Establo" (The Stable), an iconic Argentine steak house. We were waiting for our orders. The chef, is behind us. Part of the joy of eating at a Buenos Aires restaurant, is the quality of the waiters and watching the chef cook your meal. Our chef gave us the impression that we were his only customer. Many waiters in Buenos Aires – the better ones – take pride in memorizing everyone's order, checking twice to make sure that they have the right order, for the right person.

Buenos Aires and Santiago have different approaches to dining out. On the one hand, "Santiaguiños" (Chileans who live in Santiago) take great pride in their way of serving fish. Although one can expect delicious "cazuelas" of all kinds (with meat), it is the Conger chowders, the fresh-caught fish, and all kinds of sea urchins and other creatures that characterize good eating in Santiago. On the one hand, Chileans are often reserved and even mystical about their fish platters. A good chowder becomes a mystical experience, lifting one to a culinary, out-of-body experience – according to Pablo Neruda, Chile's national poet.

On the other hand, the best way to describe an Argentine steak is earthy and juicy, where smell and the sizzle in the background reminds one of the gauchos herding cattle for the slaughter. Ok, I exaggerate, but never, never pass up an invitation for a steak in Buenos Aires.

A Tip of the Hat to Uganda and friends in East Africa. This blog originated, after all, from my academic experiences in Uganda. Although I haven't returned recently, I have not lost touch, nor forgotten my promise to return for the dedication of the Graduate School of Diplomacy and International Relations. Although Ebola is dominating news from West Africa, a recent death of a citizen in Kampala from Marburg Hemorrhagic Fever (a rare virus, related to Ebola) will undoubtedly add to fear and confusion. While this has shifted my focus to East Africa, the topic that has also interested me in recent years is the remarkable recovery of Rwanda from the 1994 slaughter of Hutus and Tutsis, and the role of President Paul Kagame in the development of that country.

Until recently, I considered Kagame to be a model leader. It's more complicated than that. My understanding of the role and personality of Kagame was shaped by the unconditional support for him by former President Bill Clinton and Prime Minister Tony Blaire, as well as the many books and articles praising the role of Kagame. Stephen Kinzer – a respectable author who wrote a favorable account of Kagame in A Thousand Hills – was also influential. Until recently, Rwanda was considered a model country for social and economic development in Africa. Kagame's version of events leading out of genocide are now seriously doubted by many. This revision is a result, among other things, of Mahmood Mamdani's new book, When Victims Become Killers (2014), and a BBC documentary on Kagame "Rwanda's Untold Story (2014) Mamdani is a very respected Uganda scholars He teaches at Makerere University, and holds a chair at Colombia University. The BBC documentary is serious and scholarly, with interviews and new research and facts. I suppose this isn't the first instance of victims becoming killers, but it is an especially dramatic one. In the case of Kagame, anyone who questions his version of "The Rwandan Holocaust" is silenced or eliminated. This is one more example of a political leader using victimization and a self-serving version of a "holocaust" to justify political repression and military occupation. Plus ça change…

Back to Chile, with the longest coastline in the world. A recent report by the World Wildlife Fund warns that Latin America is especially vulnerable to losing much of its wildlife because of environmental destruction Hard to say, according to some, whether Chile is most careless about its environment, most vicious with its indigenous Mapuches, or most obstinate in its relations with Bolivia and Peru. Maybe all three.

President Bachelet, who was recently elected for a second term, faces protests and challenges on all levels. Bolivian and Peruvian governments are still resentful of the loss of territory to Chile during the War of the Pacific in the late 19th century. The debate has shifted from the national stage to the Hague, and to international law. Meanwhile, students are protesting and marching in the streets to emphasize the poor quality of public education and the inaccessibility of higher education. President Bachelet is introducing legislation to make higher education free for everyone, as it is in Argentina. Unfortunately, Chile's public schools are known to be awesomely mediocre with poor teachers. A slowdown in economic growth and higher unemployment has also stirred the emotional pot. Finally, the debate over violations of human rights during the Pinochet dictatorship (1973 – 1989) continues to dominate public discourse. In spite of these problems, Chile continues to be a model of development for Latin America – at least for some of us.

Farewell to Chile
(Category: Chile and Argentina)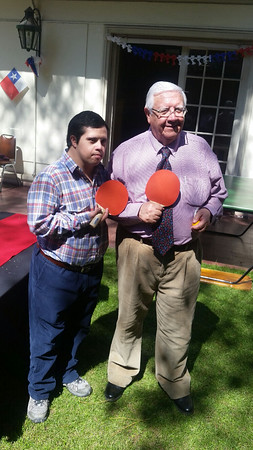 #OlympicVictory----Juan-Pablo and Walter


Leaving Santiago –

For the last couple of days, I must have established a hugs-and-kisses record for Chile, maybe even for the Americas. The family that I will especially miss (among many) is the Sanchez family. The picture enclosed is of a proud son, Juan-Pablo, who just finished beating and exhausting his dad (Walter) They posed, at my urging, for an Olympic victory picture.

Fiestas Patrias

That famous game of table tennis, mentioned above, took place at the Institute of International Studies (University of Chile). Walter, in defeat, remains the Dean of the School of International Relations. The game was played during a typical Chilean fiesta held .during the celebration of this country's "Chilenidad", or Chilean identity /Independence celebration. Today, September 18, the city is dancing the "Cueca", the national dance, and eating typical foods, with a glass of wine or two.

Chile, the Switzerland of Latin America?

Listening to some of my friends who belong to R-wing parties(The RN – Renovacion Nacional Party and the UDI - Union of Democratic Independence) one gets the impression that the country is broken, bankrupt and moving to give Argentina a run for its corrupt money. Well, not quite. Chile has experienced a dip in the rate of economic growth, and a rise in unemployment. President Michelle Bachelet has probably promised greater educational reforms than she can deliver. Students are asking for free, comprehensive education for all (as in Argentina, by the way). The education issue is THE hot topic of discussion. Still, Bachelet danced the Cueca on TV, last night. My fellow religious confreres pooh-poohed her dancing abilities, but said that she knows how to run a government – and attract foreign investment to Chile. That has gained Chile the title of a Latin American Switzerland.

Bombing and earthquakes and Guantanamo

A recent bombing in a metro station (known as Escuela Militar) has caused some nervousness. President Bachelet has asked for help with national security from the US government. The US government has asked Chile to accept some Guantanamo prisoners. The US has said yes to helping Chile. Chile has no yet responded to the Guantanamo request. Tit for tat will probably win out. Some of my Chilean friends who say that Chile should accept these Guantanamo residents point out that Chile was adamant in opposition to the military invasion of Iraq. However, they say, if Chile can be of help in closing that prison of shame, it should do it.

Scandals galore

Among Latin American countries, Chile was particularly hit with clerical, sexual scandals. Prominent hierarchy and clergy were involved. As a result, the Chilean Episcopal Conference which used to be an ethical/political leader for Latin America , is now eclipsed with scandals. The former Cardinal-Archbishop of Santiago who was chosen to be one of the special advisors to Pope Francis is an embarrassment for Chilean Catholics. Make no mistake about it. Francis knows what he's got, and it's not a log, since he studied in Chile, and admired Chile's past role of defense of human rights during the Pinochet dictatorship, So, he probably felt obliged to pick someone from Chile. There's a Chilean saying: Algo es algo, dijo el Diablo recibiendo el Obispo (Better than nothing, said the Devil, welcoming the bishop)

Hey, sorry to end on such a negative note…

Next posting: food culture in Buenos Aires and Santiago. Yum.

MEA CUBA, MEA CUBA, MEA MAXIMA CUBA (and Chile & Argentina)
(Category: Chile and Argentina)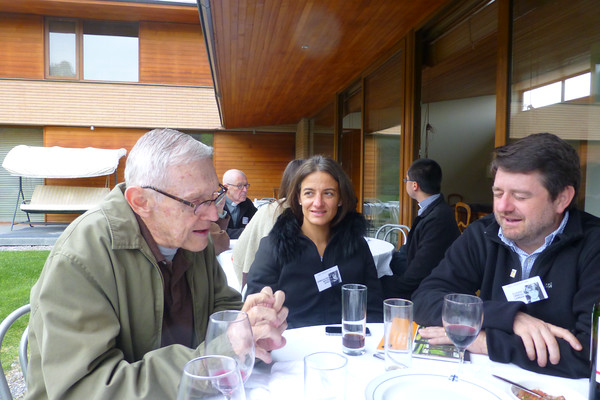 Claude, Carmen Gloria Montes and Claudio Orrego


A final reference to Cuba, on this posting, but the rest is about Chile and Argentina, and this posting is from Santiago Chile. My 55 postcards sent from Havana on February 13, arrived – 5 months later, if at all. Perhaps mail officials are on meth. As for Chile, I arrived in Santiago in mid-August to give lectures and conduct seminars recent political development and conflict resolution in East Africa – the part of Africa known as the Great Lakes Region (Sudan, Kenya, Uganda, Rwanda, Burundi, Tanzania and Kivu Province of Congo. However, public attention these days centers far more on domestic issues and memories of the military dictatorship. Chile's 9/11.

Old friends from a past life at St. George's College. This photo was taken a few days ago at a celebration of the Best Georgians, the top graduates of the past 50 years, One graduate is selected each year, representing the best values of a Holy Cross education .With me is Claudio Orrego, Intendente of the City of Santiago (general coordinator and director of Satniago's 23 municipalities). Claudio was Christian Democratic candidate for President, last year. His mother was my secretary when I was Rector of the college. Between us, Carmen Gloria Montes, who works as an educator for the city's medical establishment. Her father preceded me as Rector of St. George's

I just returned from Buenos Aires, where I visited a friend, Quique de Marco. He helped me when I was writing my dissertation in the Buenos Aires in the 1970's. I recommend a new movie from Argentina, Relatos Salvajes, (Wild Stories) by the Argentinian director, Damian Szifrón. He is a young director who makes cynical, funny and dark movies. This one is as good as it gets. Wild Stories consists of 5 short episodes of different national characters and archetypes from contemporary Buenos Aires and rural, mountainous Argentina. It's a wild introduction to a culture that knows how to celebrated life, and knows what degrades it as well.

Some Chileans celebrate their national holidays with bombs (in metros and train stations). After the last bomb in one of Santiago's major metro stations, 40 anarchist groups called to claim its authorship. Chileans grew accustomed to arbitrary bombs in the past (during the military dictatorship), but this is a new breed of anarchist, more mindless and cynical than in the past.

However, I think I am more likely to die from Chilean drivers – the insane ones – than from crude bombs planted by kinder-garden dropouts..

I recently visited Santiago's MUSEUM OF MEMORY. A small croud, mostly groups of school kids. It was a walk through personal memories for me, since I lived in Santiago when many of the documented atrocities took place. Passionate indignation doesn't That is also true of the violence that I witnessed in Argentina and Chile in the 1970s and 1980s. The extreme military murderers of Chile and Argentina were responding (in God's name) to the extreme civilian murderers of the left in the same countries. Voltaire said that people are never more cruel than when they act in the name of religion. That observation seems as true as it was in Voltaire's day.

Four days after arriving in Santiago, I was jolted by an earthquake. It was a 6.4 (Richter scale) earthquake. It's not my first, but each one seems like the first time. My Holy Cross colleagues urged me to stand in a doorway. The house bounced about and swayed for 2 minutes. It seemed much longer, more like 5 minutes. For some reason, which no one can easily explain, the California quake (at the ssame time) which was much milder (6.0) did much more damage. Other than a few broken dishes and cracked windows, the Chilean quake did little damage. And Santiago has the tallest buildings in Latin America, 300 meters high (63 stories). The owner has rented part of Holy Cross property, next to St. George's College. One of Santiago's largest malls is planned for the near future.

More news to follow, about my trip to Latin America, recent developments, student protests, conflicts with Peru and Bolivia, and news about St. George's College and general education in Chile. Ciao for now.