Father Claude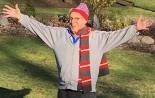 As I was saying.....



I embrace the world from my backyard at the University of Portland, January 1, 2018. I again invite you to "clod-hop" with me on my journeys to Latin America via this blog.

More...





Contact Me




Subscribe to this blog
Categories
Navigation Calendar
Days with posts will be linked
Most Recent Posts

(Category: Uganda)




INDEPENDENCE DAY IN UGANDA

October 9, 1962, Uganda began its life as one of the most promising ex-colonies of the British Empire. It had an educated and motivated middle class (small but influential and well distributed), significant national resources, and an institutional structure that included an interesting mix of western, political traditions and traditional kingships that were organized along tribal lines. Within a few years, this peaceful, promising new nation entered into a cycle of military coups and political violence that damaged or postponed the promising vision of independence. So, 46 years later, we ask ourselves: What are we celebrating, and what does the future hold?

Since our cooks and house workers had the day off on Oct 9, Dave Burrell and I decided to cook a special pancake brunch for the Ugandan community at Bishop McCauley House. The celebration began with Mass, solemnly celebrated by Leonard Olobo,CSC, where we sang and gave thanks for Uganda's Independence and prayed for future blessings. Then, Dave and I ran to the kitchen to prepare special pancakes with Vermont maple syrup, Arabica coffee, fresh and delicious Uganda teas, cereal and fruit. Let me add that we hope to repeat these special meals -- sometime in the near future -- at a Holy Cross residence at Uganda Martyrs University, Nkosi.

Reflecting on Ugandan Independence, I remember that I have celebrated different forms of national independence in at least 7 countries since 1962, in USA and Canada, in Chile, Argentina, Mexico, France and Italy. In all of these countries (but one, Canada), independence was accompanied with short-term and long-term violence. Some were followed by horrors of civil wars, or military coups, or political revolutions to end, or renew the original covenant. So now, in my new country of residence, with Christians and Muslims, Jews and Hindus, I pray for Uganda's future, for the strength and authenticity of its many tribes, for the creativity and renewal of its government, and for the blessings on Holy Cross ministries, especially for the many young Ugandans who are creating new visions and directions for its parishes and schools.